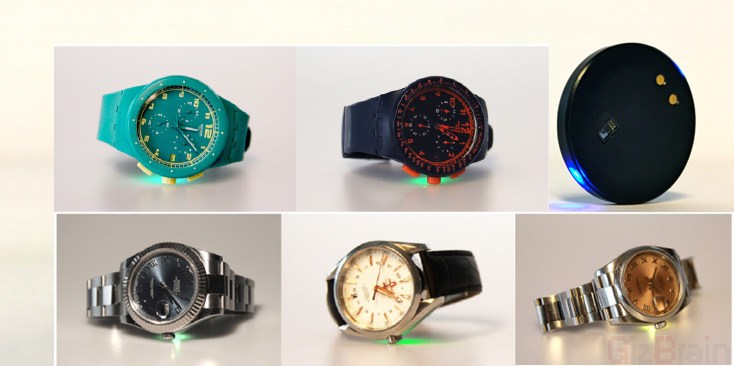 Short bytes: In need of a smartwatch, but still in love with your ordinary watch? Trivoly LLC has something to make you dance – Trivoly, a tiny disc shaped, super-slim device that fits your ordinary watch and turns it to a smartwatch.
S
martwatches offer a new level of convenience. Great, except for one problem: most people already have watches! So why not smarten up your watch" – This is what the Trivoly's page on Kickstarter reads like.
Trivoly is a tiny disc which is super thin – just 3.0mms and fits any watch effortlessly with super-ease underneath any watch. The device works with a hi-tech Trivoly app on your smartphone, which is compatible with a lot of useful apps. It brings to you a whole new enhanced smartwatch experience with features at par with the usual smartwatches with the whole of your favorite watch's comfort.
What Are The Features Of Trivoly?
Trivoly takes care of your health with its interactive fitness tracker, an optical heart rate sensor and a pedometer which works with Google Fit, Apple Health and more such essential apps, so that, you never miss any of your fitness goals.
It has everything that one can aspire for. It becomes the personal remote control for your music systems.
It lets you control your smartphone from your wrist- you can handle your messages, notifications, calls, alerts, camera, spotify, iTunes, SONOS etc. Moreover, it's very sleek and smart, certified by FCC and CE. It's hypo allergenic i.e. completely skin friendly. It is totally water resistant and comes with a battery life of up to 4 days. It also bestows silent vibrating alarms options.

And the thing you are going to love is – multi-color LEDs for intuitive recognition. It is compatible with iOS 8-9 on iPhone5 and above, works with all Android 4.4+ phones.
Good news! It will be shipped worldwide with a minimum of one year limited warranty, although, it is designed, engineered and manufactured in the Netherlands. Production is to begin by January 2016.
What's different?? You can take amazing selfies from a distance up to 25 ft away!!! There is even a discreet setting to customize your Trivoly to avoid unwanted interruptions, by filtering your priority contacts and silencing the rest, for you may need to keep in touch with a few close ones.
Well, the most stunning and adorable thing about Trivoly is that it can make not just any watch – a smart watch but it also makes the geeks go a smarter way. So try your hands right on Trivoly and do tell us your thoughts on the go through your comments.
Source: Trivoly
Also read: Hacker Installs Windows 95, Windows XP and GTA On His Smartwatch