Short Bytes: Windows 10 is repeatedly being accused of reading and recording your data. From time to time, the OS collects user data to improve its services and provide you better recommendations. However, if you find the privacy policies in Windows 10 too offensive, know how to stop Windows 10 from reading.
W
indows 10's
shady privacy policies
have shifted the focus from
some of the amazing features
this operating system encapsulates. Websites and online forums are crying out loud that Windows 10 is
spying
on its users and Microsoft is a
thief
. It's true that Windows 10 collects user data sends it to Microsoft servers from time to time but, Microsoft has made the reason behind this step very clear from the first day.
In the Privacy Statement of Windows 10 Technical Preview, Microsoft said: "Install or use Program software and services, we may collect information about your device and applications and use it for purposes such as determining or improving compatibility (e.g., to help devices and apps work together)." It also says that Redmond will use voice input features like speech-to-text and samples of typed texts for improving speech processing, Cortana, autocomplete, and spellcheck. So, is everything an overreaction?
However, without any second thought we can conclude that Microsoft could have done a better job explaining all the terms earlier and given a single-button privacy control to the users. This means that a single option to stop all the data sharing with Redmond would have been highly appreciable and the widespread confusion could have been avoided.
Also read: Windows 10 Will Get New Features With "Major Update" in November
Recently, the websites reported that Windows 10 tracks every word (please don't freak out) you type or say out loud. About the same, Microsoft says: "When you interact with your Windows device by speaking, writing, or typing, Microsoft collects speech, inking, and typing information—including information about your Calendar and People."
So, how to stop Microsoft from recording or reading "everything" you type?
Simply head to the Start Menu and go to Settings. Find Privacy and tap on it. Here, under the General tab, find Send Microsoft info about how I write to help use improve typing and writing in the future and change the setting to Off.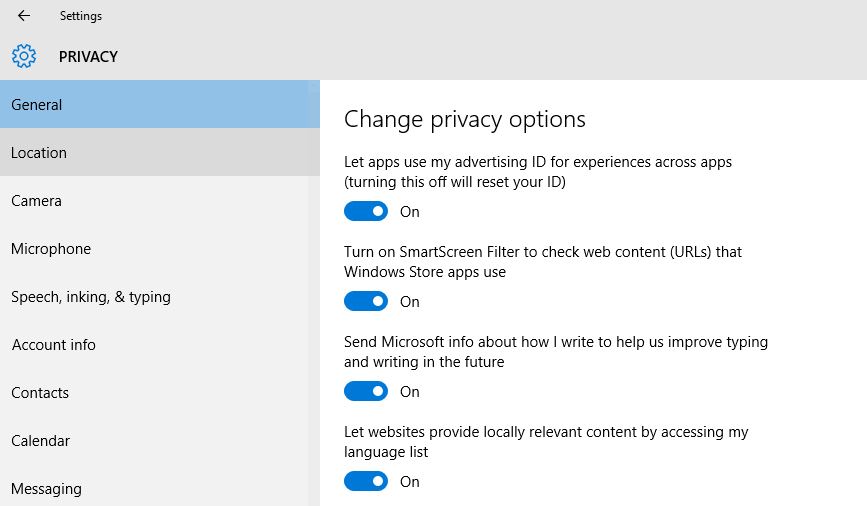 Now under the Speech, Inking and Typing menu, click Stop getting to know me.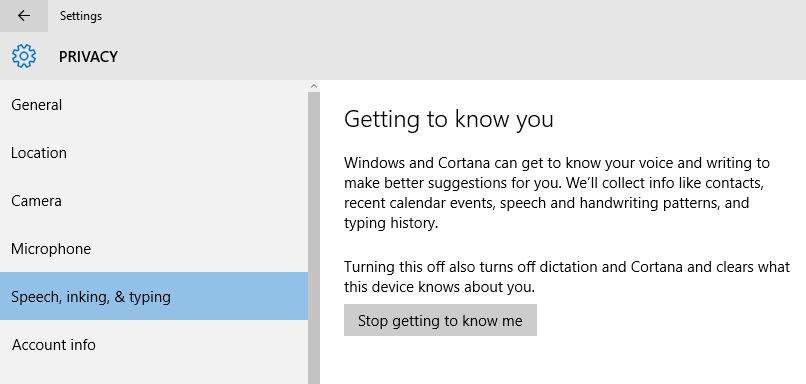 These simple steps will stop Windows 10 speech tracking with Cortana and keyboard typing tracking.
Having more doubts and willing to know Windows 10 in a better way? Visit Windows 10 guide from fossBytes.
GIF: Wmpoweruser