Update
Disney Plus has recently canceled its 7-day free trial for new users. We aren't entirely sure if the free trial will ever come back. However, if it does come back, then you can follow the steps mentioned in our guide to avail the free trial. In the meantime, you will have to buy one of the Disney Plus Bundles to enjoy all the content on the streaming service.
The original article begins from here…
Disney took a huge step by launching its own streaming service, Disney Plus. The entertainment giant finally provided a single platform for people to watch all Disney content. If Marvel fanatics want to binge-watch all MCU movies, they only have to get Disney Plus subscription. However, you wouldn't want to pay straight away for subscription, and rather try to get Disney Plus for free.
This way you can test what the streaming service has to offer so that you don't regret your decision later. For that same reason, Disney Plus offers a free trial to its viewers for a week. But in case it's confusing for you to figure out how to sign up for Disney Plus free trial, don't worry! In this article, we will discuss step-by-step how to get Disney Plus for free through a free trial of seven days.
Sign Up For Disney Plus Free Trial
First, head over to the Disney Plus website.

Now, click on the button that says

Start Free Trial

.


Click on 'Start Free Trial'

Enter your email address and click on

Agree and Continue

.


Enter your email address

Finally, put in your credit card information and you're good to go.
As soon as your free trial ends, the subscription amount will be deducted automatically. So, it's best to remember the renewal date if you wish to cancel the Disney Plus subscription after the free trial.
What Is Disney Bundle And Does It Also Offer Free Trial?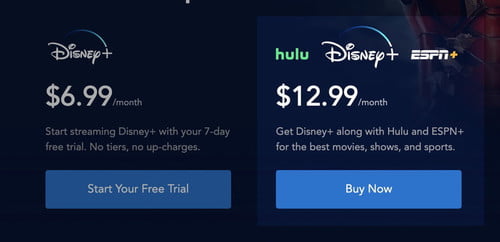 Besides the standard Disney Plus membership, the streaming service also offers a Disney Bundle. This Bundle gives you access to Disney+, Hulu, and ESPN+.
Unfortunately, you can get a free trial for standard Disney+ membership only. The Disney Bundle with Hulu and ESPN+ subscription doesn't offer a free trial.
How To Cancel Disney Plus Free Trial?
If you don't want to pay for the Disney+ subscription for some reason, you can end your free trial before the renewal date. Here's how you can do that:
Log in to your Disney Plus account.

Click on the Profile icon and select

Account

.

Go to your billing details and select

Cancel Subscription

.


Click on Cancel Subscription

Finally,

confirm

that you want to cancel your Disney Plus subscription.


Complete Cancellation
Disney Plus FAQs
Is Disney Plus Free?
There is absolutely no such thing as "free Disney Plus." After Disney Plus Canceled its 7-day free trial, there is no other way to experience Disney Plus for free.
How Much Disney Plus Subscription Costs?
You can pay $6.99/month or $69.99/year for the Disney Plus subscription. On the other hand, Disney Bundle that includes Hulu and ESPN+ costs $12.99/month, but it doesn't offer a free trial.
How Many Devices Can Use Disney Plus At Once?
Under one subscription, Disney Plus allows up to four devices.
How Long Is The Disney+ Free Trial?
The free trial for Disney Plus lasts only for seven days. After that, viewers have to buy a subscription to continue streaming Disney Movies and shows.
How To Get Disney Plus Free Trial Without Credit Card?
Unfortunately, there's no way to get the Disney Plus trial without the credit card. However, you will not be charged until the free trial is over.
Can I Get Disney+ Free Trial More Than Once?
After the first free trial is over, you can get another free week only if your details, including the Credit Card information, is different from the previous one.