A few days back, Apple and Google removed Fortnite from the App Stores after Epic Games introduced its own in-game payment method. Fortunately for Android users, there are still various means to download Fortnite on their devices. On the other hand, Apple users aren't that lucky.
That's because if you're an iOS user and you haven't installed Fortnite on any of your Apple devices in the past, then there is no way to download it now. However, if you've downloaded the game in the past and uninstalled it for whatever reason, then you can reinstall the game on your device.
Can I Still Play Fortnite On iOS?
If you already have Fortnite installed on your iOS device, then there is no way for Apple to delete the game from your device forcibly. You can still install update files until the next major Fortnite update arrives.
However, if you've downloaded Fortnite on iOS in the past and then offloaded it, then you can reinstall the game on the device by following these steps:
First, click on your Avatar in the top right corner of the main screen.
Next, find your way to the 'My Purchases' section of the App Store.
Now, tap on 'purchased' and then 'My purchases.' Here, you'll see a list of all the apps you've ever downloaded on your iOS device.
Search For 'Fortnite.'
Note: If you don't see Fortnite in the list, then it means you never downloaded the game on your device.
If the app shows up, tap on the cloud icon in front of the app, and the downloading process will start.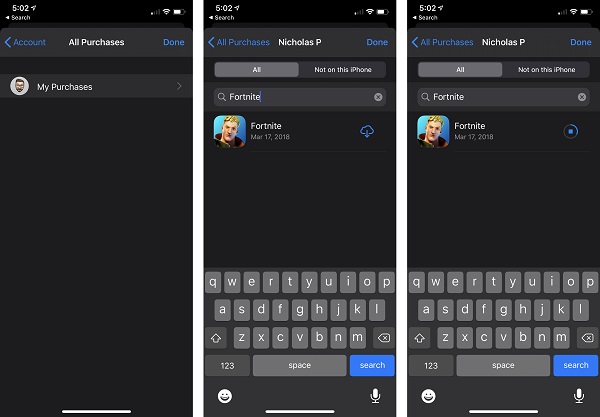 As reported by The Verge, to retrieve the large chunk of files from Epic Servers, you will have to install about 10GB collection of app files. However, this is the only way to reinstall Fortnite back on your iOS device. Interestingly, this trick also works if any member of Apple Sharing Family has downloaded Fortnite on iOS in the past.
Given that Epic and Apple's feud is getting worse with time, it's hard to say for how long this method will work. So, if you want to keep Fortnite on your device, then you should follow the above steps without wasting any more time.
Epic announced the release date for Fortnite Chapter 2 Season 4, which is August 27. However, the update won't be available for iOS users because of the current situation. Moreover, a day after the update, i.e., on August 28, Apple will cut off Epic's access to development tools for iOS and Mac devices.