Short Bytes: Sometimes, slow web browsing could be a real headache and it's irritating for most of us. If your data connection is fast enough, this could be a result of your sluggish web browser. To solve this issue, we are here with some useful tips and tricks to make your Google Chrome faster and thus boosting up your browser's performance.
G
oogle Chrome is undisputedly the best and one of the most popular web browser available in the market. According to different surveys, about 25-28 percent people browse the web using Google Chrome. Talking about the speed, benchmark tests put Chrome at the top without any hesitation. To improve the web browsing experience and making it faster, Google has introduced many features like better security measures and new protocols.
Even though Chrome is the fastest web browser available, it's often bashed for eating up your RAM and slowing down your PC. To make Google Chrome faster than ever, we're here with some simple tweaks and tricks. After performing these steps, you are bound to experience increased speed in Google Chrome.
For everyday use, Chrome works just fine. But if you are a power user, you can try out few experimental options of Chrome. These tweaks use your PC muscle to make Google Chrome faster improve the performance.
Let's take a look at them one by one:
Method 1: Using flags setting to make Google Chrome faster:
Your Google Chrome browser has a hidden browser feature known as "flags" that can be used for testing purposes and improving the performance of Google Chrome.
These features are experimental and they may change, disappear or break anytime. So, as soon as you proceed with this method and open the flags in your Google Chrome browser to make it faster, Google shows the following message as a warning:
"These experimental features may change, break, or disappear at any time. We make absolutely no guarantees about what may happen if you turn one of these experiments on, and your browser may even spontaneously combust. Jokes aside, your browser may delete all your data, or your security and privacy could be compromised in unexpected ways. Any experiments you enable will be enabled for all users of this browser. Please proceed with caution."
However, the steps we are going to mention ahead, are not much to be worried about and you can hack your Google Chrome browser to increase its speed and overall performance. If you notice any glitches, you can always revert back the changes with the same simple steps mentioned ahead.
Take a look at these steps to change the "flags" settings in Google Chrome to make it faster than ever: (Click to enlarge the images)
1. Type chrome://flags/ in the search bar of Google Chrome to open the flags page. Here you can see tons of things to change and create a havoc in Google Chrome. But, proceed carefully and don't change any setting on your own.

2. Search for Maximum tiles for interest area and set it to 512. This step actually increases the RAM that Chrome is allowed to use and thus makes your Google Chrome a lot faster.
It'll be easier to locate the items in flags if you perform the search using Ctrl+F in Windows and Cmd+F in Mac as the items in flags are not much organized.

3. Search for Number of Raster threads and set it to 4. This small modification increase rendering speed of images in Chrome and improves the Google Chrome performance.

4. Search SPDY/4 and set it to Enable (Update: You might not find this option, as Google changes its protocol from SPDY to http/2). This will speed up page loading by making web transactions faster to speed up Google Chrome.

5. Find Enable fast tab/window close and set it to Enable. Enable this change if you want to close any window or tab faster.

6. To make Google Chrome faster on touch screens computer, search for Touch Events and Enable it. This will increase your Google Chrome speed drastically.


7. You can also give a little boost to your browsing speed by enabling Experimental canvas features. Search for it and click enable button present at the bottom.

After completing the following steps, now press the Relaunch Now button which you can find at the bottom of the page. This will implement all the changes that you did in order to make Google Chrome faster for browsing.
Method 2: Google's prerendering suggestion to make web pages load faster
In a blog post, Google explains the method of prerendering the links that can make your Google Chrome faster. Actually, while browsing, Chrome predicts the links you might click and it prepares them to load instantly for you.
For example: If you are on a web page and there's a read more or next page link, Google Chrome intuitively prerenders the web page and serves it instantly as you click on it. Also, by enabling this option for increasing the Google Chrome speed, you browser predicts the web pages you might enter in the address bar and shows them as you hit enter. Chrome does this by looking at your browsing habits.
Here's the way to turn on these network action predictions:
On you PC:
1. Click on the hamburger
symbol located at the top right corner of your Chrome browser to open the settings.
2.Go to Settings and then click on Show advanced settings.
3. Now in the privacy section check Prefetch resources to load pages more quickly.
On your Android device:
1. Tap on the Chrome menu and open Settings.
2. Under Advanced, find Privacy and open it.
3. Now look for the option Prefetch page resources.
4. You'll be greeted with following options, choose the desired one to make your Google Chrome faster:
Always: Chrome will always preload webpages even when you're using mobile data. This way, you may end up using a large chunk of mobile data.
Only on Wi-Fi: Chrome will only preload webpages on Wi-Fi network. This is the default option.
Never: If you are using a very limited data plan, select this to stop Google Chrome from preloading the web pages.
Method 3: Using speed up extensions to make Google Chrome faster
While writing about making Mozilla firefox faster for web browsing, I already mentioned that I personally don't like lots of extensions installed in my browser. This is so because sometimes, these extensions are also a hindrance in speeding up the speed of your browser. But, there are few useful extensions that can help you to speed up your Google Chrome.
1. The Great Suspender: It's my personal favorite extension and stops Chrome from killing your PC by eating tons of RAM. This extension suspends the unused tabs in Chrome, saves your PC juice and makes Google Chrome faster. Download it here
2. Better Browse: This extension makes web browsing on Google Chrome about 15% faster by using some simple tweaks already mention in this tutorial. Download it here
Method 4: Random methods to make Google Chrome faster
1. Type chrome://plugins/ in URL box and disable the unnecessary plugins as they make your Google Chrome slower.
2. Type chrome://extensions/ in URL box and delete the extension that are unnecessary or not in use for long time.
3. Type chrome://settings/clearBrowserData and clear browsing history from beginning (Uncheck Cached images and files and other below options).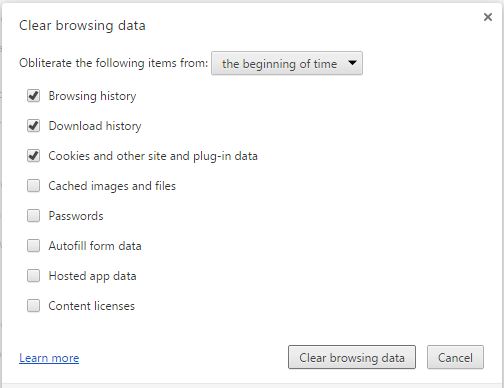 That's it! These were the best methods which will help you to increase your web browsing speed and make Google chrome faster than ever.
If you find this article helpful, share it with friends and if you are still having any problems, let us know in comments below.
Also Read: How To Make Mozilla Firefox Faster For Web Browsing