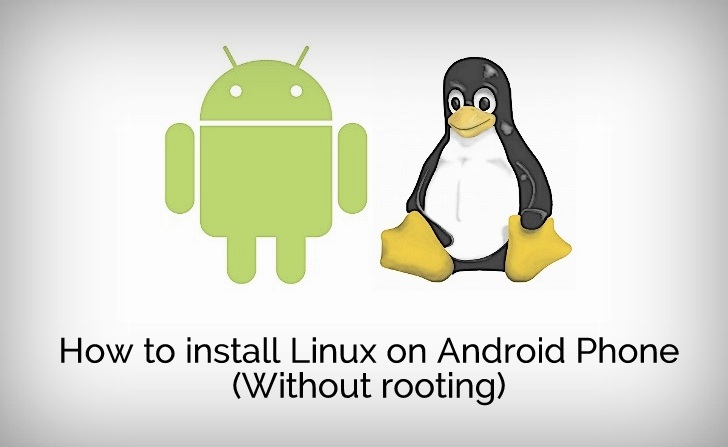 Short Bytes: Installing some distribution of Linux on Android phone generally needs an ARM-supported distro and root permissions. As rooting a phone voids the warranty and opens backdoors for potential attacks, here's a simple way to install a Linux distro on Android without rooting. So, let's get started.
C
anonical is betting big on its official Ubuntu smartphones and working hard to hit the Convergence right spot. However, if you don't want to go to the market to buy a phone running a Linux distro and you want to use a version other than Ubuntu Phone, here's a way.
Now it's possible to open your Linux command prompt on your Android phone to get some things done. Usually installing Linux on Android phones needs rooting your device. However, with GNURoot, you don't need to do those tricks and skip the root permissions.
There's one thing that I would like to tell you that this isn't like installing a complete PC version of Linux on Android phones. But, don't worry- here we'll install a Linux sub-system that includes tons of Linux tools and other endless possibilities. You can use apt-get, SSH or even turn your Android phone into a LAMP server to run the web apps.
Let's get started with installing Linux on Android phone:
Step 1: Installation of GNURoot from Play Store
The first and foremost step is to install the free Android app GNURoot on your Android app. This application installs a fake Linux root file system. Just open the Play Store, search for GNURoot and install the main GNURoot app on your Android device.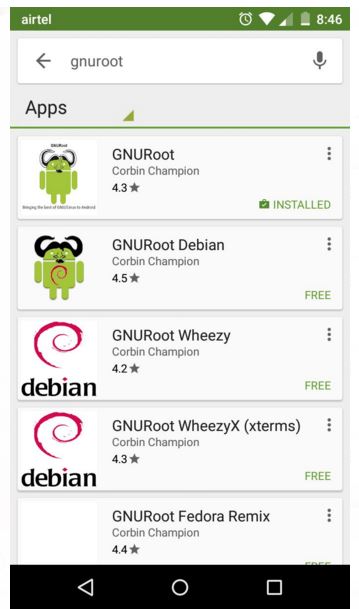 Step 2: Select the helper app of a Linux distro
By default, GNURoot offers different ARM-based Linux distros: (Debian) Wheezy, Fedora, Aboriginal (a lightweight BusyBox variant) and Gentoo. Select any one of these and tap "Create New Rootfs" to download the needed files.
This process may take a while, so wait for few minutes.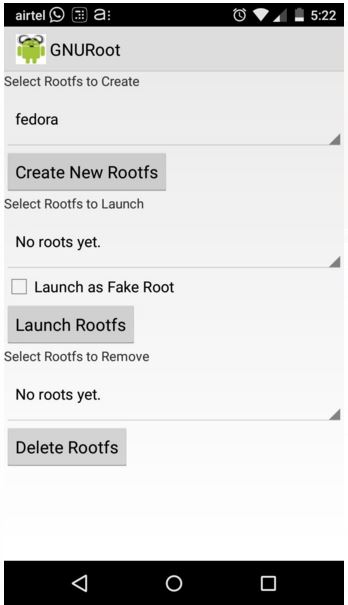 Step 3: Select the Linux distro and launch
After the download is finished, select that distro from the second drop down option. After ticking the "Launch as Fake Root" box to get the apt-get and other root commands, tap "Launch Rootfs" to install and use Linux on Android phone.
Step 4: It's ready to use
Afte the installation, you are ready to use Linux on Android phone. Now you should be able to install any package from your distro's repo using the relevant package manager by apt-get for Wheezy or yum for Fedora.
You can create extra terminal windows by tapping on the '+' button at the top and switch using the top-left drop-down menu.
To access the menu options for various settings, you can tap on the top-right icon and other options.
How to go graphical with Linux on Android phone?
In the four main Linux distros available in GNURoot app, you'll have to work using the command line. To run the programs needing windows, you'll need a GUI. This can be implemented using GNURoot WheezyX distro (in the first step). It launches a VNC server, and to see the GUI you need to download VNC Viewer from the Play Store.
For the first time, after the WheezyX distro launches in a terminal window, fire up the VNC viewer app and enter 'localhost:1' as address and 'password' as the default password.
Doing this, a virtual desktop for a xterm terminal window for Wheezy will launch. Now using the mouse pointer and keyboard icon, you can navigate the Linux on Android.
Did you find this how to install Linux on Android phone tutorial helpful? Tell us in the comments below.
Also Read: How to Monitor System Temperature in Linux – GUI Based Temperature Monitoring Tool