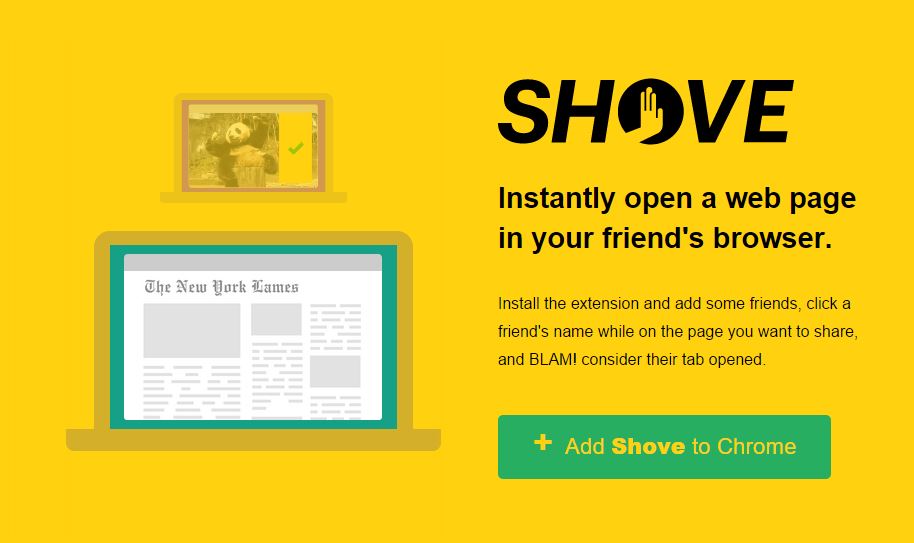 Short Bytes: Shove extension for Chrome is made with a good intention of sharing the links with your friends instantly. But, you can also use it to play some nasty prank.
A
re you tired of sending useful and funny links to your friends and you're looking for some wicked prank? Well, the crazy Shove Chrome extension is here at your service.
Shove is a Google Chrome extension that allows you to forcibly open the browser tabs on your friend's computer. This extension surely aims to make the internet a more horrifying, yet crazier place.
But, you don't need to freak out as this is a strictly opt-in thing. This mean you and your friend – both have to agree to install the Chrome browser extension to spit fury on each other's computers. But, installing it in your friend's PC in his/her absence is always an option. ;)
Also read: How To Make Google Chrome Faster For Web Browsing
Once the users agree to use the Shove extension, they can open links in each other's Google Chrome browsers anytime and bombard each other with cat videos on YouTube.
Actually this browser extension is made to share links quickly and start a conversation in the form of videos, songs and GIFs instead of words.
So, install this extension on your friend's and your PC and start a new kind of link war in each other's browsers.
Install it from here and don't blame us when your best friend is eager to kill you.
Did you like the Shove extension for Chrome? Tell us in the comments below.
Get White Hat Security Hacker Bundle.