If you ever search for reasons for Linux having less user base than Windows, the unavailability of popular software is one of the reasons you'll definitely come across.
Even today, though Linux has progressed a lot in terms of both ease of use and the number of applications available, you won't find the official support of popular applications like Spotify for Linux desktops.
Nonetheless, in the time of need, a savior always shows, and in the case of Linux application, Nuvola Player is one such project by Jiří Janoušek.
Weeks ago, a new version 4.21 of Nuvola Player arrived with official support for yet another Linux Mint (Cinnamon and MATE desktop), and more music streaming services. So, let's understand what Nuvola Player is and how to use it.
What Is A Nuvola Player?
Nuvola Player is an open-source music player app tailor-made, especially for Linux platforms. Unlike the traditional music player, it lets you play music from web-based media streaming services.
Currently, it supports over 36 streaming services that include Spotify, YouTube Music, Apple Music, Audible, Amazon Music, Jamendo, Tidal, BBC iPlayer, DI.FM, SoundCloud, ownCloud Music, Yandex Music, Gaana, and so on.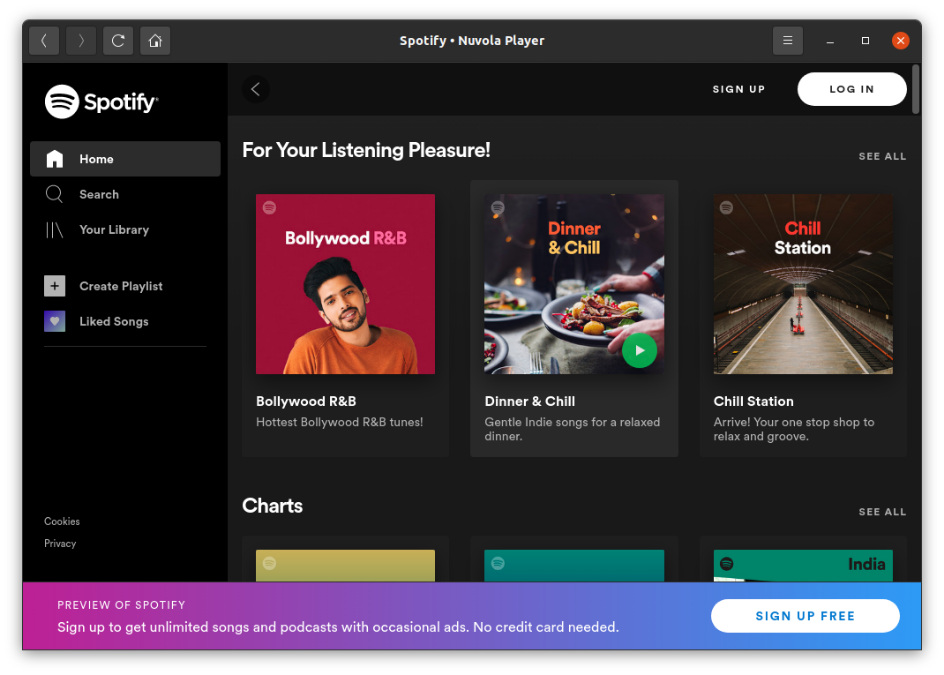 Nuvola put high emphasis on offering a native user experience by having tighter integration with Linux desktop environments like GNOME, KDE.
Considering the security and availability for several Linux distributions, the app is available as sandboxed Flatpak packages supported by almost all Linux distros.
Once you install it and have a Nuvola player service running in the background, it provides an individual and isolated Nuvola player for each streaming service to run it independently from the rest of the system.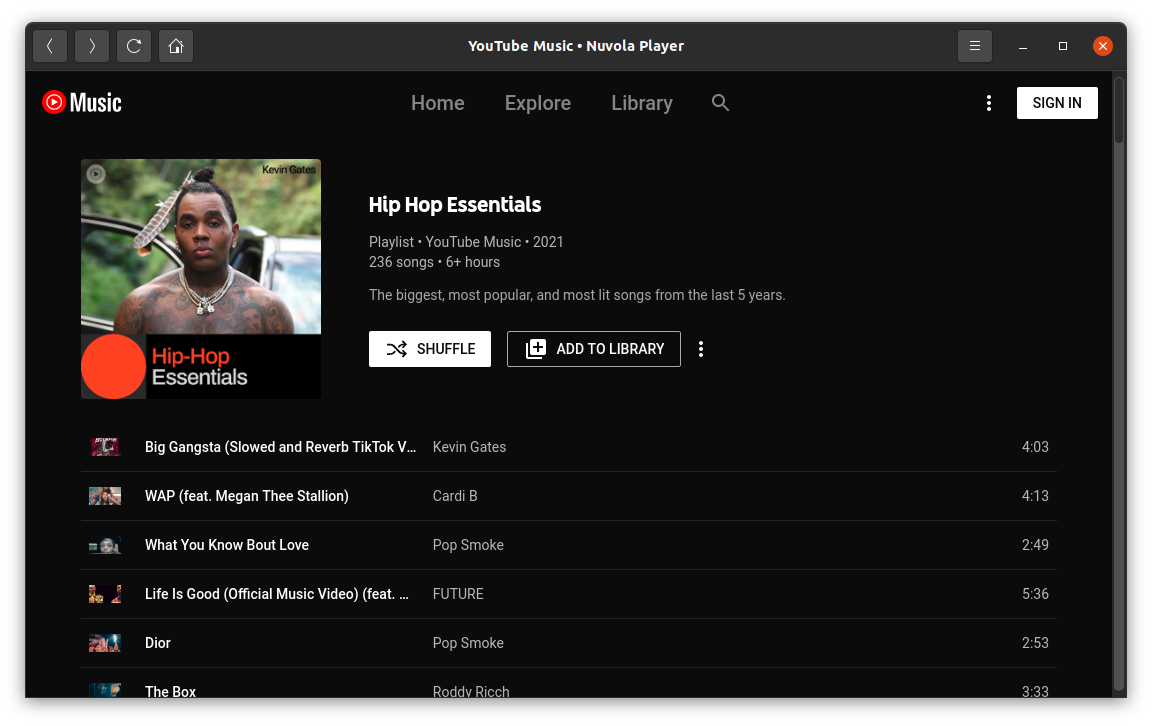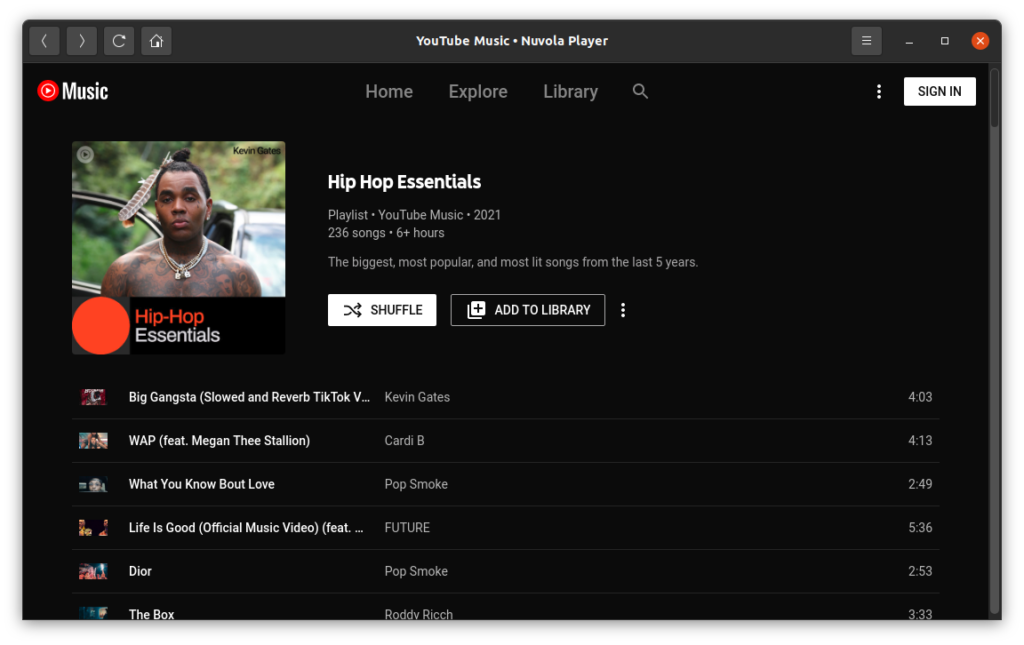 Furthermore, if you love to share what you listen to with friends or get music recommendations, Nuvola also supports audio scrobbling for popular Last.fm, Libre.fm, and MusicBrainz services.
Here are the other key highlighting features of Nuvola Player:
In-app keyboard shortcut
Background playback
Integration with media player applets
Tray icons
Extra dock actions
Lyrics fetching
Media Player DBus interface
Desktop notifications
Multimedia keys
Meanwhile you can also check out our article on list of the best music player for windows operating system here!
Is Nuvola Player Completely Free To Use?
Unfortunately, the official flatpak build of Nuvola is not free to use. It provides a free trial for a month to test some of the features.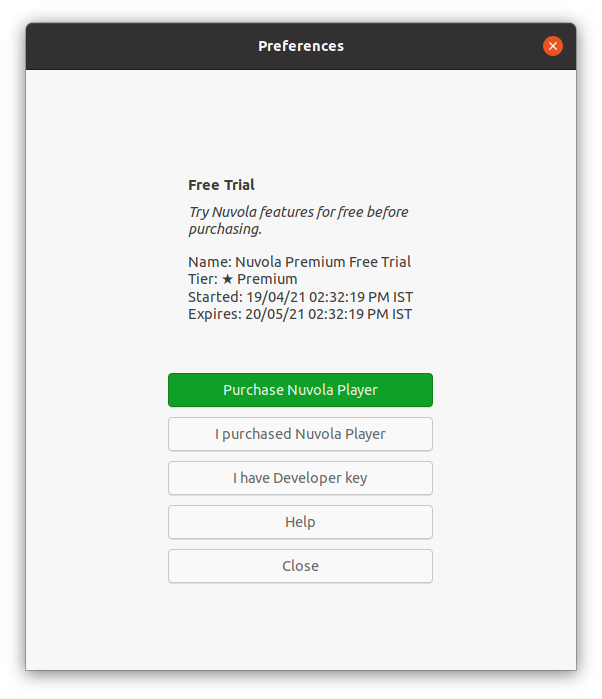 After that, you will be automatically switched to Nuvola Premium and required to purchase a one-year valid license key.
Well, here the good thing is Premium Plan does not have a fixed price. You can pay at least $3.99 to whatever you wish to buy it for a year. You can also become one of its Patrons by subscribing for $9 per month.
However, it is also possible to get Nuvola for free. Since it is an open-source project, the first thing you can do is download its entire source code and build on your own.
Second, you can participate in the project development to get a free developer license.
How To Install Nuvola Player And Music Streaming App On Linux?
Nuvola Player is available as cross-distribution Flatpak packages. If your system already has universal package management utility Flatpak and other required dependencies, you can install it using a single command.
A complete official installation instruction to install Nuvola Player on several Linux distros like Ubuntu, Fedora, openSUSE, and Arch are available here.
If you find the application useful, do share your experience in the comment section below.