Xiaomi users can access their apps on the home screen just like iOS. There are several users who love the feature but there are a number of them who not comfortable with this feature. Considering all the relevant stats, Xiaomi has released a new update that introduces the app drawer in MIUI 11.
The app drawer feature in MIUI was available for Xiaomi smartphone users in China and the company had said that it would launch the feature worldwide. Finally, Xiaomi has launched the app drawer feature for all the MIUI 11 alpha build users all over the world.
The App Drawer feature was firstly released for the MIUI 11 China ROM alpha build and as of now, the feature has been launched for the MIUI 11 Global ROM alpha build version. MIUI 11 stable version users can download the alpha build to get the app drawer.
How To Get App Drawer In MIUI 11?
If you swipe up the screen on any Xiaomi device, a browser would open up. When this feature arrives for the stable version, all users can open the application drawer via the same method. The most frequently used app will be still at the top of the home page.
Steps To Install The Latest MIUI System Launcher
Download the MIUI system launcher's latest alpha build version.
Open installation package in your Xiaomi smartphone.
To install unknown apps settings by enabling the allow from this source option.
After installing the software, visit the home screen.
 Visit the home screen settings and enable the App drawer home screen layout.
After enabling, swipe up your screen to access the app drawer feature. Users can customize the application category display, background color, and a few more elements.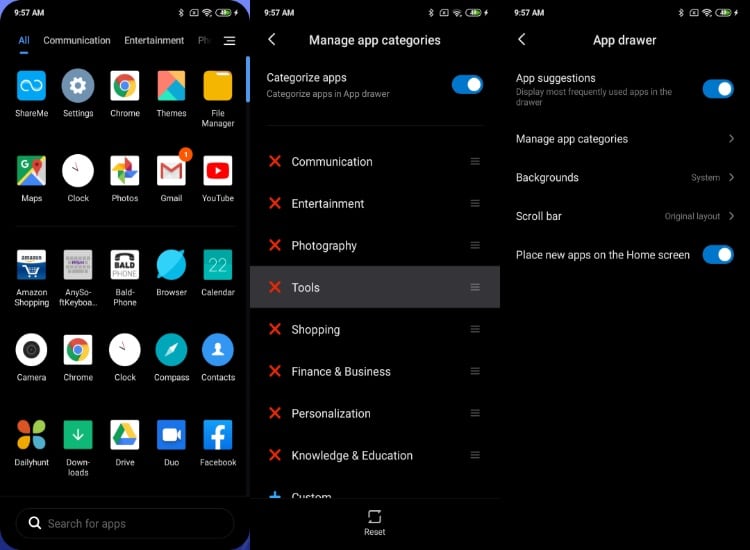 All the MIUI 10 users and a few MIUI 11 users who are unable to get the app drawer update can download the Poco Launcher from the Google Play Store. Poco launcher was introduced by Xiaomi only and it provides the app drawer to the users.
To get a brief about the hidden features of the MIUI 11, one can go through Xiaomi MIUI 11 Hidden Features to know some cool tips and tricks related to the MIUI 11.