It's 2019 and the slow adoption of Android versions is still one hell of a mess. If you look at Android usage share — Only 10% of Android users are using Android Pie (released on 6th August 2018). 28% of people still use Android Oreo (released on 21st August 2017) and the number is gradually rising.
The situation is slightly better with projects from Google such as Android One, Project Treble and an increase in the number of people getting their hands on the Android beta versions. But it's not enough!
Unless you own a Google Pixel or your phone is not listed in the Android beta program, there is a long wait before Android Q arrives. That being said, there are a few workarounds that will allow you to enjoy most of the Android Q features on your device right now.
How to get Android Q?
Many Android Q features are, more or less, upgrades to the features introduced in Android 9 Pie. Hence, readers who are running Android Oreo aka Android 8 (or before) can jump to my article — How to get Android Pie features on your current phone?
Note: Several Android Q features cannot be gained through an Android app right now. Hence, I will keep on updating this list as soon as I find Android apps that can replicate other Android Q features apart from those in this list.
Now, without wasting any time, let's check out how to get Android Q features.
1. Bubbles Feature [DirectChat]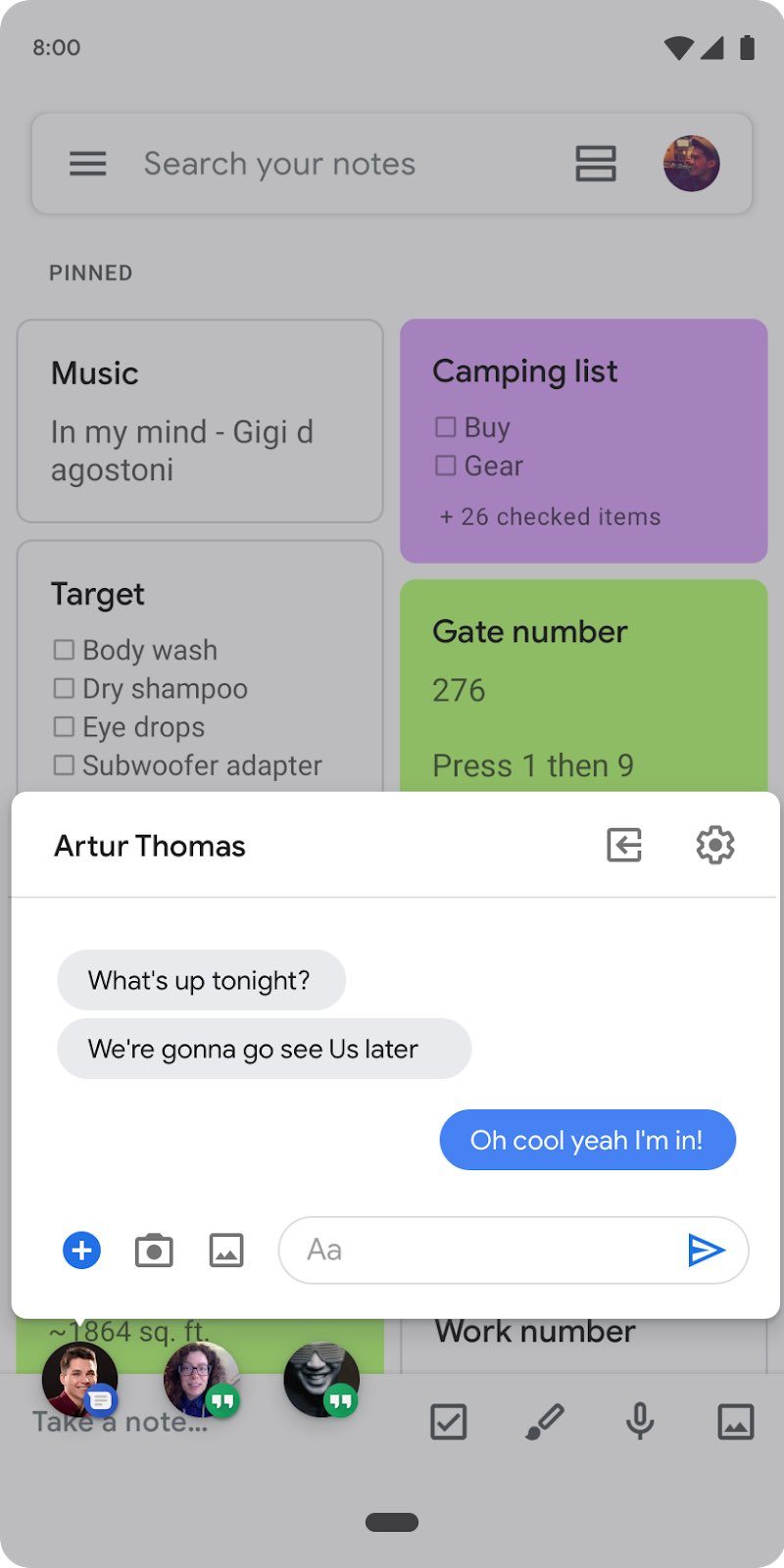 Facebook Messenger is one of my least favorite Android apps; but I admire one of its features, commonly known as Chat Heads. The feature allows users to multi-task and converse simultaneously. Android Q has added a look-alike feature known as Bubbles.
To get this feature on your current Android device, you can check out the Direct Chat app. Like chat heads on Facebook messenger, the Android app adds little circular icons on the screen's edge. If you click on the icon, the app showcases a floating UI that can be minimized back to the icon.
In the Direct Chat app settings, you can customize the chat bubbles by tweaking the dynamics of the icon, changing the font size and a lot more. While Direct Chat allows many Android apps to use the chat bubble feature, it is most compatible with social media apps such as Instagram, Twitter, Telegram, etc.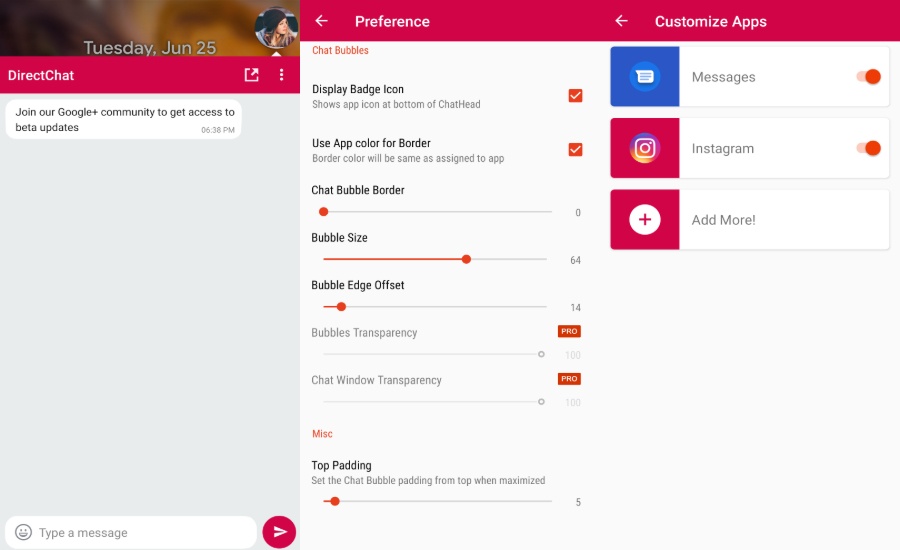 Android Q is still in development so we don't know what the feature will look like in the final Android version; however, Direct Chat is the closest to what was featured in the Android Q demo.
2. iPhone-like gestures [Fluid Navigation Gestures]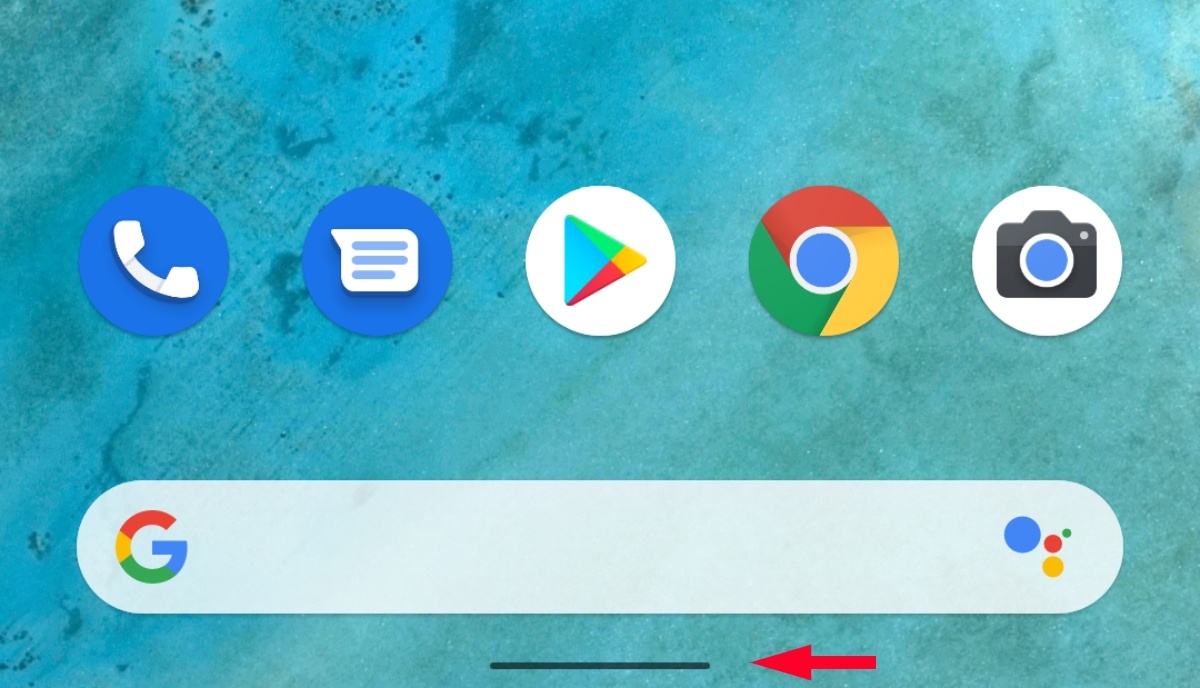 Google introduced navigation gestures in Android Pie. Many tech experts criticised the new feature for being "underdone" and not being as seamless as Gesture Navigation in iPhones. So this time, Google has added the same gesture navigation dynamics followed in iPhone X and above.
While many Android apps are available on the Google Play Store that provide iPhone-like gestures, they lack exact seamless gesture transitions.
With that being said, if you would still like to experience it, you can try out the Navigation Gestures Android app from XDA developers. Please note that it won't be much different from the in-house navigation gestures that smartphone manufacturers are offering nowadays.
But don't lose heart, I would like to introduce you to a gesture navigation app called Fluid Navigation gestures. The Android app is a little different, given the fluid gestures on the edges. However, it is certainly the most efficient and eye-pleasing navigation gestures app that I have ever used.
3. Pixel Launcher [Customised Pixel Launcher]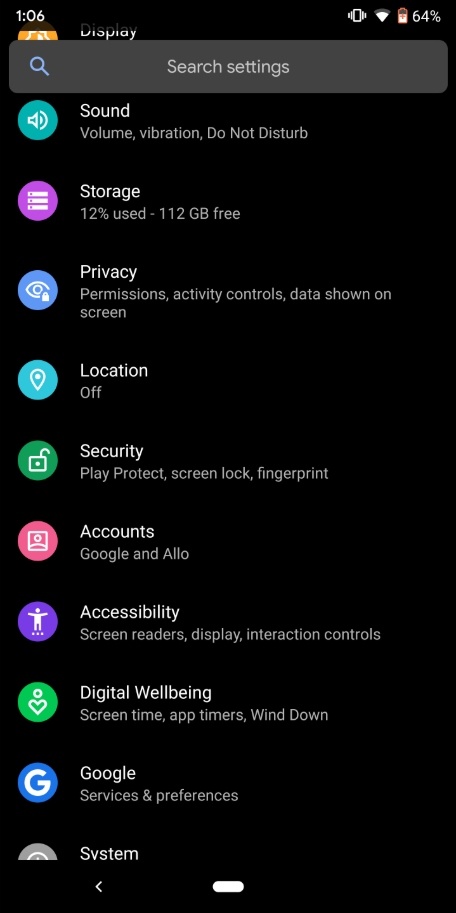 In terms of appearance, Android Q hasn't changed much from the last Android update. Normally, I would advise you to download the Rootless Launcher, famous for providing the Pixel Launcher fork to any Android phone.
But I recently discovered a customized Pixel Launcher that looks more interesting. Inspired by the Rootless Launcher, the CPL brings additional customizations to the table such as grid selection, changing icon size, installing custom icons, and more.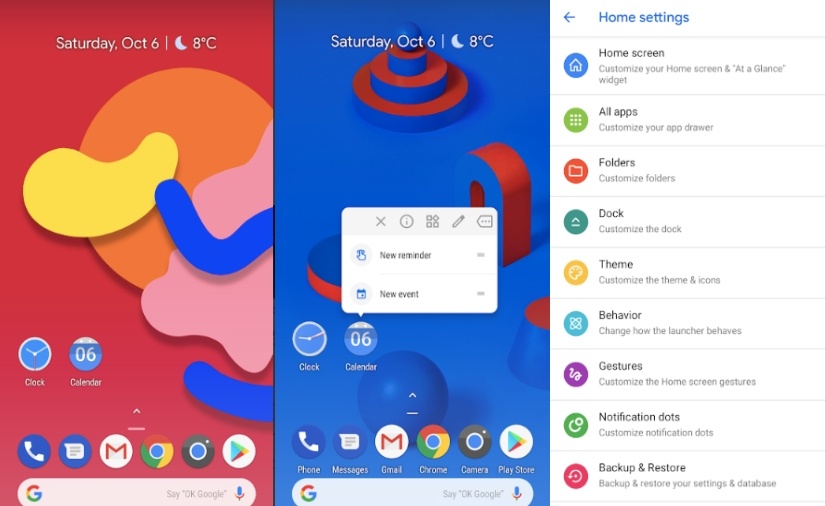 Meanwhile, Google has brought in theme options for Android Q as well as a system-wide dark mode. While launchers are good for home screen customization, they cannot interact with system settings. Therefore, theming Android is only possible in custom ROMS which requires rooting the device.
4. New Permissions [Bouncer]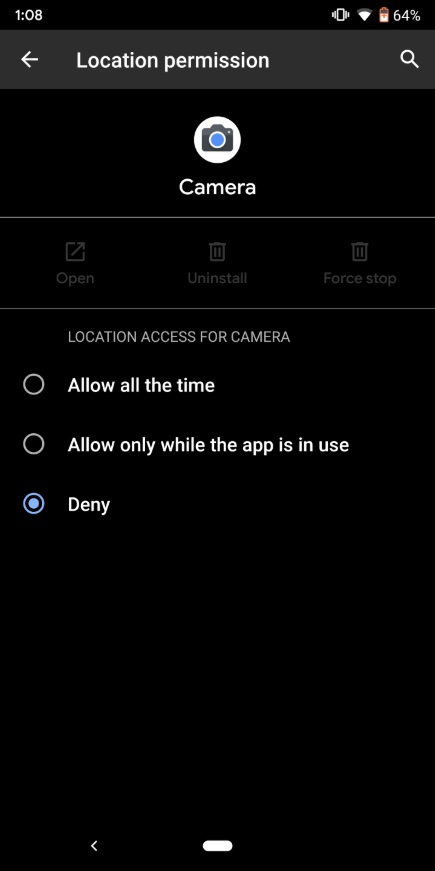 With Android 10 Q, Google has introduced new permissions for users to take control of their data. In fact, there is a new permission page in the Android settings. An important permission introduced in the latest Android beta version is "Allow only while the app is in use," for location services.
To have a somewhat similar experience on your current phone, the Bouncer app is your best bet. The Android app gives you the ability to grant permissions temporarily. And not just the location which is the case for Android Q, but also for the camera, storage, and all others.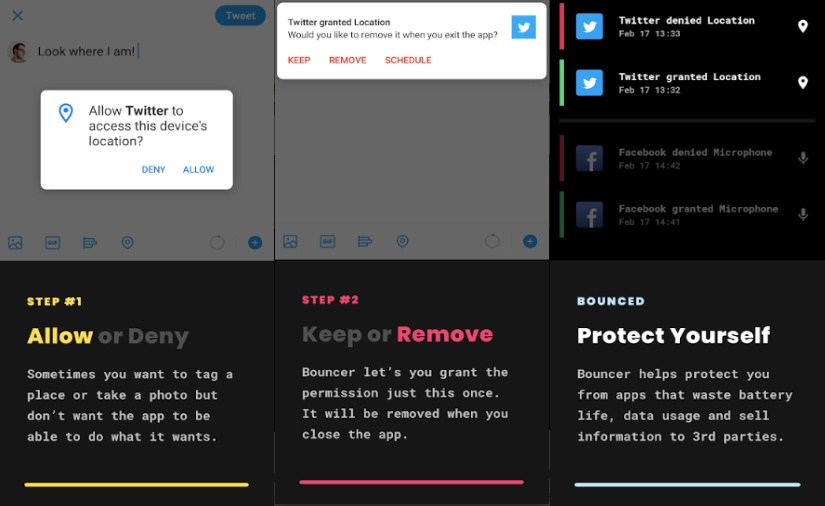 How does it work? Once you give certain permission to an Android app, Bouncer will ask "would you like to remove it when you press home?". Moreover, you can also schedule the permission for a certain period.
Currently, the privacy-focused Android app is in beta version and costs $0.99.
5. Live Captions [Live Transcribe]
If it has audio, now it can have captions. Live Caption automatically captions media playing on your phone. Videos, podcasts and audio messages, across any app—even stuff you record yourself. #io19 pic.twitter.com/XAW3Ii4xxy

— Google (@Google) May 7, 2019
As the name suggests, Live Captions puts subtitles on any audio or video in real time. The feature uses the phone's AI capabilities instead of the internet. For people who have installed Android Q beta on their device, the feature is available in the Accessibility menu.
The only Android app that comes close to Android Q's Live Caption feature is Google's proprietary Android app called Live Transcribe. The application performs real-time transcription of speech and sound to text on your screen. The app is designed for hearing-impaired individuals, but it can be used for multiple things.
In my case, Live Transcribe works as a personal note-taking app. When I open the app, it simply starts writing out what it hears. Thus saving me the trouble of typing.
6. Digital Wellbeing [ActionDash]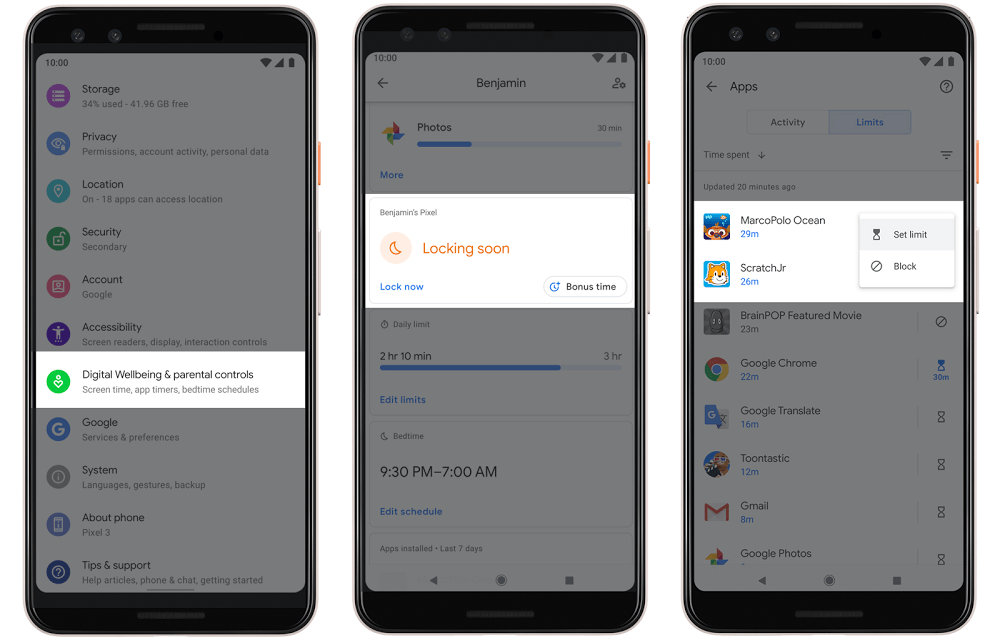 Digital Wellbeing, introduced in Android Pie, is a feature to curb the excessive time spent on smartphones. Under the Digital Wellbeing settings, there are many features to disconnect from our smartphone such as App timers, Wind Down, Do not disturb and more.
Android 10 has now added another feature under the Digital Wellbeing initiative known as "Focus mode." The mode locks you out of Android apps that you've marked as distracting. While you can unlock the app through Android settings, Focus mode is more of an effort to make users realize and control mindless scrolling.
You can get this feature on any Android smartphone via ActionDash — an Android app that includes all the Digital Wellbeing features along with the Android Q's focus mode. The only caveat is that many of the app's features are only available in the paid version, and sadly, focus mode as well.
But considering the features and dark theme support, we think ActionDash Plus is worth the money. The paid version is priced at $6.99.
Android Q Release Date

Google has already laid down the roadmap for the release of Android Q, which states that six beta versions will be released before the final stable update is rolled out. Currently, developers and beta testers have been updated with Android Q Beta 5.
If we observe the Android versions' release schedule over the years, we can expect an Android Q final version in the first half of August.
I will keep on updating this list as soon as we hear about more Android apps that provide Android Q features on your current smartphone. Until then, let us know if you have discovered an amazing app that can replicate Android Q features.