The Portable Document Format (PDF) is widely used to communicate information. However, owing to its non-editable feature, it is not that easy to make amendments to a PDF. Many PDF editors set a threshold for advanced text and formatting edits. But if you only want to make simple amendments, draw some shapes and lines, and highlight text in a PDF file, there are also some fast and easy solutions. This article will explain how to draw on a PDF for free without Adobe on Windows, Mac, and online.
How to Draw on a PDF Windows?
It is simple and quick to use Adobe Acrobat and Adobe Reader to edit a PDF document, but their features come at a cost. It is not easy to find a free PDF editor with powerful features. After trying a bunch of free and paid PDF software on the market, WorkinTool PDF Converter is believed to be worth a shot.
As a FREE third-party tool, WorkinTool PDF Converter doesn't have registration requirements, license payments, ads, or locked advanced features. You can rest assured and enjoy almost all the features that Adobe PDF software can do for free. It is a breeze for WorkinToolPDF Converter to edit a PDF document, create a new PDF file, convert a PDF file to and from other formats, compress a PDF size, and more.
Feature in Use
Step 1. Download WorkinTool PDF Converter and open it.
Step 2. View & Edit > PDF Edit, upload a PDF file.
Step 3. Draw on the PDF document you uploaded and export the edited file.
1) Press the pencil-like icon to draw on a PDF.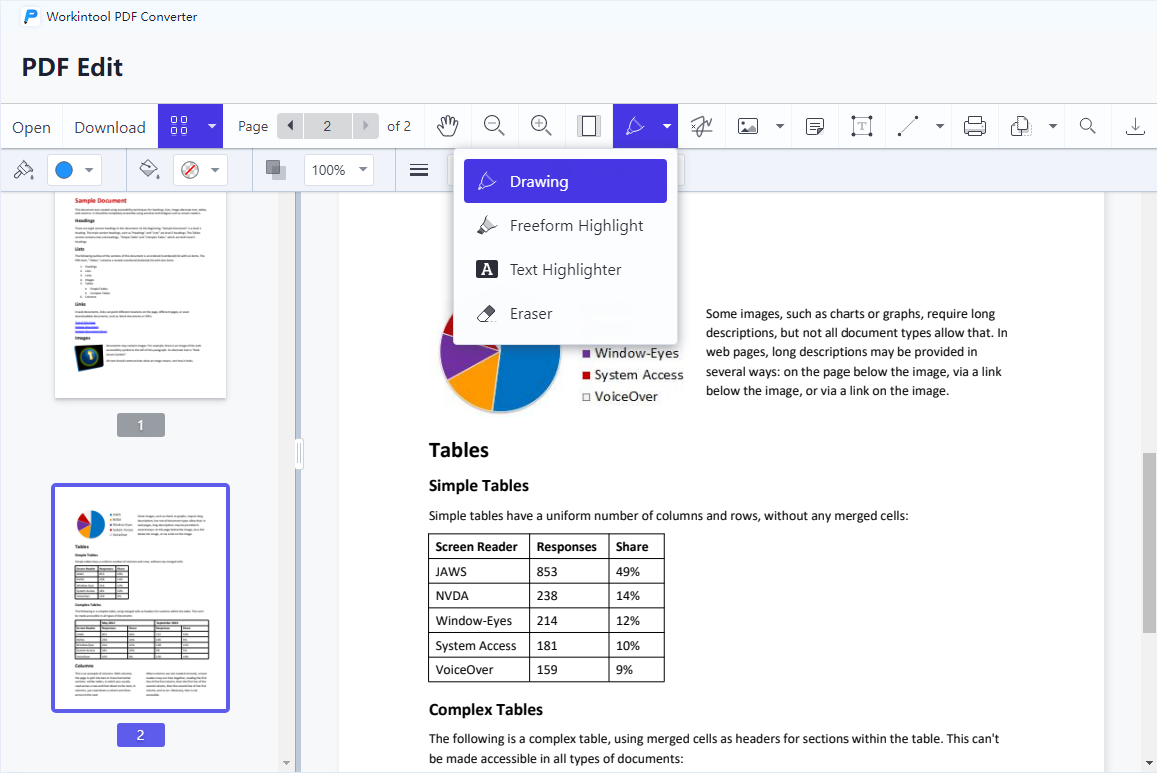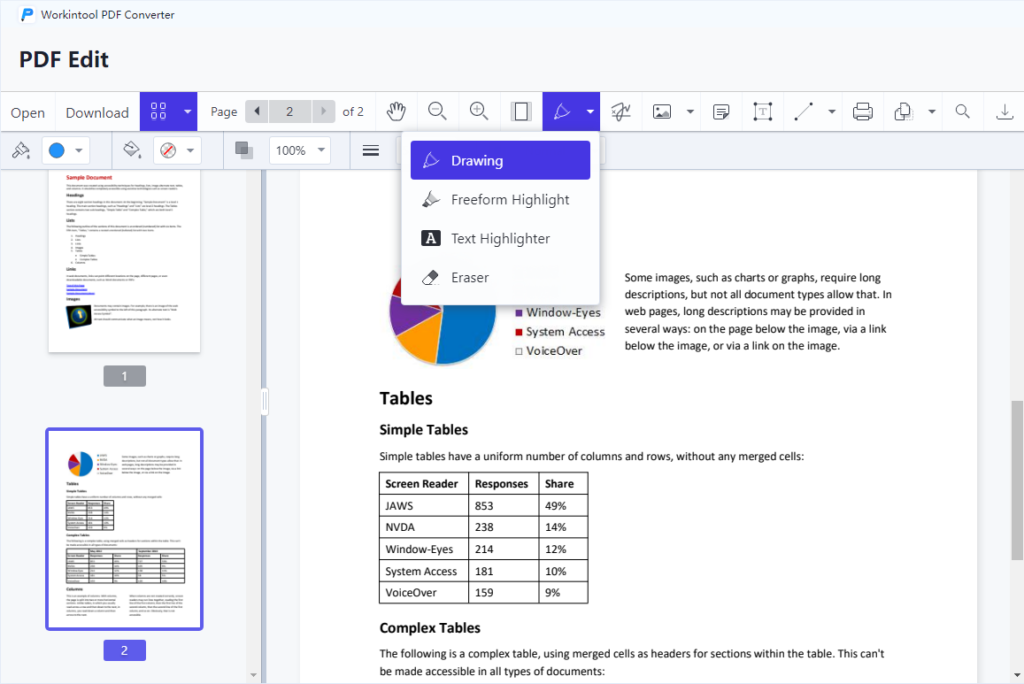 Notice
Before putting the drawing tools you selected into use, you can adjust the brush color, fill color, opacity, brush thickness, and blending mode as you want. There are four tools you can choose to draw.
Drawing: free drawing on PDF pages.
Freeform Highlight: render in PDF with spray paint.
Text Highlighter: paint the text with a highlighted color.
Eraser: remove drawings you've already made.
2) Click on the line icon to draw shapes in the PDF document. (There are six options you can select. Whether to draw a line, a circle, a rectangle, an arrow, an ellipse, a polygon, or a polyline is up to you.)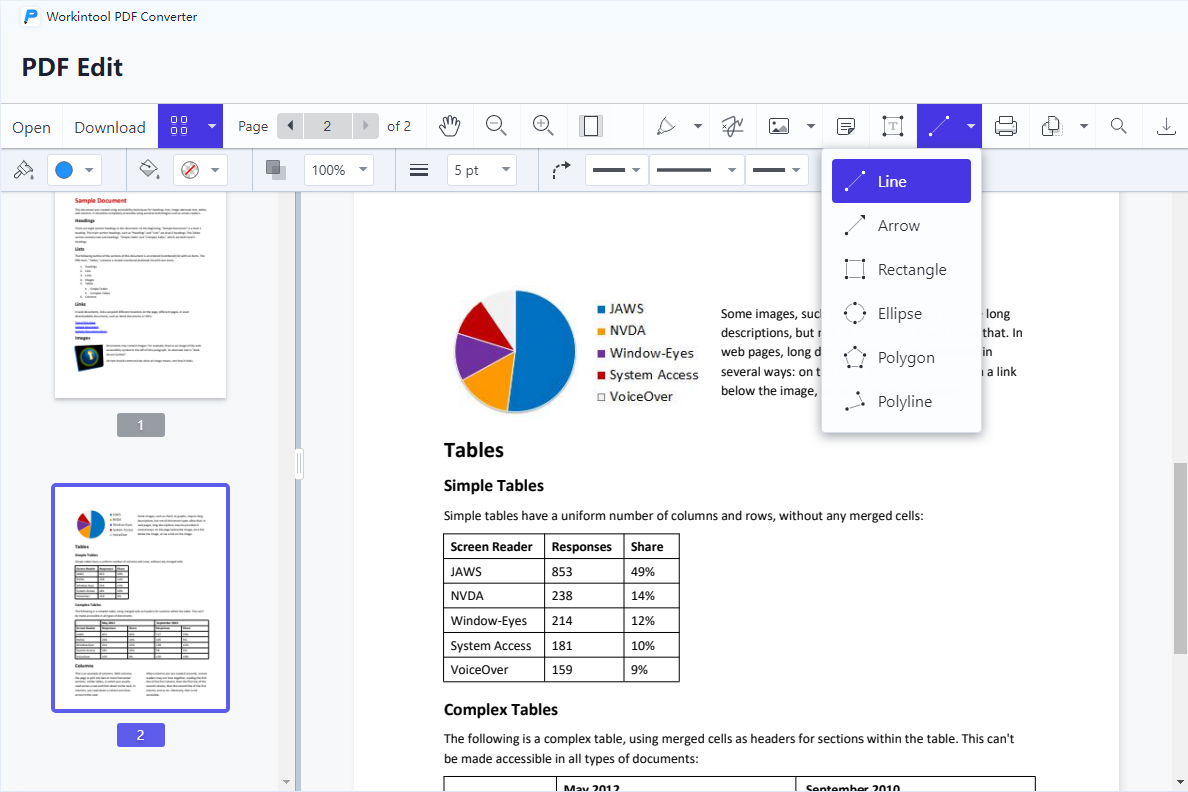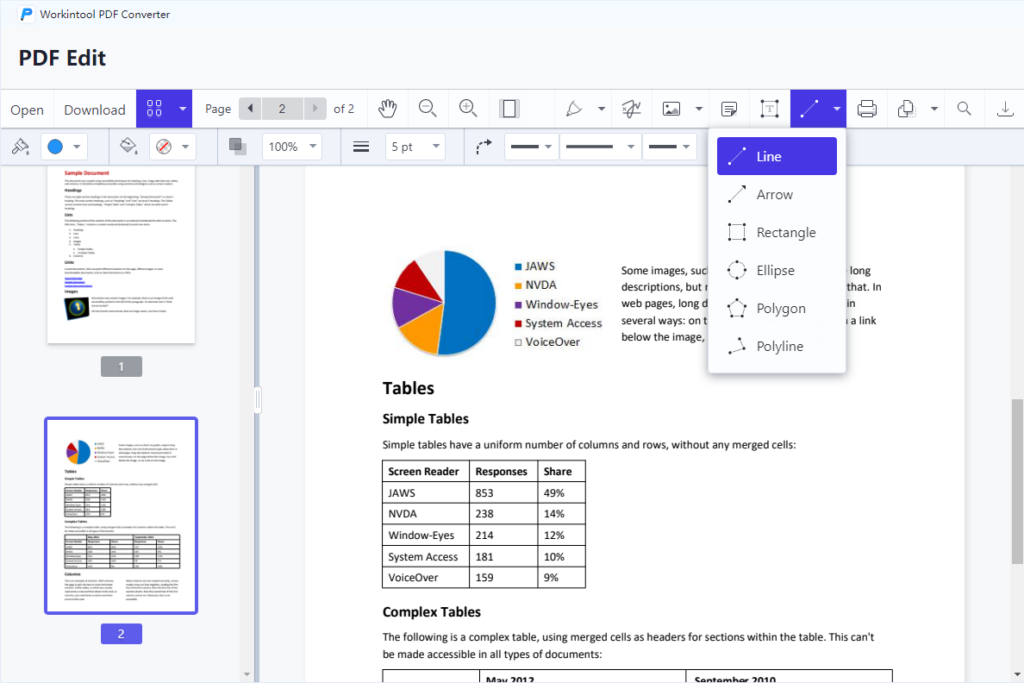 In addition to drawing shapes and highlights, WorkinTool PDF Converter also enables you to add text, notes, signatures, images, and stamps as well. If you want to change the PDF content, you can convert the PDF file to Word format with this converter and edit it. It is easy and simple to make amendments to your PDF files as you like.
How to Draw on a PDF On Mac?
Preview is the native PDF viewer and image viewer on the Mac system. Without searching for and downloading third-party software, you can also draw on PDFs in Preview smoothly using its Markup Tools. If you just want to draw on a PDF with shapes, notes, and signatures and don't need to edit the PDF content and formatting, this tool will be of assistance as well.
There are different tools you can use. You can select the text selecting tool to highlight the text, use the Sketch Tool and the Draw Tool to draw lines and shapes. It is also available to magnify certain content with the Loop tool.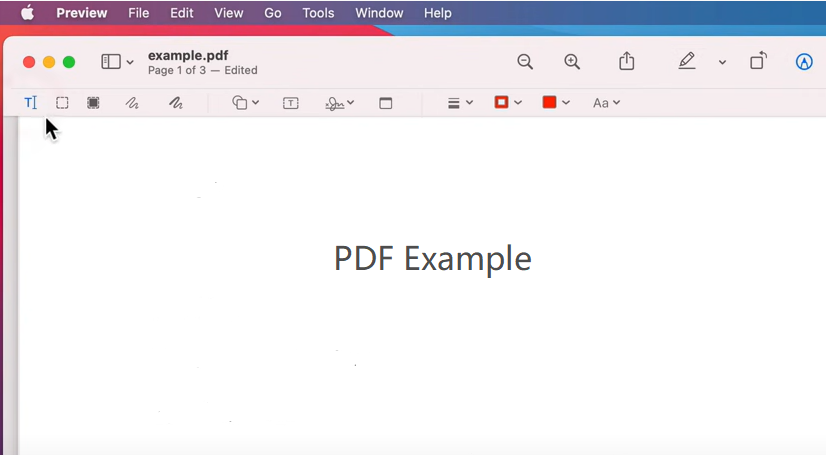 Feature in Use
Step 1. Open a PDF document with Preview.
Step 2. Click on the Markup Toolbar to open markup mode.
Step 3. Select markup tools to draw on a PDF.
Step 4. File > Save, save the edited PDF document.
How to Draw on a PDF in Chrome?
Many people may think first of Google Drive when they want to edit a PDF in Chrome. Google Drive is a file storage and synchronization program that enables users to store and edit files in the cloud. It has Google Slides for multimedia presentations, Google Sheets for numeric spreadsheets, and Google Docs for text documents. You can also upload MS PDF, Word, and Excel files to Google Drive to edit.
To draw on a PDF in Google Drive, you should open your PDF files with Google Docs first. However, it may damage the PDF file formatting when converting due to the OCR technology. In addition, other PDF editors connected to Google Drive may provide services at a cost. In this case, why not choose a reliable online PDF editor like WorkinTool PDF Converter?
We have talked about how to draw on a PDF with WorkinTool PDF Converter offline before. Surprisingly, this free PDF editor also offers a version for PDF drawing online. It is independent of operating systems and available on any device.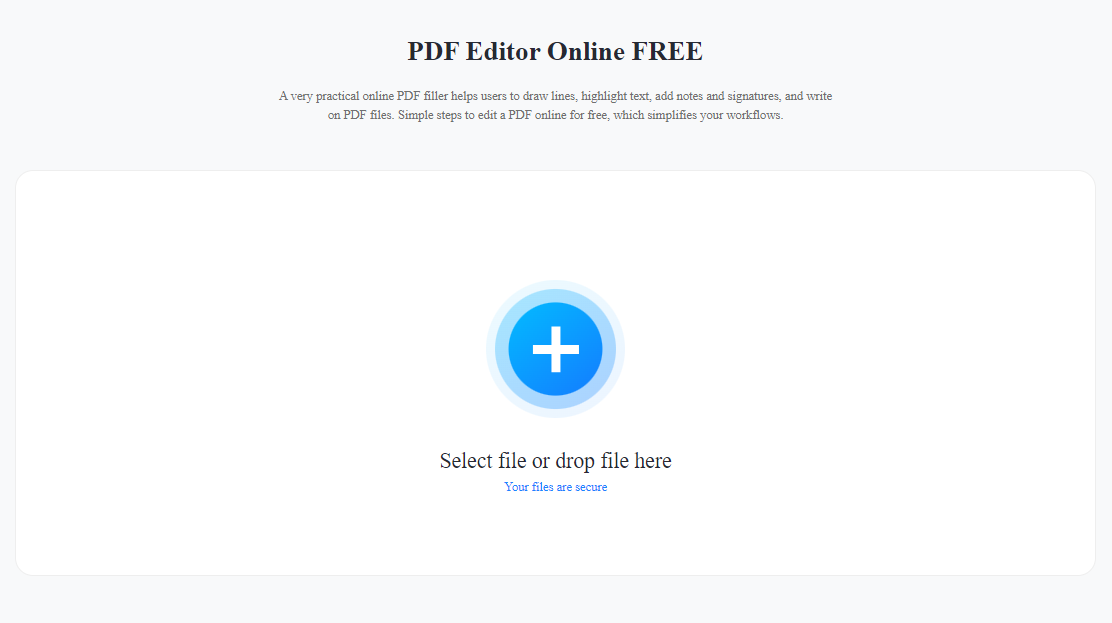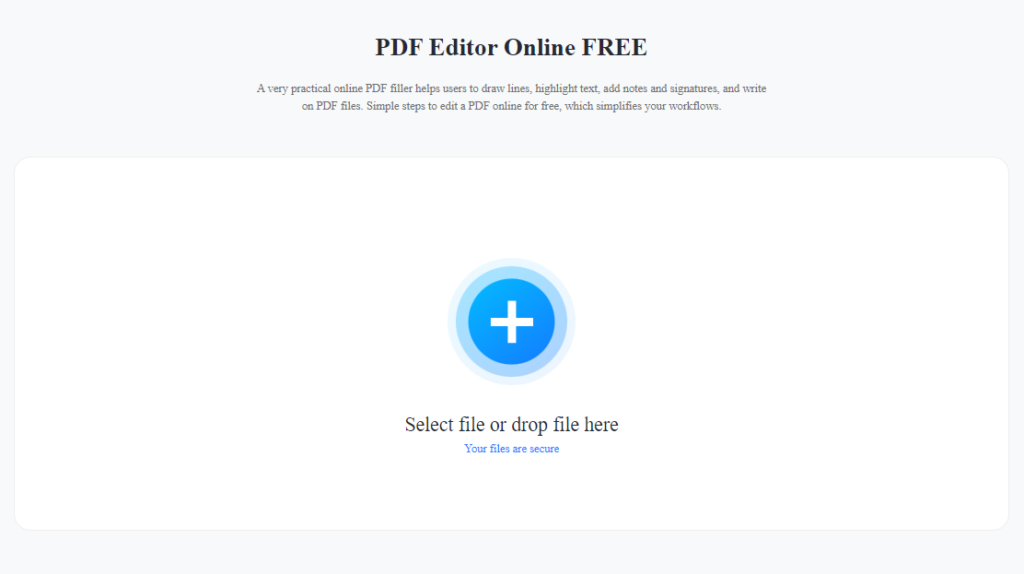 Feature in Use
Step 1. Go to WorkinTool PDF Converter website > Try Online Version > PDF Editor.
Step 2. Select or drop a PDF file to upload.
Step 3. Draw or write in the PDF as you want. (The tools are the same as the desktop software)
Step 4. Download the drawn PDF manually.
FAQs on PDF Drawing
How do I draw on a PDF without Acrobat?
Many PDF drawing apps allow you to draw on PDF without Acrobat. You can draw and write on PDF files with the third-party software WorkinTool PDF Converter on Windows, the native program Preview on Mac, or the online free PDF editor.
How can I draw a pen in a PDF?
All the PDF editors mentioned above can do that. The Drawing Tool in WorkinTool PDF Converter and the Sketch Tool and the Draw Tool in Preview will be useful.
Conclusion
We have talked about three solutions enabling you to draw on a PDF on Windows, Mac, and online. In addition, you can do it with a stylus on tablets as well. All in all, I believe you've made your choice after reading this article. Now go and get a PDF editor to draw!