In this simple guide, let's explore how to download torrents on your computer or smartphone. As you know, torrents are commonly used to download stuff for content consumption and other things. If you are new to the torrent ecosystem, you might be finding fresh ways to get the job done.
To know more about torrents, you can read our detailed guide on how torrent works and the associated terminologies.
How to download torrents on Windows 10?
To get the desired torrent on your device, you need a torrent file and some good torrent software.
We'll use BitTorrent Classic for this tutorial but you can use other torrent clients as well. You can download BitTorrent Classic using this link. If you are looking for the best torrent client for Windows 10, you can refer to our list.
Get the torrent file.
Open BitTorrent and click on the + button to add your torrent file.

Locate the torrent file on your device and click on Open.

In the Add New Torrent dialog box, choose the download location and set a name for your torrent file. If your torrent has more than one file, you can untick the ones you don't want to download.

You can click on Advance if you want to add/remove torrent trackers and assign a download speed limit to your torrent. Click on Ok after you're done.

Next, click on Ok to save everything and start the torrent download.
Alright, that's it. Now, sit back, relax and let your torrent client do the job. It might take a while for the torrent to achieve full download speed as it connects to more seeds.
One thing you might already know is that having more seeds for a torrent download will give you better download speeds.
Download torrent using Magnet link
You can also download torrents using a magnet link, which is a URL containing the hash code of the torrent. It eliminates the need of getting a torrent file.
You can copy the magnet link of a torrent from its webpage itself, usually displayed as a red-colored magnet.

In BitTorrent, click on the Link button next to the Plus button.

Now, paste the torrent magnet URL and click on Ok.

After this, you need to follow the same steps as above.
How to download torrents on Android?
Downloading your favorite torrents on your Android or iOS device is also an easy task. Also, you need is to get a torrent app from Google Play or App Store. We have created an Android torrent app list that you can try.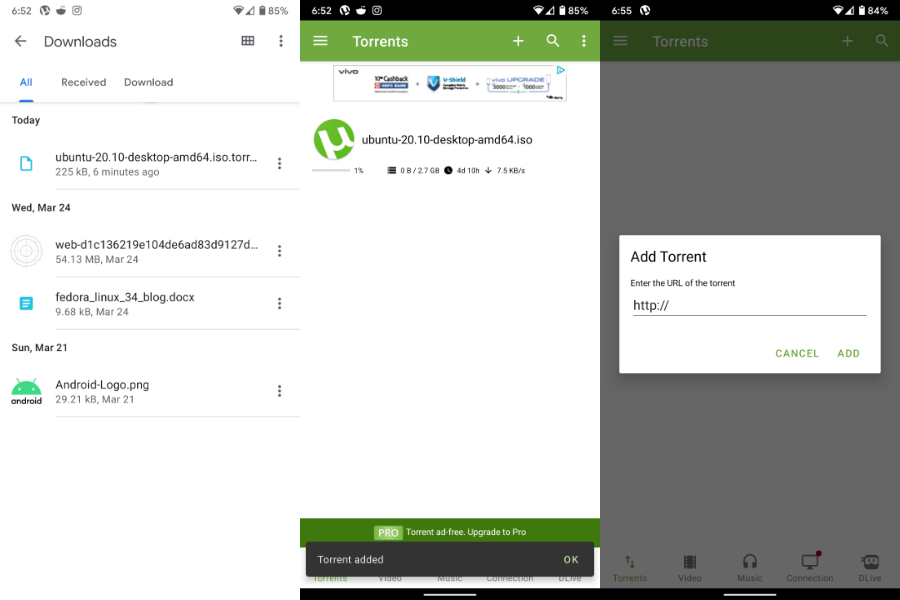 Download the uTorrent app from Google Play.
Get the torrent file from any website just like you do it on your PC.
After the download completes, go to the Downloads folder and tap on the file.
The file will automatically open the uTorrent app and the torrent download will start.
That's all you need to do to download torrents on your Android device. If you have the magnet URL, you can tap on the + button in the uTorrent app and intimate the download from there.
So, that was our short tutorial on how to download torrents on your Windows 10 and Android devices. In the end, we'd recommend that you should not use the BitTorrent network to get hold of copyrighted content that could land you in trouble.