When we use the internet or scroll down our Instagram feed, we find many fascinating and breathtaking videos. Some of those videos are so incredible that we wish to download them on our system to watch them later. However, unfortunately, just like YouTube, Instagram doesn't provide us with a feature to download videos.
Well, that is where SnapDownloader comes into the equation. It is a video converter that allows you to download Instagram videos, as well as videos from other platforms, without any difficulty. If you're wondering how is that possible, then let me guide you through the step-by-step process.
Download Instagram Videos
First things first, download and launch SnapDownloader for Free.
Now, copy the URL of any Instagram video and paste the link in SnapDownloader's search bar.
Click on the Search option.
Finally, Download the Instagram video in the preferrable video quality and output format.
So, downloading Instagram videos wasn't that difficult, was it?
SnapDownloader Features
1. More Than 900 Supported Websites
The best thing about SnapDownloader is that besides Instagram, it allows you to download videos from over 900+ other websites. So, if you want to download a video from YouTube, Reddit, Twitter, and Vimeo, then SnapDownloader got you covered.
2. 8k And VR Support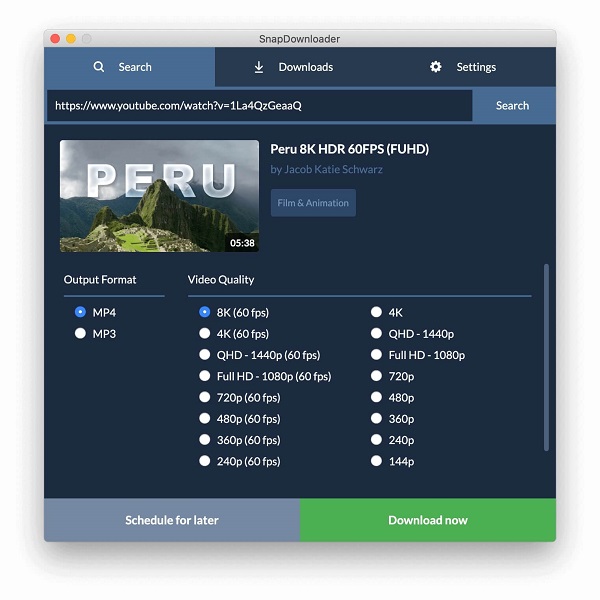 Interestingly, SnapDownloader allows you to download a video in multiple resolutions, including 720p, 1080p, QHD, 4k, and even 8k. The ability to download online videos in 8k is impressive because not all video downloader support this feature.
Also, if that's not enough, then you'd be even delighted to know that using SnapDownloader, you can even download VR videos from YouTube.
3. High Speed Downloads
The problem with most video downloaders on the internet is the long download time. However, SnapDownloader video downloader and converter enable users to download videos with incredible speed, thus saving you a lot of precious time.
4. Proxy Setup
Now, this is probably one of the best features this video downloader has to offer. We all run into situations where we want to download videos from a specific website that is blocked in our region. Well, surprisingly, SnapDownloader comes with a Proxy setup feature to by-pass geo-restrictions. So, you can download videos from any website without any restrictions.
5. Convert Videos to MP4 and MP3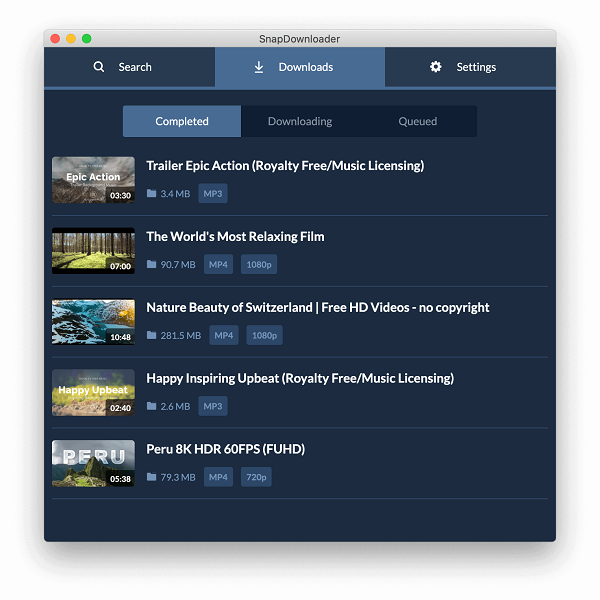 MP4 and MP3 are the most popular video formats; and thankfully, SnapDownloader allows you to download and convert online videos in both these formats.
6. Download YouTube Videos In Bulk
If downloading videos one by one seems a lot of work to you, then you have one more reason to thank SnapDownloader. Fortunately, this video downloader allows its users to download entire YouTube playlists in one go. Also, users can queue multiple videos in the background at once, allowing them to work on something else while the videos are being downloaded in the background.
7. Cross-Platform Support
Doesn't matter if you're a Windows or a Mac user, because SnapDownloader works on both platforms. Also, pretty soon, the video converter will also be made available for Ubuntu.
Windows: 7/8/10
Mac OS X: 10.10 and higher
Pricing
You can buy the lifetime license for SnapDownloader by only paying $19.99. It further means that you won't have to buy any monthly subscription, like with other video converters. You can enjoy all the amazing features of SnapDownloader by paying the price only once.
However, if you don't want to straightaway buy the lifetime license, then SnapDownloader also offers a 24-hour free trial.