Last year in December, Apple conceded that it deliberately slows down iPhones with older batteries to cope up with sudden slowdowns. While the company might have done this with good intentions, it faced flak for keeping the users in dark. Making amends, Apple promised to soon deliver an update that would give users more control over this kind of important performance management.
Acting well on their promise, Apple has released the new Battery Health feature in the latest iOS 11.3. So, feel free to update your device and get the new features.
This feature is available on all iPhones released after iPhone 6. This makes sense as according to Apple, performance management has been enabled on iPhone 6, iPhone 6 Plus, iPhone 6s, iPhone 6s Plus, iPhone SE, iPhone 7, and iPhone 7 Plus devices.
How does the new performance management feature work?
Before telling how to access the settings, let me tell you that after you've installed iOS 11.3 update, the performance management feature, aka iPhone slowdown feature, is turned off. However, in case your phone suffers a sudden shutdown, the slowdown feature will kick-in to prevent such situations in future.
As per Apple, iOS 11.3 will be able to periodically assess the level of performance and the management needed to avoid shutdowns. Once you disable the performance throttling, it'll stay disabled unless you suffer a shutdown.
How to fix iPhone slowdown and battery performance throttling?
To access the settings, you need to navigate to Settings > Battery > Battery Health (Beta).
Once you tap this option, you'll be able to get information on maximum battery capacity and performance of your device. In case everything's fine and your battery's capacity is full, you'll see this message: "Your battery is currently supporting normal peak performance."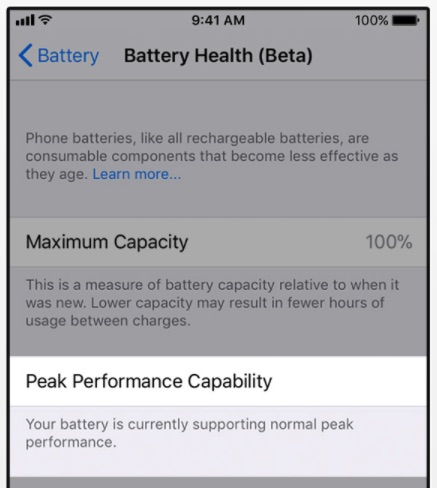 Now, let's suppose your phone has suffered an unexpected shutdown. In that case, performance management features would have been applied. It'll also show a measure of your battery capacity, which would be lower than 100%.
You can tab the blue Disable text to turn off management feature. After disabling it, the feature can't be turned on again manually.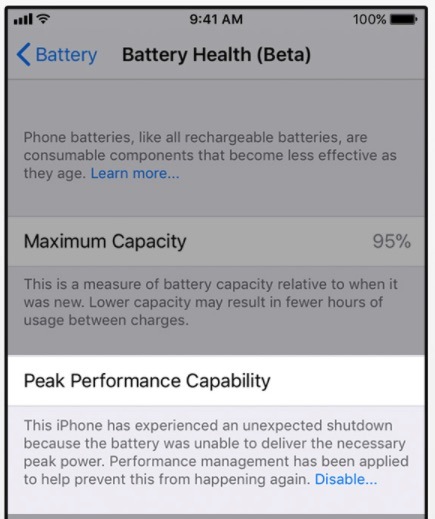 Once you've turned off the performance management feature to disable iPhone slowdown, you'll see something like this: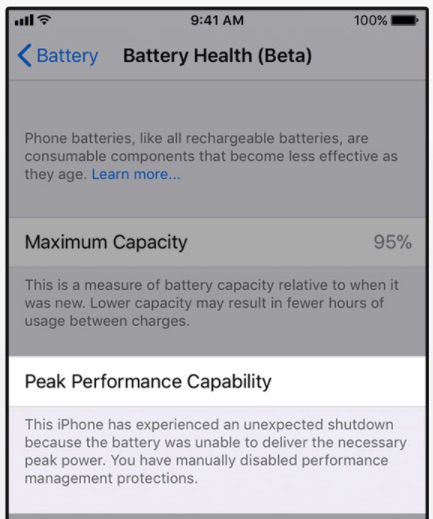 In case your battery has degraded significantly, Apple will show a suggestion to visit an authorized service provider and get a new battery for full performance and capacity. You also get an option to Disable the performance management feature.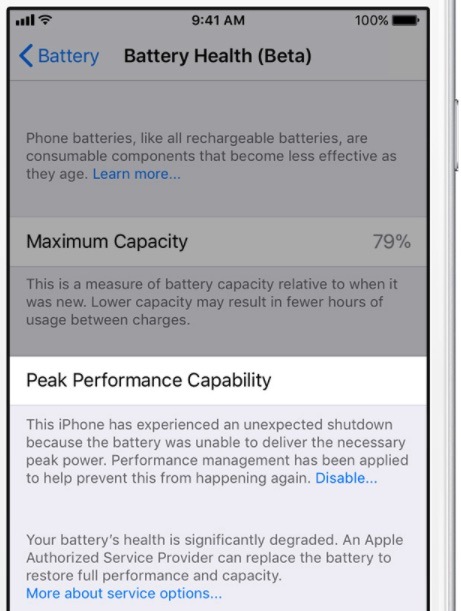 In few cases, users also might see a Battery Health Unknown message due to improper installation or unknown issue. To solve this, you're again recommended to visit service center.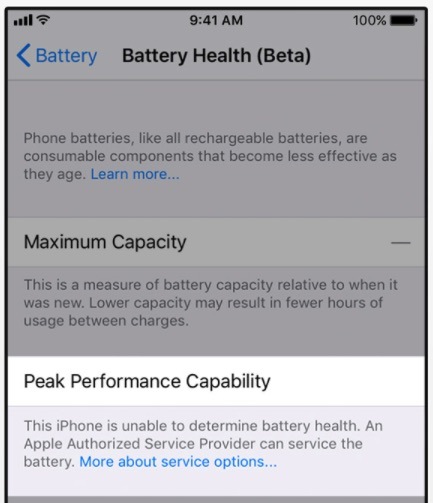 These were different options that you'll see in iOS 11.3's Battery Health feature. With this, you can disable and fix iPhone slowdown and get the maximum performance out of your device. However, if you choose to ignore the battery replacement advice, the chances of a sudden shutdown will exist.