The Clubhouse privacy policy has been of some concern to the users recently. The latest Clubhouse update is addressing those concerns, starting with access to contacts. You no longer need to sync all contacts to Clubhouse to invite people. Now you can simply punch in the contact number and send the invite.
Not just this, you can also send a request to Clubhouse to delete your contacts from the app's database. Aside from that, we'll also tell you how to revoke contacts on Clubhouse via iOS settings.
How To Delete Contacts From Clubhouse
Like many other things on the app, deleting Clubhouse contacts is also a bit tricky for now. According to Clubhouse CEO Paul Davison, a new tool is underway to allow people to delete contacts from the app. For now, you can reach out to the company via email to delete contacts from Clubhouse.
To send an email to delete contacts from Clubhouse, open this link and fill up the necessary details. In the 'Please choose a topic' segment, select My Account & Profile, and write the changes you want to make to your Clubhouse profile. You can request the app for account suspension, deletion, reactivation, and contact deletion from this page.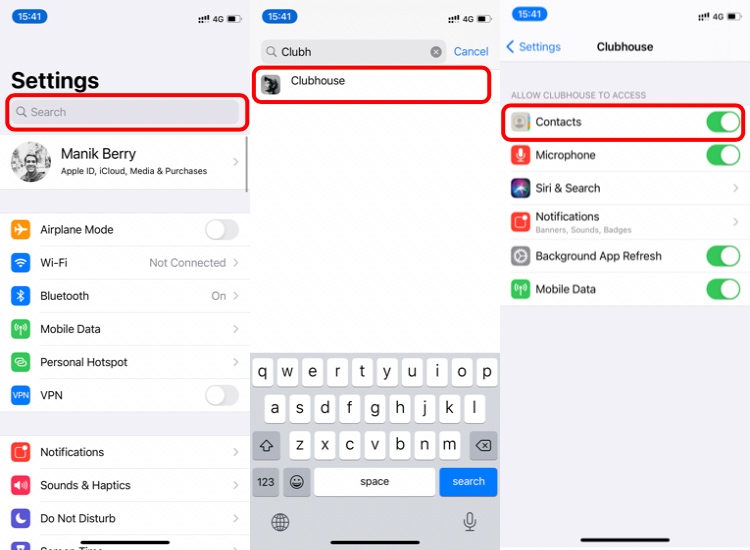 You can revoke Clubhouse from accessing your contacts from iOS settings. To do this, open Settings on your iPhone and search for 'Clubhouse'. Tap on it and turn off the contacts permission. You can also change notification permission from this page.
Clubhouse Update Fixes Major Concerns
First thing first, Clubhouse deserves appreciation for quickly sorting out the contacts issue. It was a major concern for users as they were coming across unpleasant contacts from the past on Clubhouse. Just this one fix can patch a privacy concern and provide a safer user experience on the app too.
While there are other concerns in the privacy policy too, being able to remove contacts from Clubhouse is a good feature. Here is how you can delete contacts from Clubhouse.
The Clubhouse social media, which is the audio-only format is relatively new and has inspired Facebook and Twitter to add similar features. However, Clubhouse has the advantage of tapping into the field first and it might as well beat the giants if it keeps improving the app and addressing privacy concerns. Also, do check out our article on how to delete your Reddit account in few simple steps.