Google has launched a new accessibility app called "Look To Speak". In the app, users can make your Android smartphone speak phrases out loud just by using their eyes.
Eye gaze technology is nothing new, but Google managing to bring technology to our smartphones via an Android app makes it much more interesting.
In a blog post, Google said Look To Speak is part of a bigger "Start with One" project. As the name suggests, the project focuses on building a product for one person and later making it available to others.
How to use Google's Look to Speak?
With the help of Look To Speak, users can ask Android to speak pre-written phrases out loud by using their eyes.
To set Look To Speak, you will need to position your Android smartphone slightly below eye level. While a stand or phone mount is recommended by Google, you can also use it while holding the phone in your hands.
Once you get past the setup wizard, you can look left, right, or up to select phrases. Make sure you are only moving your eyes while keeping your head stable.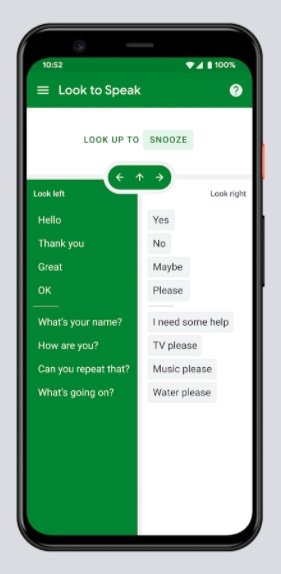 Once you select the list of phrases by looking left or right, Google will narrow down the phrases and distribute them on both sides. Keep selecting lists until you reach the exact phrase. In the app settings, you can edit the phrasebook and adjust the gaze sensitivity.
Loud to speak from Google is available on all Android devices running Android 9.0 Pie or above.