Given the recent ripple on the web globally, you might be wondering how to buy dogecoin in India. In between stories of Bitcoin values soaring at a rampant rate, the dogecoin cryptocurrency has recently become the talk of the town.
Dogecoin, which is literally based on a meme, is witnessing a significant upward boost in its value after receiving endorsements from prominent figures such as Elon Musk and Snoop Dogg. In this article, we will tell you how you can purchase Digicoin in India.
Dogecoin Price In Rupees
As of writing this article, one Dogecoin costs approximately $0.08 ~ INR 5. While it's not much, note that it was only $0.03 a week back, i.e., its price is up by more than 166 percent.
If the meme-based cryptocurrency follows the upward trend, Dogecoin could become a high valued cryptocurrency in the next few years. Note that one Bitcoin started off with $0.30 per coin back in 2011. And as of writing this article, it stands at close to $47,000.
If you feel bad for not investing in Bitcoin when the time was right, here's how you can redeem yourself by becoming an early Dogecoins holder in India.
How To Invest In Dogecoin In India?
Note: Cryptocurrency values are extremely volatile. We advise you to do some research before investing in DogeCoin
Just like Bitcoin or any other cryptocurrency, Dogecoin can be bought in India using cryptocurrency exchange services like Coinbase, WazirX, Bitcoin Wallet from CoinBox, etc.
On most platforms, users will have to do a KYC (Know Your Customer) which involves uploading a scanned copy of your identification documents. This can include your photo, Passport, PAN Card, etc. Once the identification process is complete, you will be able to purchase Dogecoin using INR.
We personally liked the WazirX app (available on Android, iOS, and on the web) due to the quick identification process and INR deposit and withdrawal.
How To Purchase Dogecoin Using WazirX?
Step 1: Setting up the account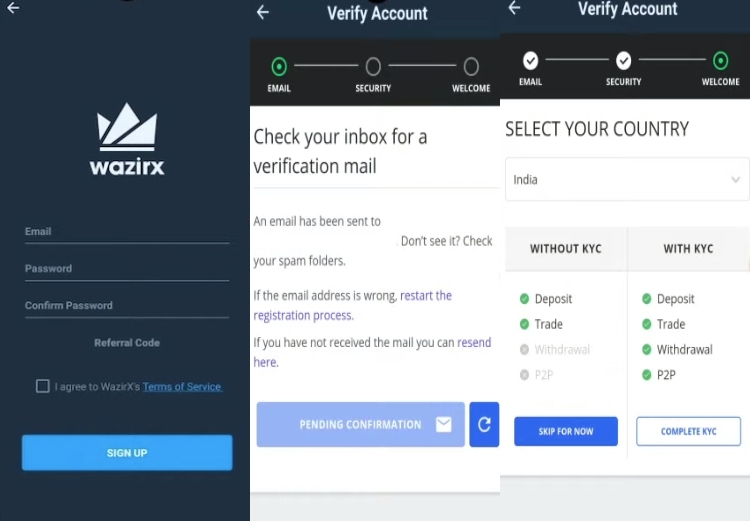 Open the WazirX app on your smartphone and begin the Sign-up process. Once it is complete, finish the email verification and set up 2FA (Factor Authorization) by registering your mobile number. You will now be asked to complete the KYC.
For KYC verification, you will need to fill in your name, date of birth, and address. The app will also ask you to upload identity documents such as Pan Card and Aadhar Card (optional). Once the KYC is complete, you will receive a confirmation on your email address within 24-48 hours.
Step 2: INR deposit and Withdrawal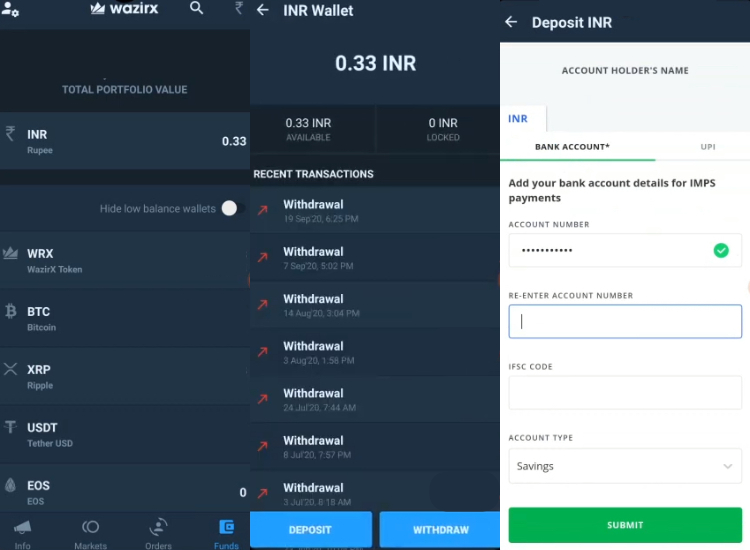 To deposit or withdraw money, you will first need to connect your bank account. Tap on the funds tab > Tap on INR tab > Tap on Deposit > Enter your bank account details (Account number, IFSC code, and account type) > Tap on Submit. Now, authenticate the process via entering the OTP number that will arrive on your mobile number registered with the bank account.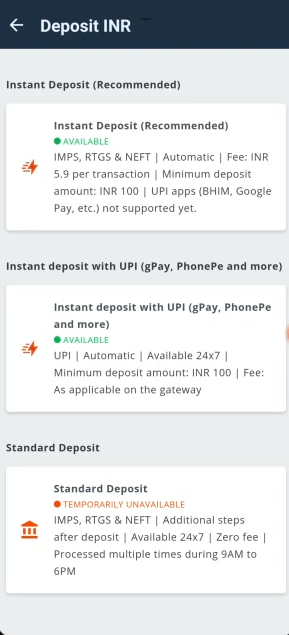 Once you have linked your bank account to the app, you can easily deposit money using IMPS/NEFT/RTGS.
The best part about the app is that you can also deposit money using UPI (Google Pay, PhonePe, Paytm, etc.)
Step 3: Buy Dogecoin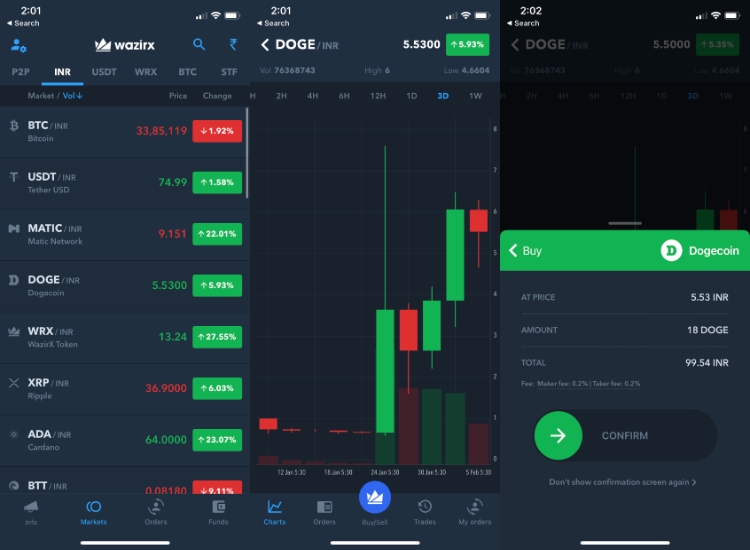 To buy Dogecoin in India, go back to the markets and tap on the INR market. You can also choose to buy doegcoin in the USDT market, however you will first need to convert INR to USDT.
Tap on Buy/Sell > Set the price > Enter the INR amount > Tap on Buy > Swipe right on the next screen to confirm. The number of Dogecoins bought will now reflect on the Funds tab.
So, this is how you can buy Dogecoin in India using the WazirX app. You can also use the same cryptocurrency exchange app to buy Bitcoin in India or other cryptocurrencies.
FAQ
How high could Dogecoin go?
There is no saying how high Dogecoin will touch. Some say Dogecoin is here to stay, while others say that the sharp price jump indicates a massive bubble.
What is "At Price" in WazirX?
In the WazirX app, you can set at what price you would like to buy/sell the coins. For instance, if you buy Dogecoin for INR 5 per coin, however, the current market stands at INR 4 per coin; it will turn into open order and will only be completed once the coin's market price is INR 5/coin.