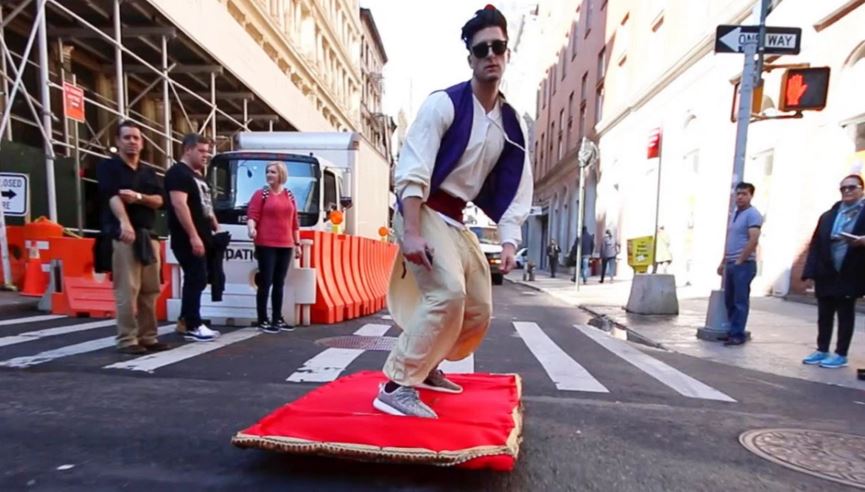 Short Bytes: Do you want to relive your childhood dream of riding Aladdin's Magic Carpet? This Halloween, the PrankvsPraank duo from NYC created a real-life Aladdin carpet and freaked out people on the roads of Manhattan.
T
his year's Halloween shenanigans were taken to a whole new level by Jesse Wellens and Casey Neistat by pulling off a 'real-life' Aladdin-inspired magic carpet stunt.
A video has gone viral online and it features Wellens dressed as Aladdin and freaking out people in Manhattan. Aladdin's magic carpet appeared to fly and thus became many people's favorite Halloween costume this year.
Before we tell you about all the engineering involved and how the PrankvsPraank duo from NYC created this remarkable similar real-life Aladdin's magic carpet, let's take a look the video that is becoming viral on YouTube and social networks:
Talking about the science and mystery involved in the real-life Aladdin's Magic Carpet, they used an electric skateboard as the base. This skateboard called the Boosted Board is charged up during the ride using regenerative braking.
The electric skateboard can be steered like a usual skateboard and it also works with a Bluetooth remote. The duo made a frame out of plastic piping, attached it to the board and covered it with cloth.
Also read: Happy Halloween: Top 10 Best Horror Movies
In the video below, watch the secret behind the real-life Aladdin's Magic Carpet:
Did you find this video amazing? Tell us in the comments below.
Also read: Electric Skateboards Have Been Hacked Using "FacePlant" Exploit