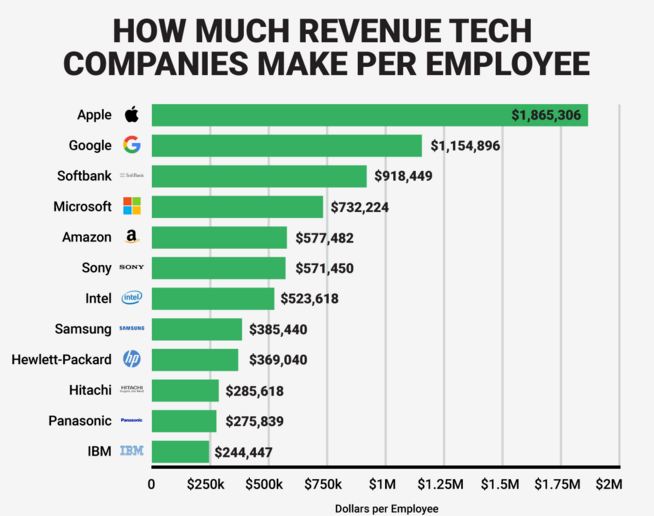 Short Bytes: Top tech giant like Google and Microsoft are worth billions and credit their working teams for the achievement. But, how much does each employee help is worth to the company? Read further to know.
A
pple, Google, and Microsoft are among the many prestigious brands that people would love to work for. And why not, comprising of an amazing work culture, the current employees are being handsomely paid and taken good care of by the companies.
Take Apple, for example, which is today's most valuable brand followed by Google and Microsoft and had been at the top since 2013 with just about 100,000 employees. Google has a workforce of little over 50,000. And we all know how much these companies have achieved with such a few number of people working for them.
These companies are worth hundreds of billions of dollars, but how much money do they make from each employee? Let's see some stats provided by the team of Expert Market for the top tech companies.
1. Apple
The company that has clearly created a class divide between the electronics consumers, sits proudly at the top earning $1,865,306 through each employee.
Its total revenue in 2014 was $182,800,000,000 and employs about 98,000 professionals. 
2. Google
After acquiring hundreds of companies from several genres (including advanced robotics and AI), Google transcended to Alphabet. And with all its subsidiaries, Alphabet (Google) earned a total revenue of $66,000,000,000.
Google makes $1,154,896 per employee and has about 57,148 employees.
3. Softbank
The Japanese multinational corporation has its wings spread in several service sectors including e-commerce, finance and technology services among many. The company makes $918,449 per employee.
Softbank had a total revenue earning of $64,600,000,000 with about 70,336 people working for it.
4. Microsoft
The brainchild of Bill Gates (some might disagree), Microsoft has the widest reach among the masses, thanks to its proprietary Windows OS for desktops which has kept him as the richest man in America for the past 22 consecutive years. Microsoft earns $732,224 per employee.
The total revenue for Microsft is $86,830,000,000 with a workforce of 118,584 employees.
5. Amazon
The e-commerce giant recently came under fire for its inhumane workplace conditions. Nevertheless, the company earns a total revenue of $88,990,000,000.
Amazon has 154,100 employees working or it and makes $577,482 per employee.
6. Sony
One of the oldest tech companies to feature in the list, Sony was founded in 1946; 69 years ago. Today, it earns a total revenue of $75,260,000,000.
Sony employs 131,700 people and makes $571,450 per employee.
7. Intel
One of the world's largest and most valued chip makers, Intel recently released Skylake, its best processors yet. The company earned a total revenue of $55,870,000,000.
It has about 106,700 professionals and makes $523,618 per employee.
8. Samsung
Another tech company from the ages of yore, the South Korean tech giant was founded in 1938 as a trading company; 77 years ago. Today, it has established itself as the largest tech conglomerate. Samsung earned a whopping $188,480,000,000 from revenues.
The company has 489,000 employees and makes $385,440 per employee.
9. Hewlett-Packard
Popularly referred to as just HP, the company was founded in a two-car garage about 76 years ago and became the world's leading PC manufacturer from 2007 to Q2 2013. HP had a total revenue of $111,450,000,000.
About 302,000 professionals work for the company which makes $369,040 per employee.
10. Hitachi
The Japanese multinational conglomerate has diversified business segments ranging from Information and Telecommunications Systems to manufacturing and installation of defense systems. Hitachi was founded in 1910 and it earns a revenue of $93,180,000,000 today.
Hitachi has 326,240 employees and makes $285,618 per employee.
Which is your favorite company? Tell us in the company below.