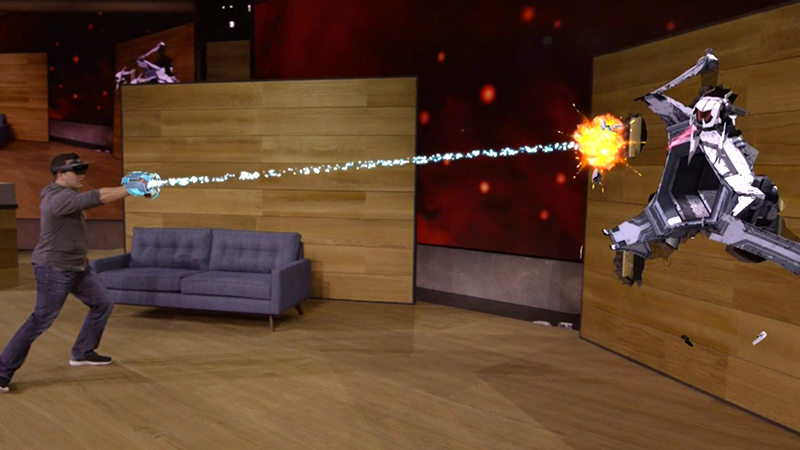 Short Bytes: At its Windows 10 device launch event, Microsoft showed off the future of HoloLens with Project X-Ray that dealt with some amazing live gaming right in your living room.
A
t its Windows 10 device launch event, Microsoft showed off its first-ever laptop called
Surface Book
. As expected, the company moved ahead on its virtual reality journey with
HoloLens
and a collective Windows 10 device experience.
HoloLens is my personal favorite Microsoft product to date. At today's event, the company revealed a new mixed reality game called Project X-Ray for the HoloLens headset.
"Holograms behave just like real objects; they can interact with environments and with each other," said the Microsoft representative on stage about Project X-Ray.
I was watching the event live and the HoloLens demo blew me away. It was all about the live games where you hold a stick in your hand and your HoloLens projects a gun around your head that fires at the robots and objects in the room. You can also project a shield around you to project you.
However, the headset is still isn't available for the consumers. From today, for developers, the company has released the HoloLens development kits, that will be available from the first quarter of 2016. The kit will be costing $3,000.
In the past, the company has also teamed up with NASA and planned to send HoloLens to the space.
Microsoft is betting big on HoloLens and CEO Satya Nadella wants the device to be promoted as a business as well an entertainment device.
Did you like the demo video? Tell us in the comments below.