Social media never stops surprising us. This will be the understatement of the year in this case. Out of nearly 2,00,000 Instagram posts with the #taliban, you'll easily spot a wide variety of memes. It would be another thing if the memes were on the Taliban or the Afghan situation, which would make it all the more worrisome. But in this situation, Instagramers are using #taliban to promote random memes and posts.
This story came out as a result of another story, where we've talked about what might happen if Taliban content keeps going viral. We monitored the hashtag for roughly 2 hours, and there are new memes coming out every now and then.
What's more alarming is that there are no clear parameters to report it. It is a meme, and nobody wants to be the buzzkill by reporting a perfectly normal meme. However, the liberal usage of the #taliban on Instagram makes one wonder what else might trend under this tag.
Where's The Limit?
Okay, so I'm not writing this to tell memers which tags to use and which ones to avoid. My question is the bigger picture, or the more serious posts bearing the same hashtag. While there are several posts that'll straight up send a shiver down your back, there is the more severe problem of propaganda.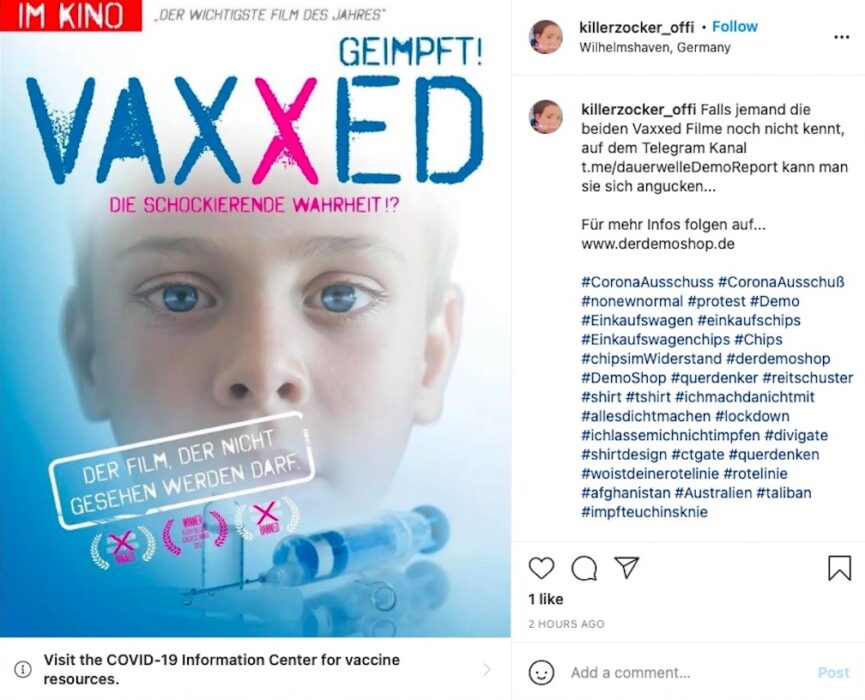 We came across several pages posting content that borderline violates Instagram policy. That being one of the reasons we're not adding links or posting the content in this article. However, the above screenshot is from one such post. The post is in German, and the poster is that of a 2016 film named 'Vaxxed'.
The so-called 'documentary' claims that the measles-mumps-rubella (MMR) vaccine is responsible for a rise in autism. The film is clearly a part of the anti-vaxxer agenda which Facebook swore to get rid of. New Zealand's Immunisation Advisory Centre has also issued a clarification on the film being a piece of propaganda by a discredited scientist.
We also came across various posts about Christianity using the hashtags #viratkohli (an Indian cricketer), #palestine, #afghanistan, and #taliban. Again, the only reason for the use of these tags is to reach more people. What some people forget is that they're creating irrelevant and at times insensitive or misinforming content for other users.
The use of a trending hashtag or issue is a known problem across social media platforms. While most of the time it is harmless, it becomes an issue when it comes to sensitive topics and hashtags like this one. It clearly demands more attention and stricter content moderation, especially for the use of sensitive hashtags.
Expert social media analysts also advise against the use of such hashtags. They can lead to shadow bans, or posts being marked irrelevant by the user. So if you're one of the people using viral hashtags to gain popularity, the fame would probably be short-lived.