Google is the go-to search engine for most of us out there. But have you ever wondered if everything Google shows you are correct? I'm sure many of us have experienced some time while searching for something on Google; the results turn out to be bizarre. These things sometimes make me question Google's reliability.
Apparently, something similar happened recently when Google's algorithm mistakenly put a Zurich-based engineer – Hristo Georgiev picture on an article about a serial killer. I'm sure most of you are wondering how Google's algorithm can do this while being considered the most advanced in the business.
The Zurich-based engineer came to know about this when a former colleague discovered the article with Hristo's picture. In a blog post, the man wrote, "As I was scrolling through my inbox today, I stumbled upon an e-mail from a former colleague of mine who wanted to inform me that a Google search of my name yields a picture of me linked to a Wikipedia article about a serial killer who happens to have the same name as mine."
Here you can see how the Google search result looked like.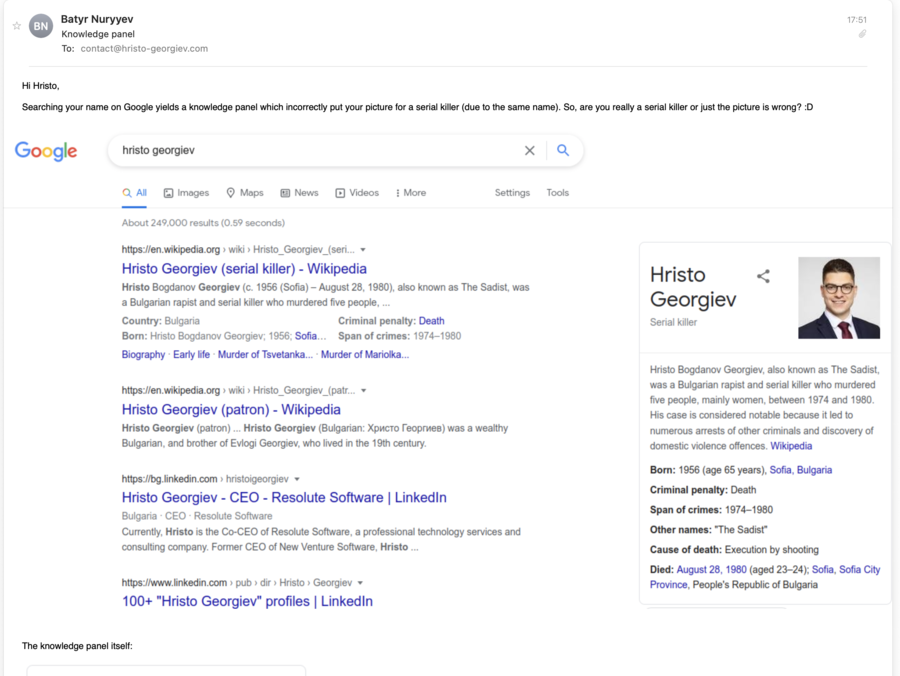 The article about the serial killer, with whom Hristo shares his name, the Sadist, was apparently a Bulgarian rapist and serial killer who killed 5 people between 1974 and 1980. Indeed these kinds of things can be scrubbed off jokingly between friends. Then again, you can't really ignore the fact that something like this can definitely impact your social image.
In a world where everyone lives there lives online and "online image" is how you're presented to the world; can we afford such mistakes from Google? We'll let you be the judge of that.
Meanwhile, the 'issue' has been fixed; Hristo wrote in his post, "The issue now appears to be fixed. Props to the HackerNews community for bringing this up and greatly accelerating the process!"
Have you ever encountered such a bizarre incident with Google search? Share your experiences with us in the comment section below.