W
ith time, augmented reality will make its way into more and more devices. If we talk about Android, Google-made Pixel 2 and Pixel 2 XL are among the handful number of Android devices that currently enjoy the AR abilities.
Now, Google has shared their plans to bring AR to millions of Android and iOS devices loaded with an AR capable web browser. The WebAR prototype, called Article, they've developed is a 3D model viewer that works with web browsers for both desktop and mobile devices. On desktops, the users can interact with the virtual astronaut by dragging him using the mouse pointer and scrolling to zoom. On mobile devices, the same can be done by finger gestures such as pinch-to-zoom, and rotating Article using the tap-and-drag gesture.
An AR button appears on the bottom right of the content when it gets loaded in an AR-capable browser. Tapping the button opens the device's camera. The user can touch the astronaut to make him pop out of the device and land on some flat surface, giving an idea of its full size in the real world.
An important thing Google emphasizes is dropping visible interface cues which help people learn better how AR works. For instance, the rotating circle that appears on the screen while the device searches for a flat surface to place the astronaut. The circle tilts as the user moves the device.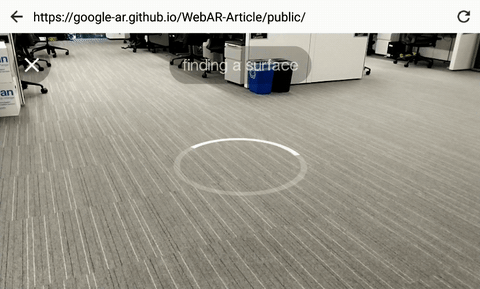 Bringing AR to mobile devices and desktops would help in the exploration of AR's undiscovered potential. It has many applications including entertainment, education, improved shopping experience, etc. Imagine searching for something on an e-commerce website, and you can instantaneously see how it would look in your room. Google says people would start seeing WebAR on devices in the coming months.