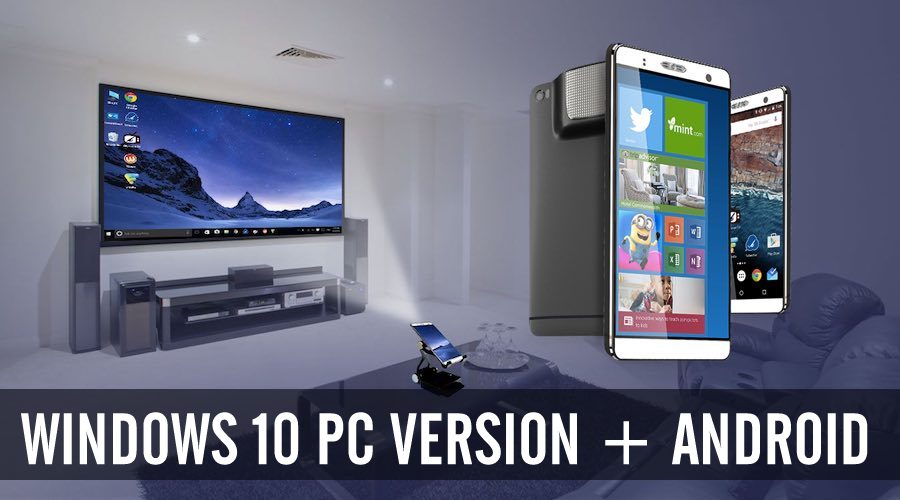 Short Bytes: Akyumen has released a projector-enabled phablet called Holofone with two-in-one OS functionality. The best part is, one of the two operating systems is Windows 10 PC version. Holofone is scheduled for its first shipment on September 1.
C
ell phones have evolved over time–from the ones which weighed more than a kilogram to slim and trim ones which you can 'touch'. Akyumen, a Chinese company, has launched a
new android + windows phone
with two operating systems.
That's not something that we've heard for the first time. But, the surprising thing about it is that one of these operating systems is Windows 10. It is not the mobile version–it is PC Windows 10 that Microsoft promoted round the year. It also has a 100-inch image projector and a 7-inch 1080p display.
This device is called a Phablet. Why?
Intel Atom 8300 powers the Holofone using 4 gigs of RAM. The device also has a 13-megapixel shooter and 128 gigs of storage space for cat videos and groovy tracks. And the battery capacity is only 2910mAh.
At a price tag of $600 and $900 (with accessories), Holofone is surely a great competitor to the Mi Notebook Air at $525 (don't frown, I know that Notebook Air is a laptop).
Pre-orders are already filled for the first shipping on September 1. You can order your Holophone for shipping on November 5.
If you have something to add, tell us in the comments below.
Also Read: Google Enchances Its Security By Enabling HSTS Encryption For Google.com