Short Bytes: Google, Huawei, and Linaro have collaborated to launch HiKey 960 mini PC that runs Android and Linux. It's an officially supported Android reference board that can be used by developers to code software for ARM-based systems. It's powered by Huawei's octa-core Kirin 960 chip, LPDDR4 RAM, and Mali-G71 GPU. 
W
henever we hear the name Android, the first thought that comes to our minds is an operating system that powers the most of the smartphones around the world. But, with time, it has grown to become
one of the key players
in the operating system world by finding its place on smart devices, televisions, computers, cars, etc. This has also created new opportunities for Android developers as they can code apps for devices of different form factors.
Now, to help the developers code software for ARM systems without being dependent on Chromebooks or Intel x86 systems, Google, Huawei, and Linaro have launched HiKey 960 (get it here on Amazon). It costs $239 and measures 85x55mm.
HiKey 960 single board computer is a powerful Raspberry Pi alternative that runs Android. The device is powered by the Huawei's octa-cire Kirin 960 chip that powers the Mate 9 flagship.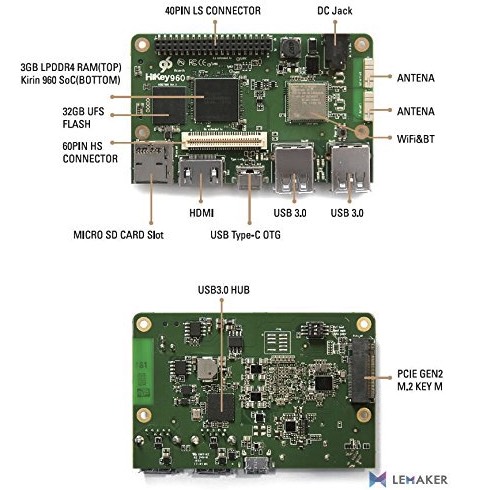 Kirin 960 SoC is loaded with four Cortex-A73 cores clocked at 2.4GHz and four others clocked at 1.8GHz. Thanks to its Mali-G71 MP8 GPU, it's capable of 4K graphics. Talking about the RAM, you'll get the speed of 3GB LPDDR4 RAM.
The other specifications of HiKey 960 mini computer are 32GB UFS 2.1 flash storage, microSD card slot, HDMU 1.2a port, Wi-Fi 802.11 b/g/n/ac, Bluetooth 4.1, 2xUSB 3.0 Type-A ports, 1xUSB 3.0 Type-C OTG port, and a PCIe m.2 connector.
HiKey 960 board comes with two 40-pin and 60-pin camera module expansion ports. You also get four user LEDs, a power button, and LEDs for Bluetooth and Wi-Fi.
HiKey 960 is an officially supported Android reference board. It's launched with support from Linaro, an open source organization for developing ARM ecosystem software. Currently, you can install and run Android 7.1 Nougat on HiKey 960 by following these instructions.
You can buy HiKey 960 computer here on Amazon.