F
undamentally proven security systems are important, in fact, they are almost the need of the hour as the hackers are becoming advanced by the tick of the clock. The rise of quantum computing would give them more power to crack open the existing encryption systems.
So, quantum encryption is now a part of geek-talks across the world, although, it first came to fruition in 1984. Recently, we told you about China readying their quantum messaging service. But the hard truth is that the current implementations of quantum key distribution come at the price of speed, downplaying themselves in front of traditional encryption techniques. If we talk about the "quantum internet," a user can't even perform basic things like video streaming.
Now, it appears that it might become a thing of the past. The researchers at the Duke University have found a way to compensate that speed limitation, putting more data in every photon. By altering the release time of photons, the researchers can encode 2 bits of data in every photon, exceeding the earlier limit of 1 bit. The changes happening with the photon are detected using high-speed photon detectors.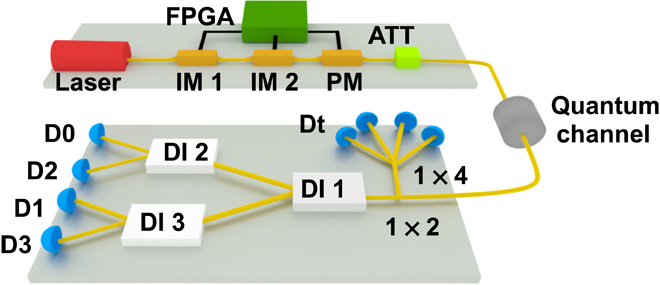 Thus, their quantum key generation techniques deliver tight encryption without throttling the speed. The best part about quantum encryption: even if someone tries to peak at the data in transit, he can't even do so without leaving easily traceable errors.
However, getting quantum encryption to the commercial market is still far than it seems. But all the required components, except the single-photon detector, are currently available. The setup would be big, possibly with the size of a desktop computer. The researchers say that their system is also scalable to "free-space quantum channels" or over-the-air.
You can read the research paper published in Science Advances.
Via Phys.org