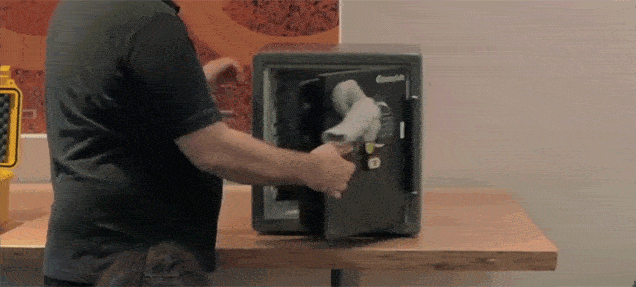 Short Bytes: It's possible that the electronic safe in your home is incapable of protecting your valuables. YouTuber Terry Whin-Yates has found a flaw in the Sentry Electronic Safe that allows him to open it in just a matter of seconds.
P
eople go to the market and buy a safe with cutting-edge features to protect their valuables. Everyone thinks it's a good idea as safes and locks have become a standard way to keep things safe.
Well, every lock on this planet has its weak points and it just takes the right technique to open it. In a recent video, Mr. Locksmith demonstrated how he can open the Sentry Electronic Safe in just a matter of seconds. To achieve this feat, he uses a rare earth magnet and exploits the nickel solenoid piece in the safe.
Actually, Mr. Locksmith is the name of the YouTube channel run by Terry Whin-Yates and it focuses on locksmith training and different methods of opening locks. Terry works to improve the safety of the safes, but he also enjoys to show the flaws in the security products.
If you watch the video, Terry uses a sock to carry the magnet. Well, there's no rocket-science behind the sock — it's there so that he can pull off the magnet easily.
Watch the video below and see how Terry opens the safe in 2 seconds:
Have something to add? Share your views in the comments below.
Also read: Feeling Angry? Come and Break All The Gadgets in This "Rage Room"