From the very beginning, the electric car Lucid Air has been advertised as a Tesla Model S rival. However, when it comes to the manufacturing process, Lucid Air is built quite differently from its rival Model S and today we'll discuss that.
Lucid Motors recently released footage of the assembly process of its electric sedan Air. It's the first time we get a proper view from the inside of its AMP-1 factory in Casa Grande, Arizona.
Making Of Electric Car Lucid Air
Unlike Tesla, whose manufacturing involves numerous robots and a highly automated process, Lucid Air takes limited help from robots.
The Lucid Air assembly process includes both robots as well as humans that its makers believe sets it apart from its competitors.
Art Schlaud, Director of Manufacturing for General Assembly, Lucid Motors said, "We do have some robots and we do have automation, but this vehicle is put together by humans. And it takes real craftsmanship."
Mr. Art Schlaud told in the interview that for general assembly, they get a painted unit.
After that, the electric car is assembled and then sent to different departments for testing and inspection. Mr. Schlaud said they work on 3 primary zones: trim, chassis final and then end of the line.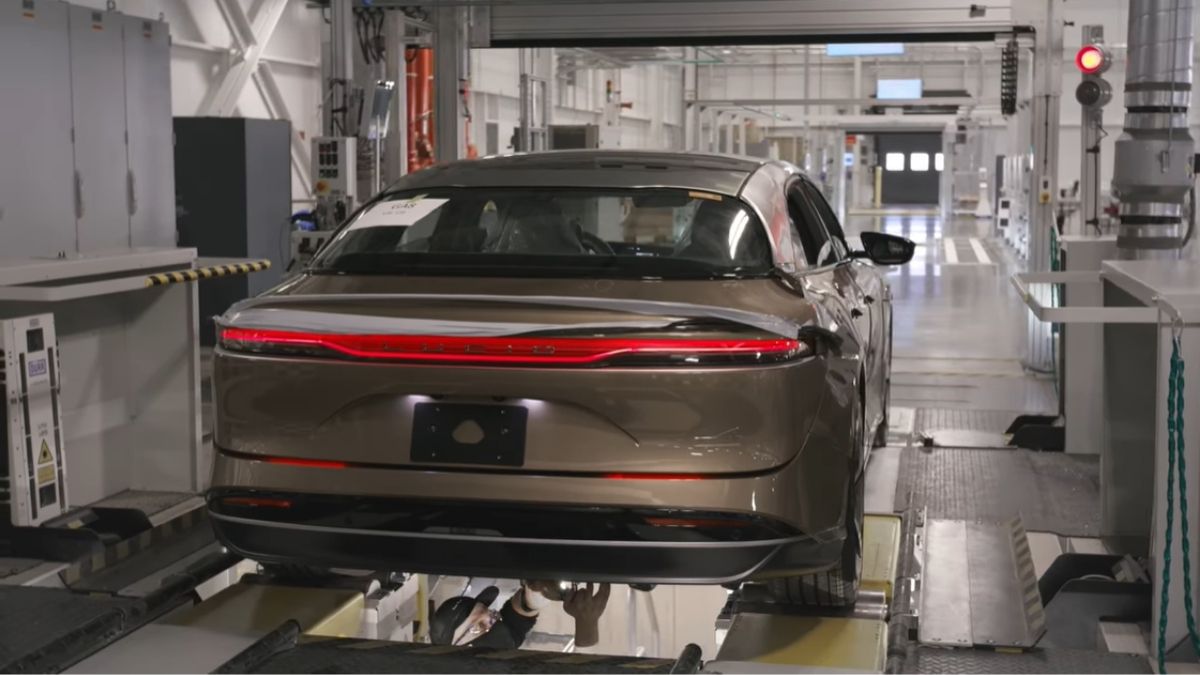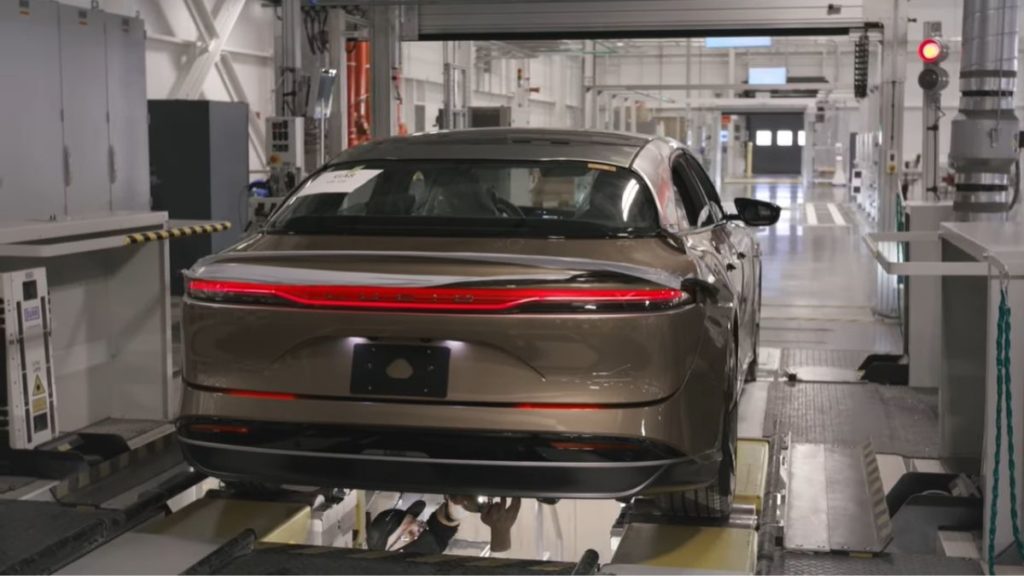 Federico Tapia Olivas, Head of Manufacturing Quality said that the design of Lucid Air is complex in both design and functionality. In order to make sure the final product is working properly, the car undergoes multiple tests including a road test, water test, squeak and rattle test, and much more.
These are some of the most common tests that most automakers run on their vehicles before delivering them.
He said that in total they evaluate 11 subsystems that include powertrain, chassis, interior, exterior, etc.
After that Jason Regelski, Manager of Product Operations, stated that the General Assembly at Lucid Motors is the culmination of everything which he believes makes the Air special.
Furthermore, the vehicle evaluation manager at Lucid Motors, Hector Rason Rodriguez, reveals that before shipping the vehicle his team inspects more than 180 attributes to make sure the electric car goes out defect-free.
Once the car gets approval from each department, it is then sent to the logistics who is responsible for the shipping process.
Federico said that Lucid Air is not any traditional car, it's magic when you drive it. Well, we have to drive it first before believing in its magic.
Final Thoughts
In a modern world where automakers are trying to automate things and make the manufacturing process as quick as possible, Lucid Motors seems to be working with a different approach.
Maybe it's because the EV maker doesn't want to produce it in volumes.
It also reminds us of how each Rolls Royce is completely handmade by highly skilled craftsperson and designers.
We know that Lucid Air is a luxury electric car and we expect that it'll indeed provide a great riding experience. Still, the real potential of the car will only be tested when it'll go on the roads.
Anyway, what do you guys think? Share your views in the comments section below.