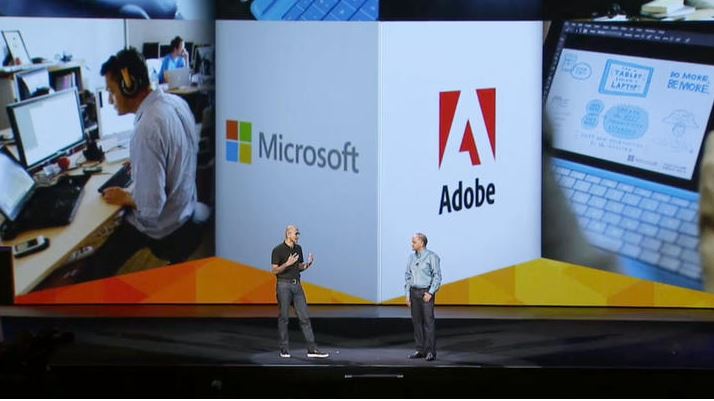 Yesterday Microsoft announced that Adobe is partnering with them on Windows 10 to contribute to the Spartan Browser. Adobe will be bringing its expertise to the areas like layout, motion and graphic design, and typography. Microsoft is making changes internally allowing the growth of its platform. With the Project Spartan, Microsoft is giving more emphasis on providing cross-browser testing resources and better developer tools.
Adobe contributes greatly to the open source browser engines like WebKit, Gecko and Blink. In the past, Adobe tried to make assistances to the Internet Explorer code base. But, this changed in past few months when Adobe engineers Rik Cabanier, Sylvain Galineau, Max Vujovi and Ethan Malasky started working with IE engineers.
Web Platform Team of Adobe has provided its contribution in the latest Windows 10 build and supplied a CSS gradient midpoint feature. This features will allow devs to select a location between a CSS gradient's color stops and is itemized in CSS image draft.
Also read: Windows 10 Hardware Requirements and Upgrade Paths
Now Adobe provides full support for the blend modes. New blend modes expand existing values normal, screen, overlay, multiply, color-burn, hard-light, darken and lighten with color-dodge, soft-light, hue, saturation, difference, exclusion, color and luminosity. This change will make the new Spartan Browser of Windows 10 as advanced as the Firefox beta, WebKit Nightly and Chrome.
As I mentioned earlier, Microsoft is aiming to provide better service to its users and better tools to its developers by opting a more open approach.
Windows 10 is coming will a brand new Spartan Browser for Windows 10 that will have some of the most advanced features ever for a web browser. It will be light-weight and fast browser with Cortana integration in its core.
Also read: Top Tech News Of The Week
---
  Are you expecting an incredible performance from Spartan Browser? Tell us in comments!
Stay tuned for latest technology news from fossBytes!
---