Hacking Team, a controversial company from Italy which specializes in selling powerful surveillance equipment to governments and their enforcement agencies, has been hacked. This attack resulted in about 400GB data leakage.
E
arlier today, in a series of tweets on the compromised Twitter handler of the Hacking Team, the unknown hackers revealed a torrent with 400GB of internal files, source code, and embarrassing email conversations. America's Drug Enforcement Authority (DEA) is known to be one of the customers of its surveillance equipment.
In the last, Hacking Company has denied any allegations of selling tools to the governments but the leaked emails show that company has done some pretty good business with the oppressive regimes in Sudan, Saudi Arabia, and Bahrain.
The unknown hackers have posted various file links on file sharing websites and replaced the company logo that read "Hacking Team" to "Hacked Team"  on Twitter. Many companies are known to develop highly sophisticated software and help the governments to monitor the people's smartphones and personal computers.

Apart from the above-mentioned clients, Hacking Team also supplies surveillance tools to Morocco and Ethiopia. The Verge writes that Hacking Team is infamous for injecting malicious scripts in Microsoft's Live services and YouTube. Take a look at more clients below:
Egypt, Ethiopia, Morocco, Nigeria, Sudan
Chile, Colombia, Ecuador, Honduras, Mexico, Panama, United States
Azerbaijan, Kazakhstan, Malaysia, Mongolia, Singapore, South Korea, Thailand
Uzbekistan, Vietnam, Australia, Cyprus, Czech Republic, Germany, Hungary
Italy, Luxemburg, Poland, Russia, Spain, Switzerland, Bahrain, Oman
Saudi Arabia, UAE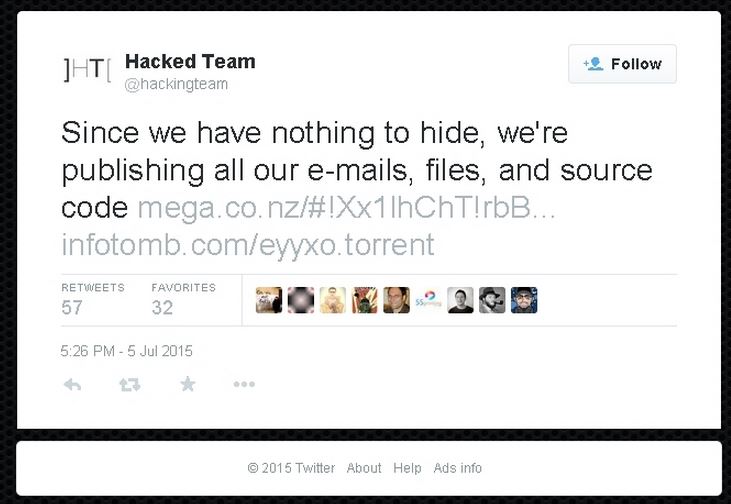 Hacking Team came into existence when two Italian programmers created a program called Ettercap which got popular as a tool to spy on people. The success of this software inspired the formation of the Hacking Team.
Below is a commercial for Hacking Team's top tool, Da Vinci:
Did you like this story? Tell us in comments below.
Also read: Russian Hackers Hacked the White House Security: Report