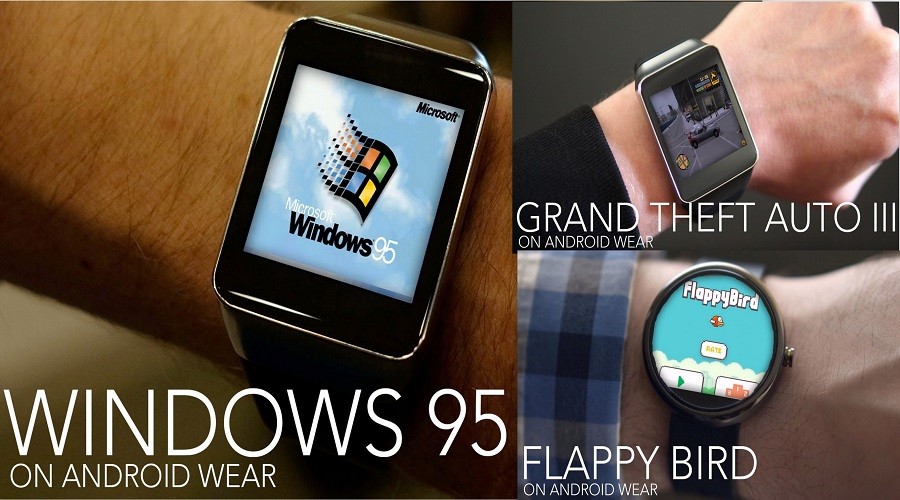 Short Bytes: Corbin Davenport, a 16-year old developer, has installed Flappy Bird, Windows 95, DOOM, GTA III and other software on his smartwatch. Read the complete story here and watch the videos.
W
indows 95 was the first operating system for many people and it changed the people's perception of personal computing. Back then, the OS ran of chunky desktop PCs and people were loving the newly introduced Start Menu.
Well, the Start Menu is once again back with Windows 10 and people are loving this addition. Yesterday, I was killing some time on YouTube and I came across this amazing hack, that allowed a programmer to install Windows 95 and other famous software and games on his smartwatch.
Corbin Davenport, a 16-year old web developer from Georgia has somehow managed to run Windows 95, Flappy Bird and other software on his Samsung Gear Live smartwatch.
Also read: Hacker Controls the Cellphones in GTA V With His Own Cellphone
In the video below, the Windows 95 OS boots and takes same time to boot and the hacker is able to navigate around the OS using his fingers. Davenport accomplished this by using aDosBox, a DOS emulator that you can find in Google Play Store.
This is not the only software Davenport installed on his smartwatch. Below is a video of his Samsung Gear Live smartwatch running GTA III.
Here's Flappy Bird running on the Moto 360:
You can watch more videos on his YouTube channel to see Fallout 1, Temple Run 2, Macintosh II and more software on his smartphone.
Did you like these videos? Tell us in the comments below.
Get the best courses on Ethical Hacking here.