Facebook recently suffered a massive breach of login tokens that posed a risk to 50 million accounts all over the world. A recent article by The Independent reveals that the hacked data is available on Dark Web and can be grabbed for as low as $3.90.
There are many listings found the Dark Web that are offering users' personal data for low prices. Such listings are featured on popular dark web marketplaces such as Dream Market.
What makes the issue more pressing is the fact that the listing has been posted by trusted sellers which nearly confirms the authenticity of the data. Dream market uses a rating system akin to other online retailers such as Amazon and eBay, and sellers are rated according to their authenticity.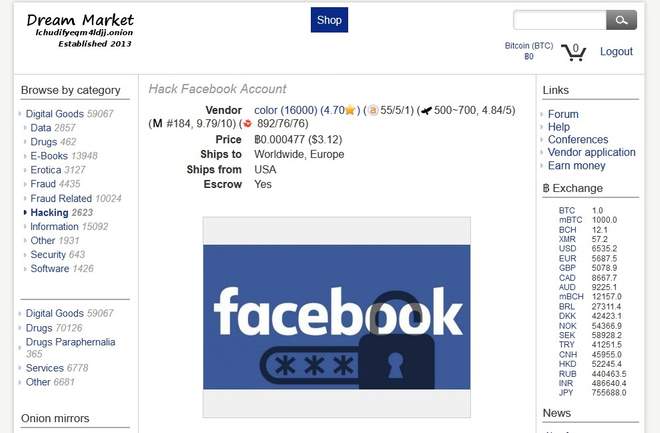 However, the marketplace does not accept cash or online payment. Those who need to purchase the facebook's hacked data need to pay using digital currencies like Bitcoin and Bitcash.
According to an estimate, the total value of the data available on DarkWeb lies in the range of $150 and $600.
As per Bill Conner, CEO of cyber security firm SonicWall, "As long as stolen data continues to fetch high prices and equip perpetrators with the means necessary to carry out attacks, hold victims ransom, extort information or destroy property, organisations must exhaust all measures to diligently detect and protect their networks, devices and users."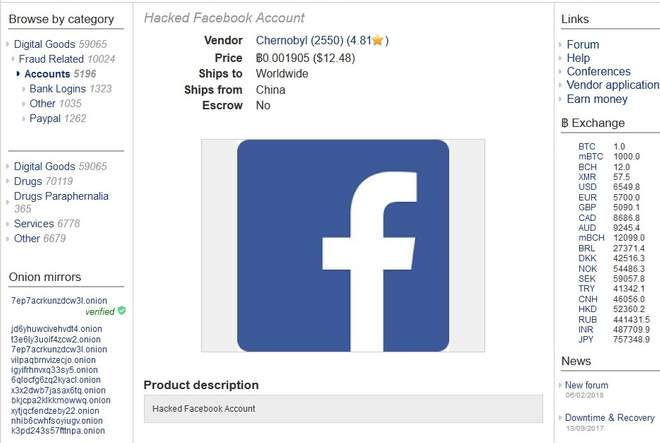 A report by Money Guru, an investment firm said that you could avail your entire online identity, including financial information, travel account information, online shopping details, video, music streaming, and gaming accounts, social media account information can be purchased for £744.30.
According to GDPR rules, Facebook is liable for a massive fine of $1.63 billion — if found guilty in the recent data breach.