Short Bytes: A man modified his old game boy to fly a modern unmanned drone. He used an Arduino circuit board and an FTDI chip to convert the game link signals to USB and then transfer them to the drone using a ground station.
I
t is said that the history repeats itself. And seeing various retro stuff coming again in the front of the world makes sense. Thousands of games for old platforms like
Windows 3.x
and
Amiga
 have been uploaded to the Internet Archive. This time, it's about the Game Boy.
Gautier Hattenberger went to his parents' home one day and found his old and forgotten Game boy. "Can I fly a drone with this?"– the first thought that struck Hattenberger's mind.
He didn't stop there but actually went on to search for the relevant information on the internet. "And if it seems that piloting unmanned aircraft with a Game Boy is not so common, you can find everything you need to program it!" – writes Hattenberger on the Paparazzi UAV blog.
He got an Arduino and an FTDI chip. He then connected the two devices to the Game Boy through the game link port. This allowed him to convert the game link signals to USB. The game link port's actual utility was to connect two game boy's, sort of multiplayer gaming of the past.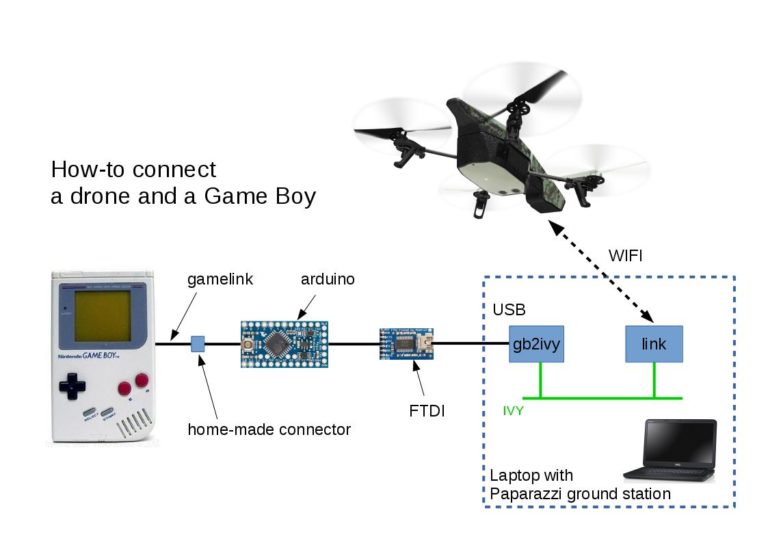 Hattenberger also wrote a software (source code available on Github) to convert the game boy commands to the format which could be understood by a drone. Finally, after getting all the things right, it was time to fly the Parrot ARDone2.
Launched in 1989, Game Boy was made by Nintendo. The company recently saw overnight success for their game Pokemon Go which also made Nintendo get some boost in its stock prices.
Watch the Game boy drone controller in action:
If you have something to add, tell us in the comments below.
Also Read: Ex-NSA Hacker Shows How To Make A Car Dance To Your Tunes