WB Games Montréal announced the upcoming Batman game, Gotham Knights, in DC FanDome 2020. Previously, WB Games Montréal worked on Batman Arkham Origins, which both players and critics loved. So, it's understandable why DC fans are excited for the release of Gotham Knights.
After watching Gotham Knights' trailer, it is easy to figure out that many things are happening in Gotham. There are multiple playable characters in the game, along with a bunch of familiar DC villains. In short, there are several things you should learn about Gotham Knights before this upcoming 2021 video game is released. So, in this article, we'll round up every piece of information we've gathered about Gotham Knights. So let's get started.
Gotham Knights Release Date
Gotham Knights will release worldwide in 2022. However, as of now, there is no particular official release date for the game. Initially, WB Games Montréal wanted to release the co-op title in 2021. However, recently, the devs announced that they need more to deliver the game. That's why the studio decided to delay the game to 2022. "We are giving the game more time to deliver the best possible experience for players," said the developers in their recent post.
The good news is that we'd see more Gotham Knights stuff in the coming months. However, it's for sure that the game isn't releasing in 2021.
Srevious rumors oreviously stated that Gotham Knights might release in July 2021. These speculations surfaced on the internet after Gotham Knights' Twitter post for Christmas 2020. The post flaunts a Flying Greysons' circus event that is happening in mid-July. That is why some DC games enthusiasts thought that WB Games Montréal is hinting at a possible July release date for Gotham Knights. Sadly, with the game's dleay to 2022, all these speculations are now turned to dust.
Platforms
WB Games Montréal's 'Gotham Knights' is set to release for PC, Xbox One, Xbox Series X/S, PS4, and PS5. So, both current and last-gen console users will get to experience the game.
Gotham Knights Characters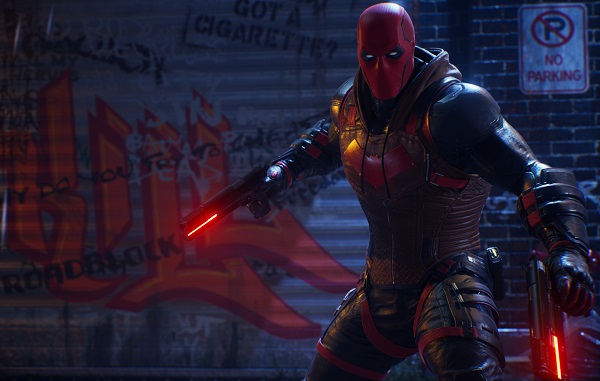 Similar to Batman Arkham games, Gotham Knights will feature multiple DC characters. However, as of now, we only know about a few characters we'll get to see in Gotham Knights; here is the complete list:
Night Wing – Dick Greyson (Confirmed)
Batgirl – Barbara Gordon (Confirmed)
Red Hood – Jason Todd (Confirmed)
Robin – Tim Drake (Confirmed)
Poison Ivy (Rumored)
Mr. Freeze (Confirmed)
Alfred Pennyworth (Confirmed)
Renee Maria Montoya – Police Captain (Confirmed)
The Court of Owls group (Rumored)
Joker (Rumored)
Gotham Knights Story: Is The Game Set In Arkhamverse?
No, it's confirmed that Gotham Knights is not connected to the Batman Arkham Series. Despite the similarity between Batman: Arkham Knight and Gotham Knights' story (Batman's Death), the two games don't fall in the same universe.
Talking about the story, the events of Gotham knights are set after the death of Batman. So, to continue Bruce Wayne's legacy and save Gotham, Night Wing, Batgirl, Red Hood, and Robin come together. Interestingly, Gotham Knights' story will be completely original, meaning that Gotham Knights will not re-enact existing DC comics stories.
Co-op
As per Gotham Knights' trailers, there will be at least four playable characters in the game. So, it makes sense to include co-op options for up to four players. However, as of now, it's confirmed that the cooperative feature will be limited to only two players.
If you're playing the game online, the other player can join the session without affecting the story. Nevertheless, if you don't feel like playing the game with your friend, you can play it solo in the offline mode.
Is Gotham Knights Open-World?
Yes, Gotham Knights is an open-world game in which players can interact with Gotham City in their own way. Other than that, the new Batman game features the RPG element. So, similar to other role-playing games, players' choices will reflect in the story of Gotham Knights.
Is Gotham Knights Pre-Order Available?
Fortunately, the pre-order for Gotham Knights is available on some online video game stores. However, there isn't a pre-order option on the Gotham Knights official website. Moreover, you can sign up for all Gotham Knights updates by registering on the game's official website.
That's it; this is all the information we have on Gotham Knights right now. Of course, we'll get more updates on the new Batman game as we step in 2021. So, we'll update the article accordingly to bring you the latest update on Gotham Knights.