Short Bytes: Microsoft has released a cumulative update for Windows 10 PCs. Microsoft hasn't told anything specific about the update, except the fact that it contains all the previous fixes. 
W
indows 10 is released as a service and Microsoft had called it a moment that will rewrite the definition of an operating system. With Windows 10, the tech giant has adopted
Windows as a service model
that is governed by multiple and regular updates to the OS. Today, Microsoft has released a hefty Windows 10 update for your PCs.
It's possible that some of you might be having it, and some PCs will download it soon. You need to check the updates section in your PC as your computer might be already scheduled for a restart at some time after the update.
Well, there isn't much information about the contents of the update. So, what's known? This update is called KB3081424 and it's the first cumulative patch. This means, it tries to patch up all the incremental updates previously applied to Windows 10 since its release.
You can head over to Microsoft's update page, but it won't make much sense to you as the page goes on and on with multiple listings. This is being called the Service Release 1 . Microsoft says that the update includes improvements to enhance the functionality of Windows 10.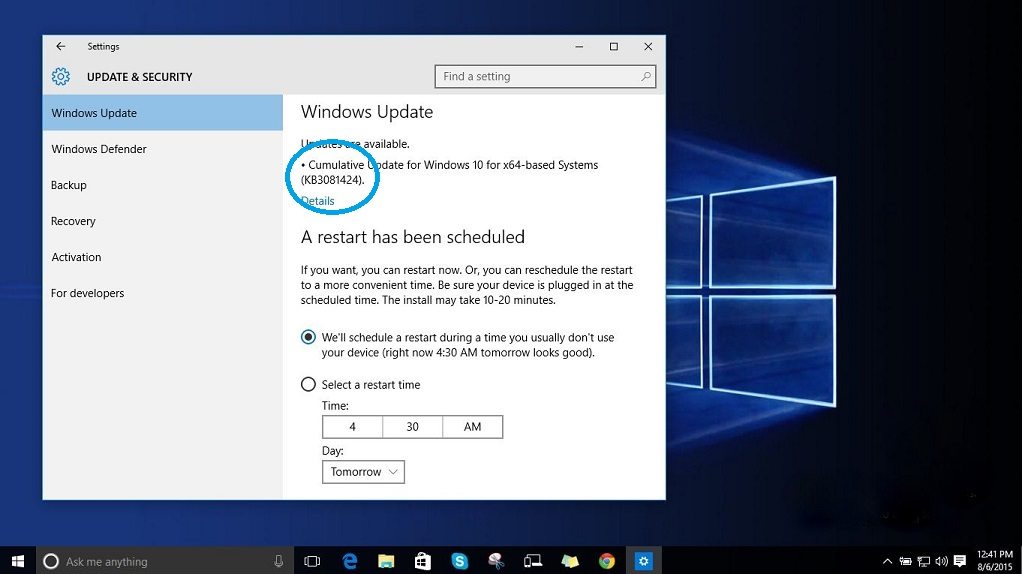 Windows 10 updates are cumulative. Therefore, this package contains all previously-released fixes ( KB 3074683). If you have installed previous updates, only the new fixes that are contained in this package will be downloaded and installed to your computer. When you turn on automatic updating, this update will be downloaded and installed automaticall
Microsoft
.
Also Read: Don't Perform Clean Install of Windows 10 WITHOUT Upgrading First
TechCrunch writes that it's understandable that Microsoft wishes to roll out regular updates, but it'd be nice if updates would come with some context. To make the Windows update cycle more efficient and dependable, some transparency must be there in the released updates.
It should be noted that Windows 10 is released as a service and it includes the clause of mandatory updates. The updates will be installed on your system and you'll be notified for the restart. fossBytes advises you to check your Windows update settings and schedule a restart according to your convenience and save you work.
Do you like this Windows as a service model with forced updates? Tell us in comments below.
Check out our homegrown product viralnews.fossbytes.com for hottest tech news on the web. For more updates, subscribe to our newsletter. [newsletter_signup_form id=1]