Short Bytes: The latest update to the Google app for Android brings a handy feature which can improve your Google Search experience. If the internet goes down while using Google Search, the Google app will automatically load the search results for your query after the internet is resumed. To try this feature, you'll have to update your Google app to the latest version.
I
f you're a fan of the Google app for the Android operating system, its makers have introduced a small yet effective functionality in the Google app.
Now, a bad internet connection won't interrupt your Google Search experience. Practically, it will, but only for a short period of time, for instance, when you're on the subway, driving through a tunnel, or you simply turned on the airplane mode. Your Google app will now be able to work more efficiently after an internet outage.
Google app, equipped with the new changes, remembers your search query. As soon as it detects an internet connection, it automatically loads the search page with your previous query and puts a notification on your screen.
This feature isn't something that would fascinate many people but, at least, it is there. And, something is better than nothing. To try it, you'll have to update your Google app to the latest version.
What does it feel like?
I updated the Google App on my phone and saw how the feature works. Obviously, I had to turn off the internet manually to see it in action. An interesting thing is that the Google app can remember multiple search queries initiated while the device is offline.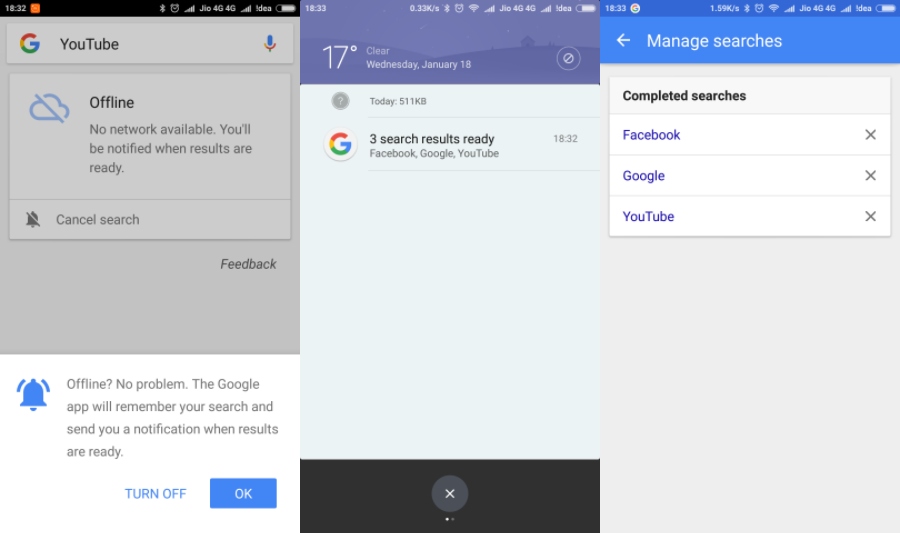 Did you find this helpful? Tell us in the comments.
Also Read: Google "Land Lines" Game Turns Your Crappy Doodles Into Satellite Images