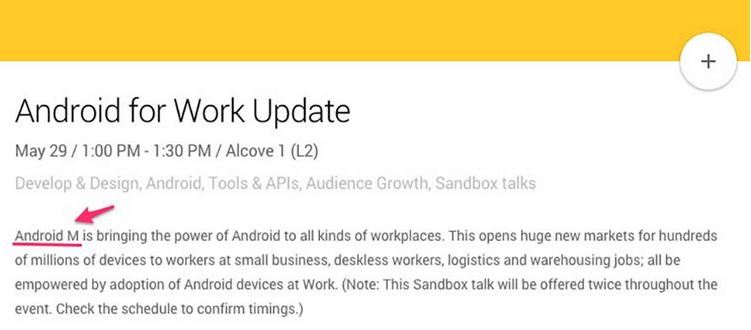 The picture you just saw above is from the official schedule for this year's Google I/O session description. We knew that it was coming, but it's good to have some confirmation – Android M is coming at Google I/O event this month.
Hard to believe? Read it again. Yes, the next Android version is already here, even when the Lollipop is running only on 10% Android devices and Microsoft won't hesitate from making fun of the Android's update.
The name "Android M" appears in a session for Android for Work and doesn't mention anything more. The Android 5.0 was being called Android L before its release which means that the Android M should be the next big update from the Android.
We don't know if Android M will be a whole new version or it would be the next contender in the last year's release as a major update.
Android M is bringing the power of Android to all kinds of workplaces. This opens huge new markets for hundreds of millions of devices to workers at small business, deskless workers, logistics and warehousing jobs; all be empowered by adoption of Android devices at Work.
Android Lollipop was announced in 2014 with the name Android L. However, the session in the I/O schedule has now been removed from Google's I/O website.
The Android for Work session described that Android M will bring Android's power to all types of workplaces. It's expected that in the next Android release, there will more focus on the enterprise.
The Google I/O 2015 will take place in San Francisco, California from May 28th to 30th.
We'll be covering the Google I/O and come to you with the live coverage from May 28. Stay tuned for more information on Android M.
Recommended: Motorola Explains Why You Don't Have Android 5.0 Lollipop Yet
Deals on Android –