Google could make A/B partitions compulsory in all the future Android 11 devices to make Seamless Updates a standard feature for everyone.
An XDA developer spotted a commit on AOSP Gerrit titled, "Require Virtual A/B on R launches." The commit was submitted by Yifan Hong, an engineer from Google's Project Treble team.
The commit updates the Vendor Test Suite (VTS), a test to see if the Android smartphone is compatible to be part of Project Treble. In this particular case, the test checks if the Android 11 device supports A/B partition or not.
How do A/B Seamless Updates work?
For those who don't know, the A/B partition scheme refers to duplicated partitions on the Android device. It allows OEMs to install the OTA updates on the inactive partition that's not being used.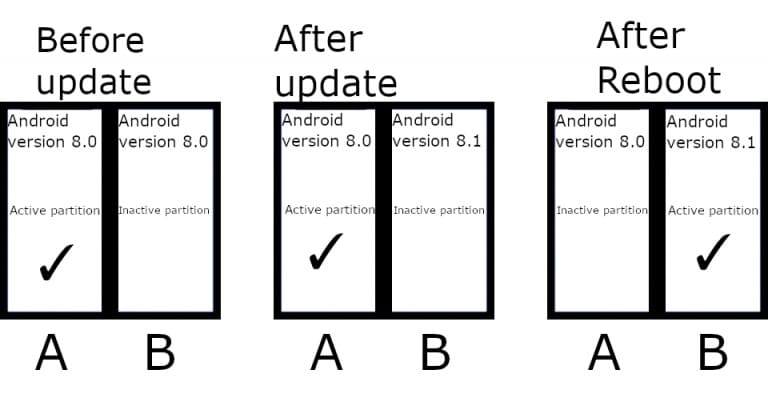 The biggest advantage to this is "Seamless Updates," wherein users don't have to wait for the update to install, as it happens in the background, on the inactive slot. Upon rebooting, the device shifts to the updated slot and follows the same protocol in the previously active slot when a new update arrives.
Another advantage of the A/B partition scheme is that it helps in avoiding the consequences of installing a faulty update. That is because only the inactive slot will be affected. Also, no changes are made to the current partition to ensure seamless rollback.
The only downside is that OEMs will have to reserve more space for the A/B partition system. This might not be a problem as smartphones nowadays generally have ample internal storage.
Several Android devices have already implemented A/B seamless updates such as the entire Google Pixel series, Xiaomi Mi A2, Xiaomi Mi A2 Lite, Asus ROG Phone, several Motorola phones and more.
As XDA notes, Google is yet to merge the commit, which means the mandatory "Seamless Updates" may or may not arrive with Android 11. But if it does, the change will undoubtedly be welcomed by the Android community.