We recently informed you regarding the perils of Google's overenthusiastic ambitions to directly answer every query right on the search page. In that case, while searching for the "email inventor" with your geographic location set to India, the search result displayed Shiva Ayyadurai as the answer. If you changed the location to the United States, Google's answer changed to Roy Tomlinson.
Now, another mishap from Google's search engine results has been spotted that could potentially cause a frenzy in the stock market and cost someone millions.
To let users get real-time stock prices and historical data right on the search page, Google shows financial data in the form of a card at the top of the regular results. This time, the search engine giant is displaying absurd stock price data related to an Indian food-products company, Britannia Industries Ltd.
If you Google information regarding stock data for Britannia Industries, the results displayed are factually incorrect. When you search for Britannia Stock, you get the following graph.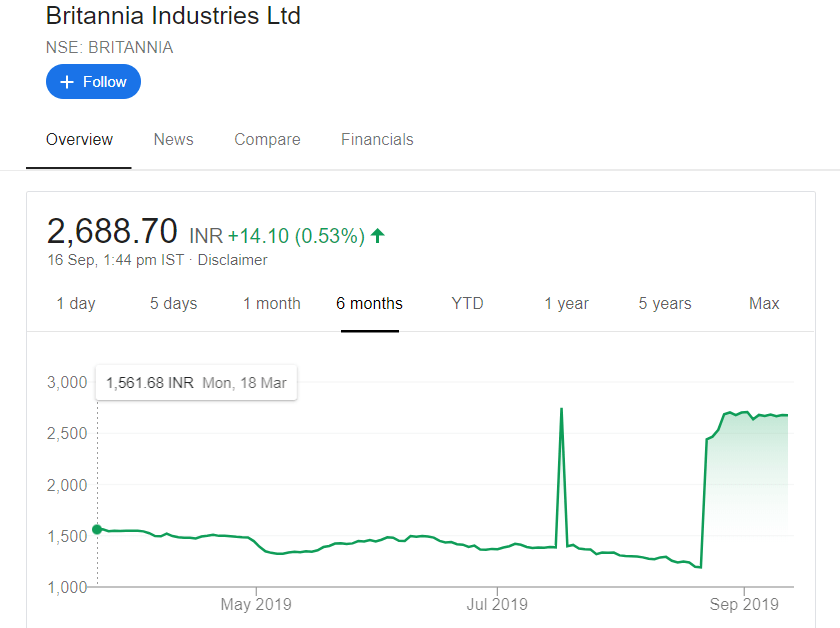 While the ups and downs in the stock prices of a company aren't uncommon, the abrupt peak after July 2019 caught our attention and prompted us to look for similar charts on other financial websites like Moneycontrol, Yahoo Finance, and NSE India itself.
Here's the actual price of Britannia stock (Via NSE India) vs the price being shown in Google on some random dates. It means that the stock data that Google displays to billions of users atop its front page is not just false, but potentially chaotic in nature.
| | | | |
| --- | --- | --- | --- |
| Date | Actual Closing Price | Price on Google | Difference |
| 16-Jun-2017 | 3,568.95 | 892.24 | -2,676.71 |
| 19-Jun-2018 | 5,976.55 | 1,489.98 | -4,486.57 |
| 19-Jun-2019 | 2,875.70 | 1,437.85 | -1,437.85 |
| 05-Jul-2019 | 2,824.85 | 1,412.40 | -1,412.45 |
| 16-Jul-2019 | 2,747.15 | 2,747.15 | 0.00 |
| 16-Aug-2019 | 2,499.45 | 1,249.72 | -1,249.73 |
| 21-Aug-2019 | 2,384.50 | 1,912.25 | -472.25 |
| 22-Aug-2019 | 2,440.75 | 2,440.75 | 0.00 |
| 05-Sep-2019 | 2,678.65 | 2,678.65 | 0.00 |
Here's the actual chart: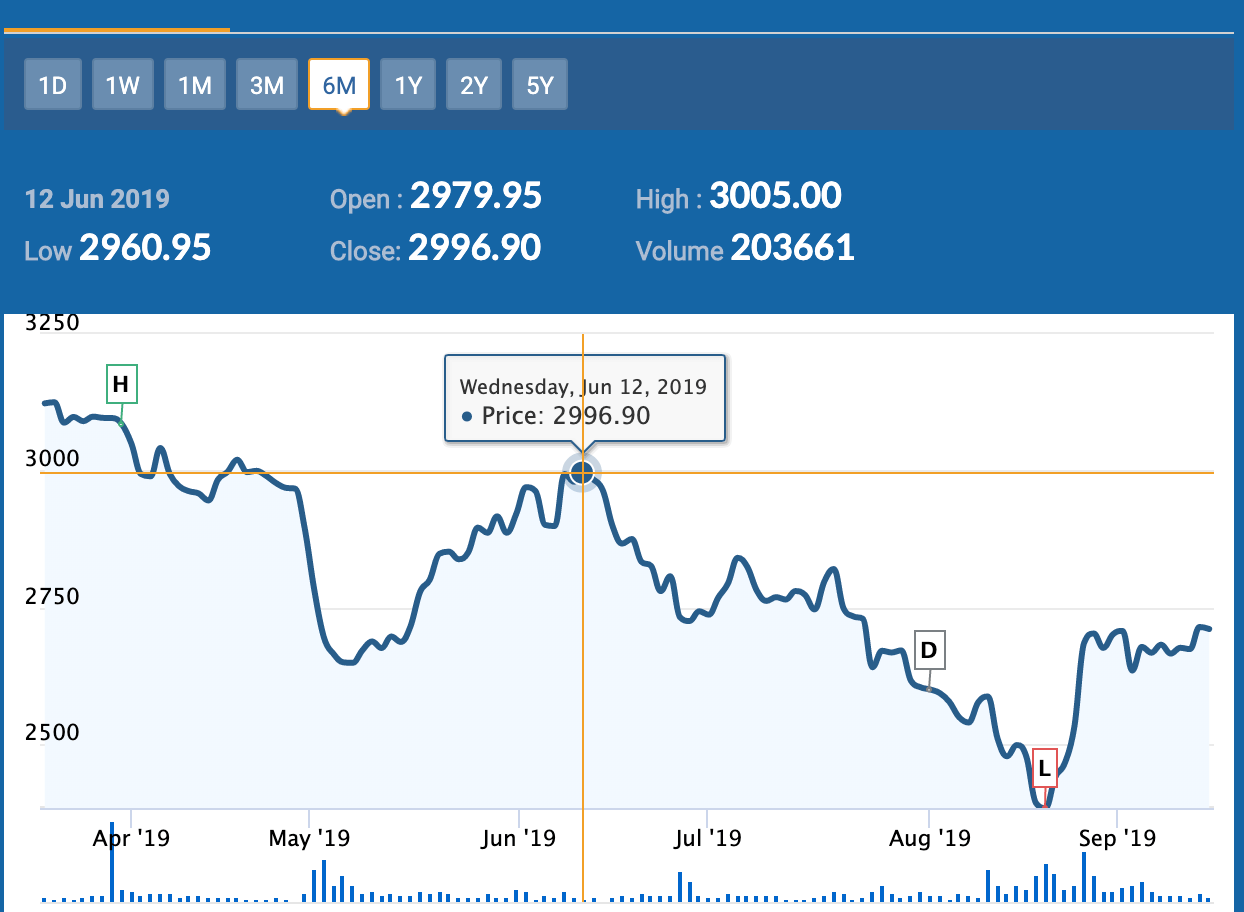 Google Search Glitch Could Cause Widespread Damage
Such skewed data on stock prices has the potential to scare its stockholders to the market. If anyone was to check the Britannia stock data today with the intent of investing, he'd be repelled by the company's poor previous performance, according to Google. Or, he might be inclined towards buying the stock, thanks to the massive jump on August 22, 2019.
While this isn't a wide-scale anomaly and we couldn't find it happening to some other stocks, it could severely damage investment in one particular company, in this case, Britannia.
Although Google has given a disclaimer in the card for stock prices, it isn't displaying a direct link to any website to let us know from where it's fetching the data. The disclaimer states: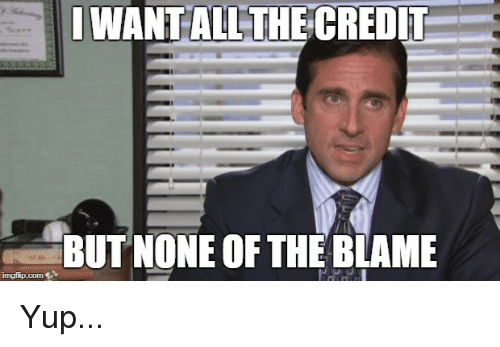 Is This Data Manipulation Intentional?
As you might have already guessed, Google isn't the only curating this data on its own and listing it in the search results. Instead, it picks up information from other websites. The data about Britannia Industries being displayed by Google is from the United States-based financial firm Morningstar.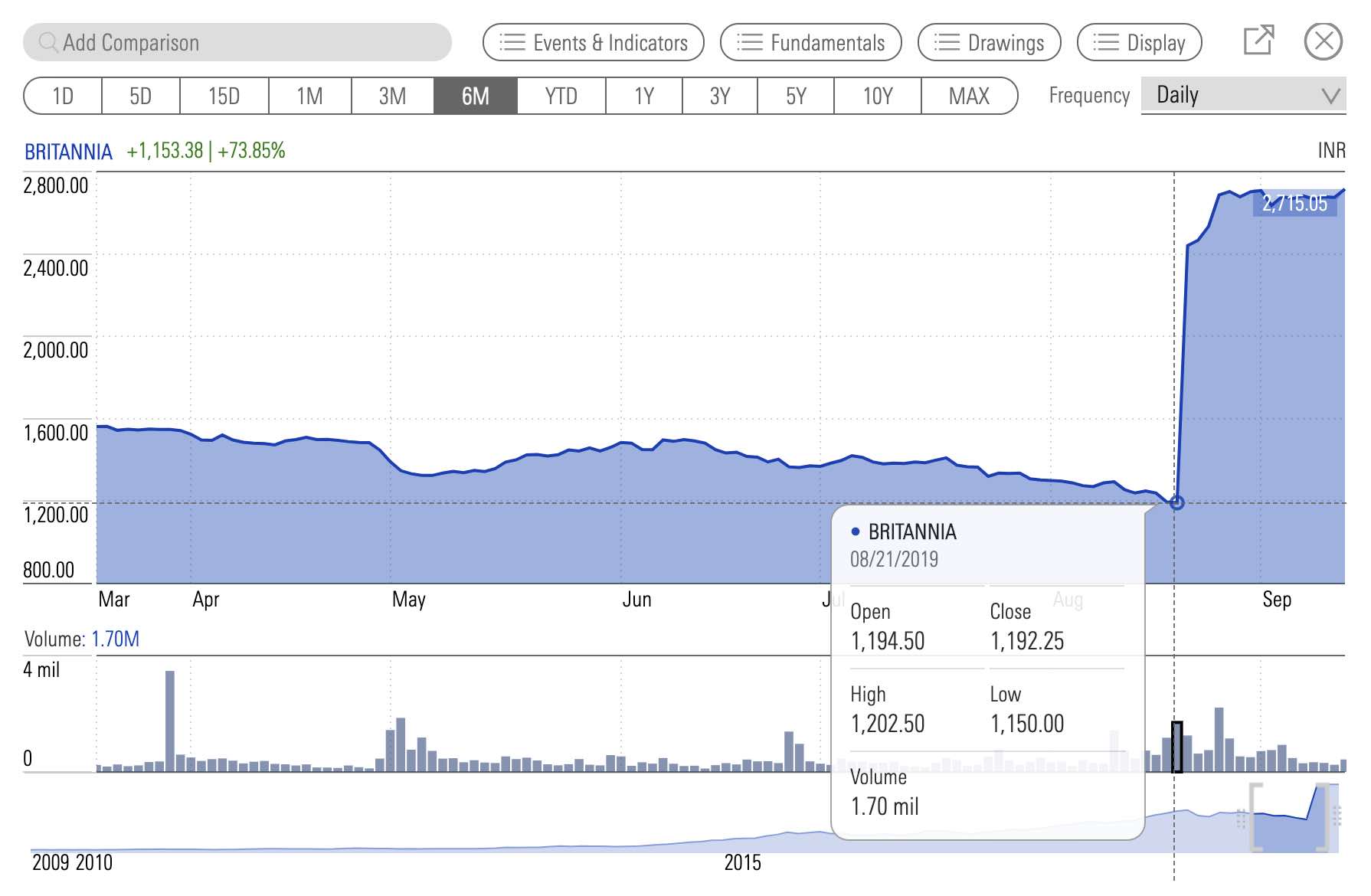 This makes me wonder why isn't Google showing the data directly from the National Stock Exchange website. Instead, it is hell-bent on displaying the Morningstar's data. You won't get real historical data on Google unless you specifically go to NSEIndia.com and perform a search.
How Is Google Responsible Here?
As I mentioned above, it just might be a single case of faulty data being displayed in Google's finance section at the moment. However, it shows how problematic can Google's desire to keep a user glued to its interface and discourage him/her from visiting the actual and trusted source of some particular information. In this case, it's NSE India. It underlines a bigger problem that's being raised continuously by content publishers, marketing agencies, and search engine optimization (SEO) experts all around the world.
https://twitter.com/cleverbeard1/status/1168902814480969735
"In June of 2019, for the first time, a majority of all browser-based searches on Google.com resulted in zero-clicks," according to a report published by Rand Fishkin, a strong voice in the field of search engine optimization tools.
By fetching data directly from content publishers or entering into partnerships with some particular websites, Google is making it harder for the rest of the websites to survive. As a result, more and more people aren't clicking on search results and often finding answers like these "helpful" —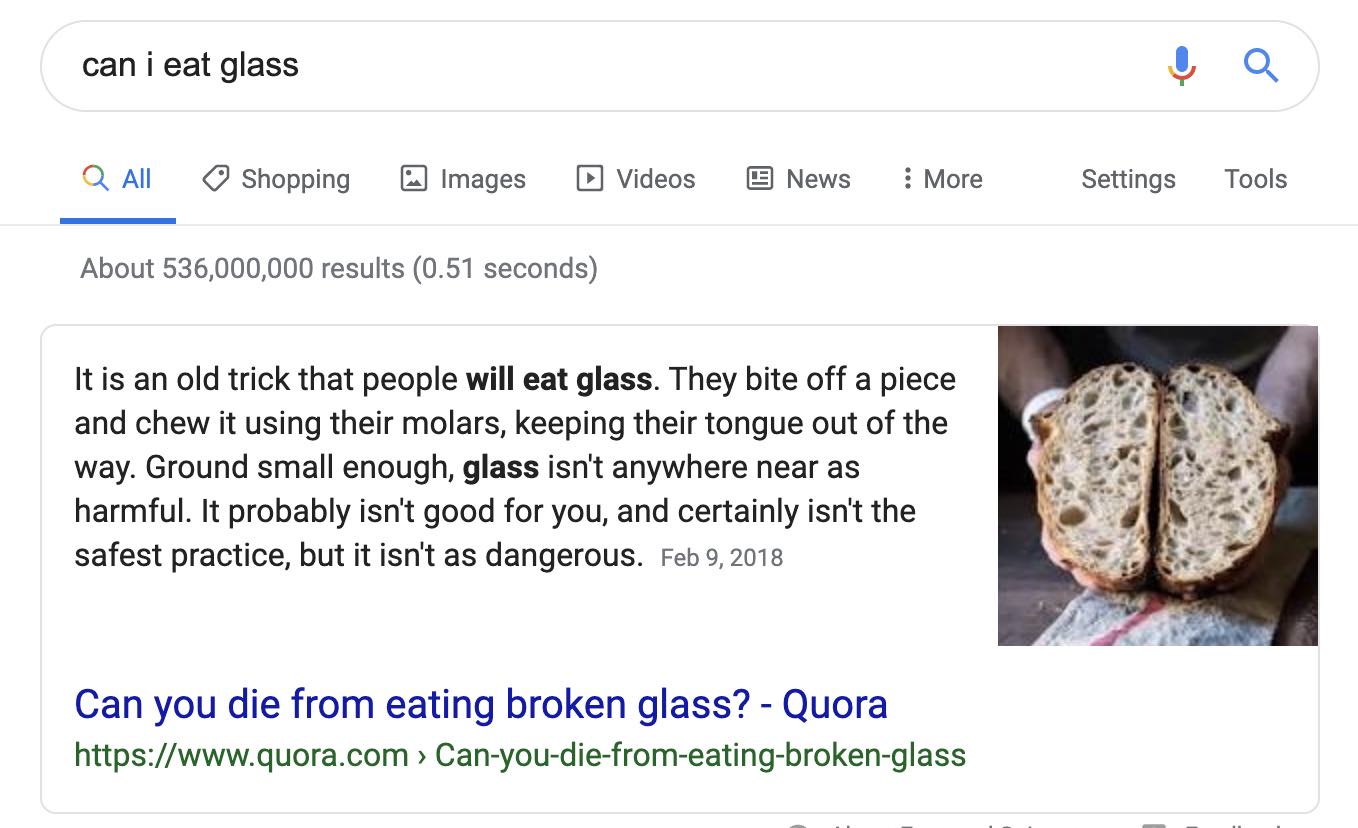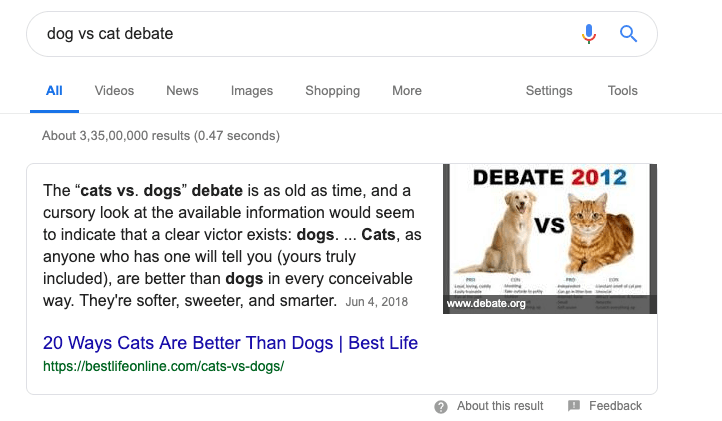 It's a double-edged sword for content publishers. They either need to follow Google's guidelines and structure their content in such a manner that they stand a chance to be considered for a direct answer box, also called Featured Snippet, or they can choose to ignore everything and allow their competitors to earn the snippet. In both cases, they are helping Google keep the user inside its walled garden of Search, Maps, YouTube, Shopping listings, Flights, and Ads.