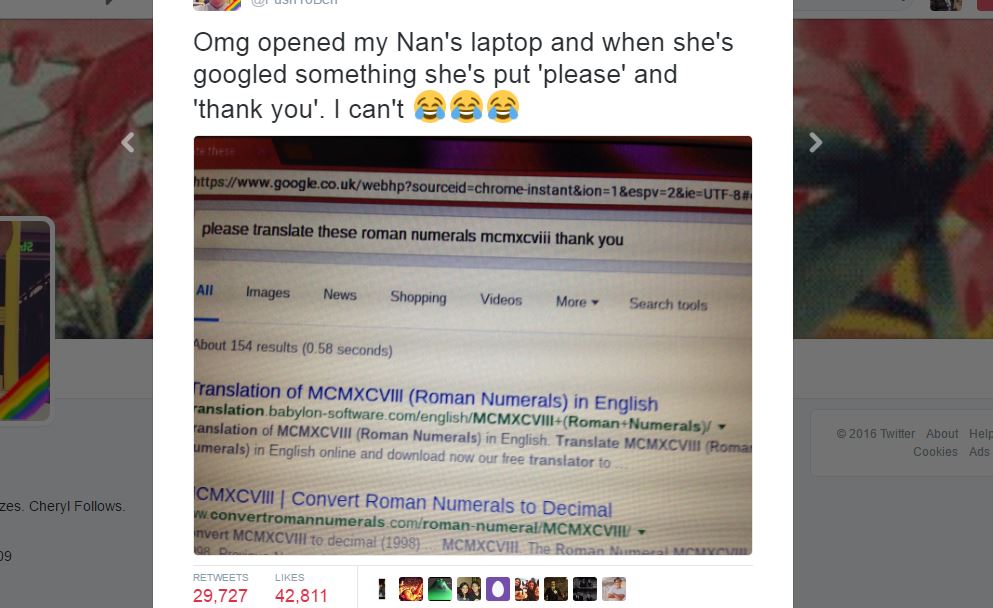 Short Bytes: We came to know about May Ashworth when her grandson posted a snapshot of her Google search on Twitter. The internet world expressed lots of love and appreciation for her since then. Google's UK Twitter handle has replied to the tweet and praised the 86-year-old English resident.
T
he digital world is mostly dominated by youngsters who seem to be the representatives of the modern age. Yet, a senior citizen has been trending on the internet for showing her cultivated manners while typing Google search requests.
I would like to call her 'The Polite Granny'. May Ashworth is an 86-year-old resident of England who became an internet sensation after her grandson Ben Eckersley tweeted a snapshot of the polite Google search she made.
"Please translate these roman numerals mcmxcviii thank you."
Omg opened my Nan's laptop and when she's googled something she's put 'please' and 'thank you'. I can't 😂😂😂 pic.twitter.com/hiy2tecBjU

— Ben 🏳️‍🌈 ✨ (@eckyythump) June 9, 2016
The answer is 1998.
The tweet has received an overwhelming response and the twitteraties have showered thousands of likes and retweets on the polite gesture shown by May. According to Ben, her grandmother – who is a computer novice – assumes that some "person" manages the searches at Google headquarters. Using polite words would be a nice way to express gratitude.
"She thought that by being polite and using her manners, the search would be quicker."
Ashworth had typed search request on Google for the production year of a TV show that aired a day before. TV shows display the year of creation in roman numerals making it hard for her to figure out. Ben arrived for a washing routine at her house. He opened the laptop for browsing the internet and made a casual glance at the text written, just before he was about to close the window. He posted the snapshot so that his friends could take a look. He didn't expect that his tweet would go this far.
The search giant was quick to notice the presence of such a well-behaved Googler. Their UK twitter handle wrote a thank you note for her. "In a world of billion Searches, yours made us smile" – it said.
Dearest Ben's Nan.
Hope you're well.
In a world of billions of Searches, yours made us smile.
Oh, and it's 1998.
Thank YOU
@Push10Ben

— Google UK (@GoogleUK) June 15, 2016
Read More: Mom In Chewbacca Mask Breaks The Internet