Short Bytes: At its one of the biggest ever hardware events, Google unveiled its Pixel smartphones. Coming in two variants, Pixel and Pixel XL, the new flagships pose a tough competition to Apple iPhones. These phones are powered by a quad-core Snapdragon 821 processor and 4GB RAM. Pixel also comes with the best-in-class camera and Google Assistant.
A
fter a series of leaks and speculations, Google took to the stage and revealed Pixel smartphone at its biggest hardware event in years. The phone looks just like the leaks suggested and resembles Apple's iPhone–only without a physical button at the bottom.
Google Pixel and Pixel XL specifications and features
Google revealed two models of its new flagship smartphone — Pixel and Pixel XL. Pixel comes in the standard 5-inch size, while Pixel XL features a 5.5-inch XL screen. Both of these AMOLED screens are protected by Gorilla Glass 4.
Pixel is powered by Snapdragon 821 processor clocked at 2.15 GHz, 4GB RAM, and comes with 32/128GB storage space. It packs a 2,770mAh battery.
For taking pictures, you get a 12-megapixel rear sensor with a f/2.0 aperture. According to DxOMark tests, Pixel's camera is the highest-rated smartphone camera ever created. It comes with features like Smart Burst and HDR Plus. For shooting selfies, there's an 8-megapixel front camera.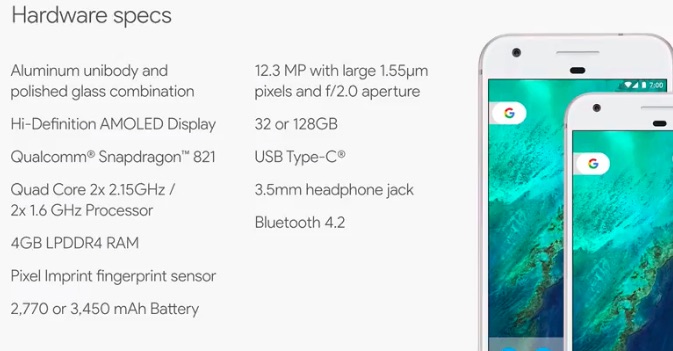 Pixel XL, the bigger brother, comes with 5.5 Quad HD display and a bigger 3,450mAh battery. The other specifications remain the same.
Google Pixel is also the first smartphone to feature Google Assistant, which recently showed its tricks in the Allo messaging app. It can respond to your queries and return useful information or replies. Pixel is also the first Daydream-compatible device that works with the $79 Daydream View headset.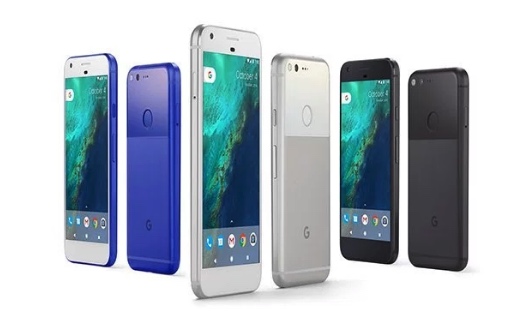 These devices come in three colors — Quite Black, Really Blue and Very Silver
One last thing–Google Pixel also features a 3.5mm headphone jack ;)
Google Pixel and Pixel XL price and availability
Google Pixel 32GB model will be available at a price of $649. It's available for preorder in the US, Australia, Canada, UK, and Germany. The Indian users can order it on October 13.
You'll have to spend $749 for Pixel with 128GB of onboard storage, $769 for Pixel XL with 32GB storage, and $869 for XL with 128GB space.
https://youtu.be/-XZ0Xf74oVk
Did you find this article interesting? Don't forget to drop your feedback in the comments section below.
Also Read: 5 Reasons Google Allo Is Better Than WhatsApp, Really?