The tech community has always resented the Pixel series for its unjustified price tag and frequent software issues.
But the Google Pixel budget series is a different story. Last year in May, Google launched Pixel 3a priced at $399, along with an XL version of it. Both devices performed beyond expectations, primarily because people were getting Pixel's iconic camera and Google's support at a great price.
Now, after failing to get it right with Google Pixel 4, the tech giant will try to revive its hardware game with Google Pixel 4a in 2020.
Here is everything we know about Google's 2020 budget smartphone based on Pixel 4a leaks and rumors.
Pixel 4a Release date
The word is Google Pixel 4a will launch on July 13. The new Pixel 4a launch date was given by Jon Prosser who previously predicted the launch of the iPhone SE 2020. He tweeted the decision is based on market analysis.
Pixel 4a

Was originally May, then got pushed to June, now pushed again.

"Just Black" & "Barely Blue"

Current plan for announcement:
July 13

BTW – just 4G.
(Sorry to kill the 5G rumors)

Seems like they're ready to ship. The decision is mostly based on market analysis.

— Jon Prosser (@jon_prosser) May 21, 2020
Initial rumors suggested the phone was arriving on May 22, which would've made sense given the Pixel 3a was also released in May at the Google I/O 2019 event. But since the I/O event of this year was canceled due to unforeseen circumstances, there isn't much to complain about.
In a follow up came the rumors of Pixel 4a launching on June 5, two days after the Android 11 beta launch, but now it looks like Google would like us to wait a little longer.
Google Pixel 4a Specifications
Google Pixel 3a made it big, thanks to the low price and ok-ish specs. While the specifications weren't flagship level, they never became a bottleneck in the overall experience. So, Google Pixel 4a specs will be following the same suit; at least that's what the leaks say.
Apparently, there is a hands-on video that showcases nearly everything about Pixel 4a. This reminds me of how Pixel 3 handsets were leaked in Russia, long before the launch. I guess some things never change.
Nevertheless, the video reveals a 5.81-inch display along with a resolution of 1080 x 2340px. The Pixel 4a packs Qualcomm Snapdragon 730 chipset, similar to Redmi K30 or Realme X2.
Unfortunately, the display has a 60Hz refresh rate, which could be a severe disadvantage to Google, given how phone manufacturers are competing to provide higher refresh rates.
In the camera department, there is a 12.2MP Sony IMX363 sensor with an f/1.73 aperture lens. On the front, the phone holds an 8MP camera, possibly the same Pixel 3a image sensor.
It will be interesting to see how Pixel 4a's single-lens camera setup, along with Google's acclaimed image processing, will stack up against smartphones with triple and quadruple-camera setups nowadays. There is already a Pixel 4a camera samples video that you may want to check out.
Fotos: #Pixel4a vs #RedmiNote7
12MP vs 48MP

Cual te gusta mas? pic.twitter.com/ULsU8pOlRo

— Julio Lusson (@julio_lusson) April 30, 2020
The leaked Pixel 4a video also revealed 6GB RAM along with 64GB storage. Pixel 3a had a single configuration, so it's difficult to say whether Pixel 4a will have multiple RAM/Storage configurations. But in another leak via 9to5Google, the word is Pixel 4a will also have a 128GB storage option.
The same report also says that Pixel 4a will feature the exact video recording specs in Google Pixel 4, i.e., 4K videos at 30fps, 1080P videos at 30, 60, 120fps, and 720P videos at 240fps. Apart from that, the device is expected to have a 3,080mAh battery along with support for 18W fast charging, but no wireless charging.
Back to the leaked video, the device will support dual SIM functionality, but the second one will likely be an eSIM. There were rumors of Pixel 4a supporting 5G, but Jon Prosser's tweet mentioned above suggests otherwise. If it's any consolation, Pixel 4a will carry a 3.5 mm headphone jack.
What about Google Pixel 4a XL?
Yeah! Actually, all the Pixel 4a rumors and leaks we have seen up until now indicate that there will be no Google Pixel 4a XL this time. And sources have confirmed this to
Android Authority
.
Google Pixel 4a Design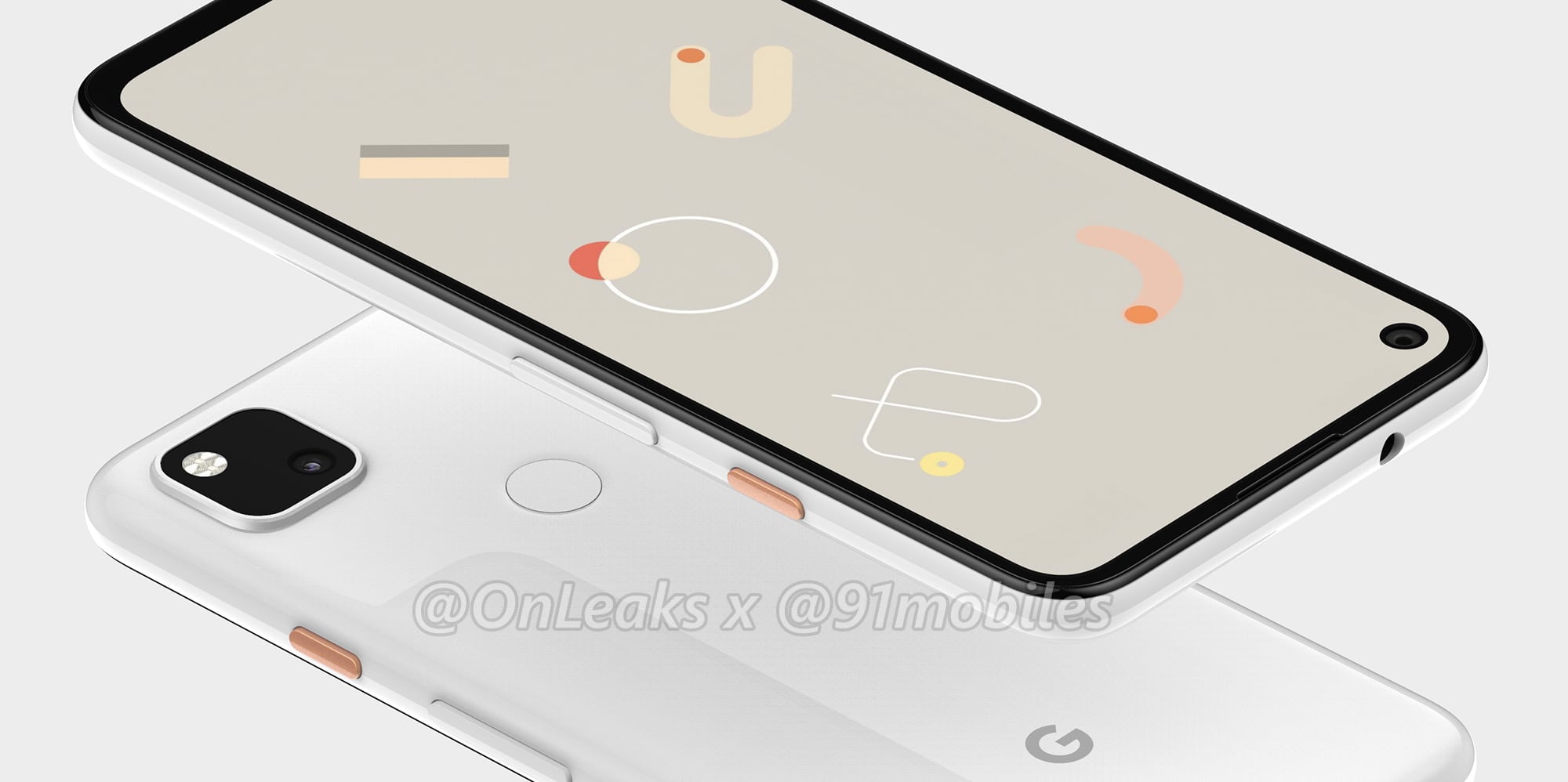 With all the renders, leaked images of cases, and lastly, the hands-on video, it's clear the Pixel 4a will feature some significant design changes compared to Pixel 3a or anything before Pixel 4.
First and foremost, Pixel 4a leaks indicate the budget smartphone will have a punch hole in the top left corner of the display, implying that Google has finally done away with the unsightly notch.
Google Pixel 4a appears to have the square-shaped camera bump on the back, similar to Pixel 4, however, with a single lens. Also, the rear fingerprint sensor can be seen in the video, which means no face unlock, or even an in-display fingerprint sensor, for Google's budget-friendly devices in 2020.
Last but not least, multiple reports suggest that Google Pixel 4a will come in two colors — Just Black and Barely Blue.
Google Pixel 4a Price
Google Pixel 4 had the same launch price as Pixel 3 in the US, and even lower in a few other markets. It won't be surprising if Google Pixel 4a is priced at $399, exactly like Pixel 3a.
But a lot has changed in the last few months. Apple recently released its budget smartphone iPhone SE 2020, with A13 Bionic And Wireless Charging, at $399.
Meanwhile, two key members of Google Pixel division recently left the company, implying that even the people at Google have lost faith in Google's hardware division. With all this in mind, Google might keep the Pixel 4a price less than $399. 9To5Google's Stephen Hall claims that Pixel 4a 128GB storage option will be priced at $349.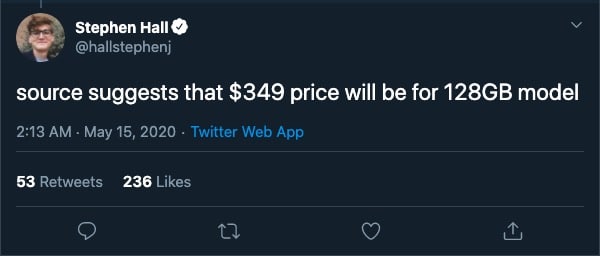 Coming to the availability, we don't think the Pixel 4a will be restricted to a few countries, as was in the case of Pixel 4. The phone never launched in India since the Project Soli chip relies on 60GHz mmWave, and consumer products are not allowed to use the spectrum in India.
However, it's hard to see the same thing happening to Pixel 4a since the Soli chip won't be available in Pixel 4a. Leaks suggest the phone won't bundle the Active Edge feature as well.
Again, Google can make last moment changes, surprise the fans with some new features at Google Pixel 4a event. We will keep updating this article as more details leak about the Pixel 4a.