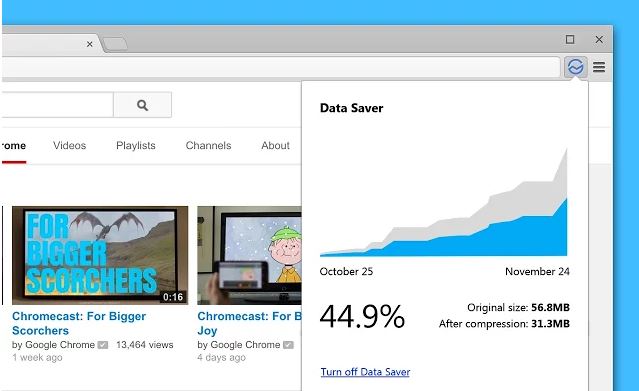 Exceeding your data limit could be your biggest nightmare if you don't have an unlimited data connection. Listening your prayers, Google has silently launched a new extension for its Chrome browser. This extension is called Data Saver and is currently in beta.
Data Saver uses Google's data compression proxy service for optimization and saving the data. This data compression proxy service saves bandwidth of users, performs faster loading and increases the security. The websites go through the secure servers of Google and it checks for the infected pages. This was already launched for tablet and phones, and its desktop's turn.
Right now, this extension is in beta and doesn't work with SSL and incognito pages at present. To use Chrome's Google Data saver, you need Chrome 41 or newer.
This extension works as promised and compresses data effectively. Data Saver's official page describes it as following:
Reduces data usage by using Google servers to optimize pages you visit. Browse more for less!
When this extension is enabled, Chrome will use Google servers to compress pages you visit before downloading them. SSL and incognito pages will not be included.
To turn on this feature on your phone, go to Settings > Bandwidth Management > Reduce Data Usage and enable the option.
How to get Data Saver on Desktop?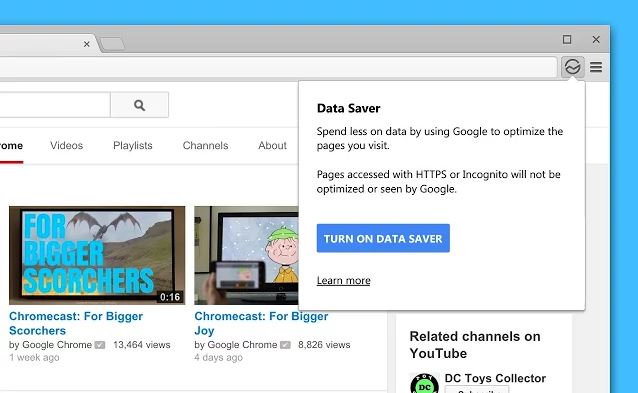 To download the Data Saver extension on your desktop's Chrome browser, visit Chrome Webstore.
Install the extension. It is turned on by default after installation.
If you want to see the data savings, click on the Data Saver icon in the menu bar.
To turn it off, choose Turn Off Data Saver. Enable it again from the same option.
This feature is more helpful if you are using Chrome on phone and are stuck with a poor internet connection or a limited data plan. Google took a long time to release this data compression feature in full on mobile and the desktop version is right now in beta. The final and complete rollout of this feature is not known yet.
Download the extension here:
Chrome Data Saver Download ViStart
---
 Are you going to try out Google's official Data Saver extension? Tell us in comments!
Stay tuned for latest technology updates and how-to tricks from fossBytes!
---