Google has started testing a new monthly subscription service on the Play Store called "Play Pass". According to Android Police, the monthly billing will be $4.99 and the service will offer hundreds of paid Android games and apps for free.
As per the official sign-up pages acquired by Android Police (screenshots below), titles grabbed under the Play Pass will not include ads or any in-app purchases. Other than that, Android users will have the option of taking up a 7-day trial before buying the full service.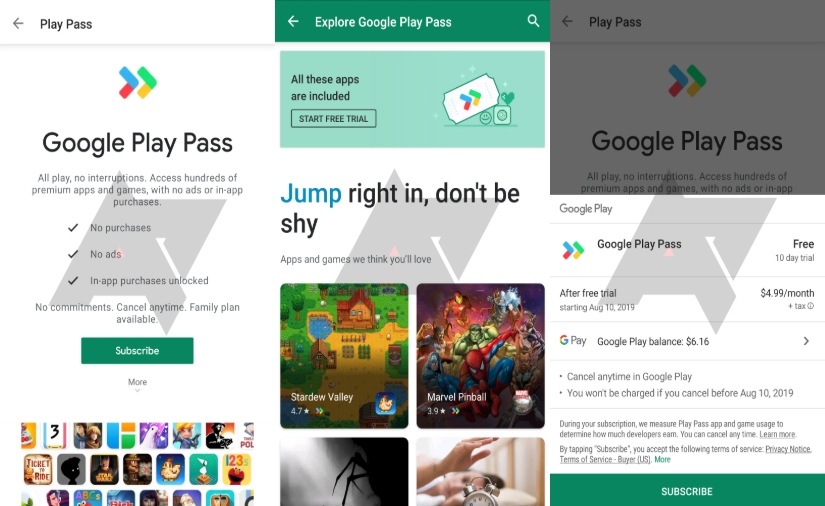 On the info page, Google says the app catalog will include "puzzle games to premium music apps and everything in between. From action hits to puzzles and fitness trackers…"
From what we can figure out, a few game titles in the subscription-based service include Monument Valley, Marvel Pinball, Stardew Valley and more. Of course, this isn't the final list of supported apps and games, as the Play Pass is still "currently being tested," commented a Google spokesperson. Also, the final price of the monthly subscription could change before the final rollout.
Many of the intricacies around Google's monthly subscription service are still unknown, such as what happens when one opts out of the service – does the person get to retain the Android apps and games bought under the Play Pass? Also, what happens to the in-app purchases, will they come back?
One can also assume from the screenshots that many big developers such as EA and Gameloft haven't shaken hands with Google yet. While the $5 price tag is cheap considering the unique apps available on the Google Play Store, it is still unworthy if one is still paying for games like Where's My Water, Minecraft, etc.
Meanwhile, Apple is also coming up with a similar monthly subscription service called Apple Arcade. However, it is reported that the service will cost $12.99 per month and will only include video games and not apps.
Google has not revealed the release date of the Play Pass service yet.