Google Maps is an app that doesn't have many haters in over 15 years of existence. The reason being its usefulness that allows billions of humans to get from point A to point B without much hassle.
The level of trust we have on Google Maps is so much that people don't think twice before visiting an entirely new place.
However, there are times when Google Maps doesn't live up to expectations, or some intelligent mind confuses it by creating a fake traffic jam. Also, the newly redesigned Apple Maps now poses itself as a potential Google Maps alternative that Apple fans can try out.
Still, all of this hasn't put a dent in the popularity of the navigation app until now. If you want to use Google Maps in more effective ways, just like a power user, we have compiled a list of tips, tricks, and hidden features.
In your free time, you might want to read about the differences between Google Maps and Google Earth.
Google Maps Tips And Tricks for Power Users
1. Transit Navigation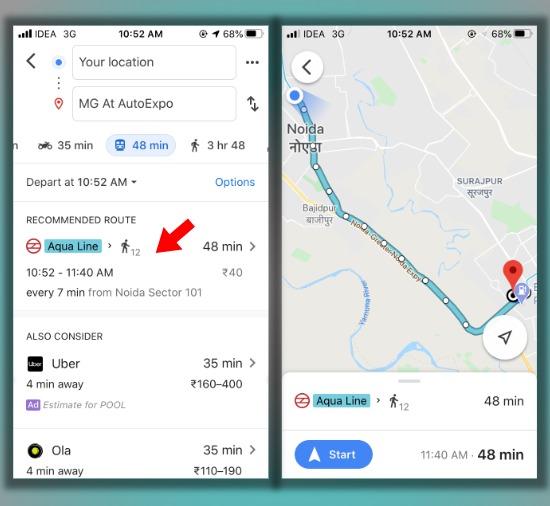 Many of us are already familiar with the navigation feature in Google Maps. It shows turn-by-turn directions for whatever destination you might want to visit. But Google Maps also includes a transit navigation feature that helps you while you're in a subway.
To use this Google Maps feature while you're at a metro station, turn on navigation and type the desired station as the destination. Then go to the Transit section > tap on the recommended route > press Start.
Provided your GPS is working fine, Google Maps will notify you about upcoming stations as the train moves. It has happened with me many times that I was watching videos on my phone and forgot to hear the announcement for the approaching station. You know the pain thereafter.
2. Watch train position in real-time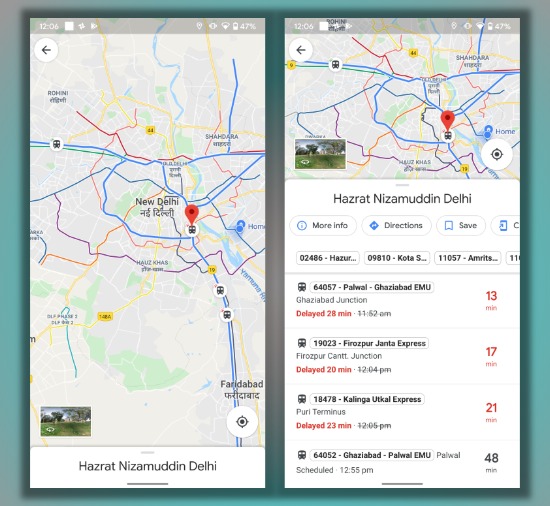 This is kind of a hidden feature that you'll find in Google Maps. You might already know that Google Maps can show the live status of trains departing and arriving at a particular station. But you can also view the position of moving trains in real-time.
Open the card for that particular railway station in Google Maps. Now, zoom out and you'll be able to see blue lines where trains (fitted with a tracking device) are present as small white circles. I have tested this feature in India, hope it works in your region as well. However, the train location feature doesn't seem to work on iOS devices.
3. Built-in road trip planner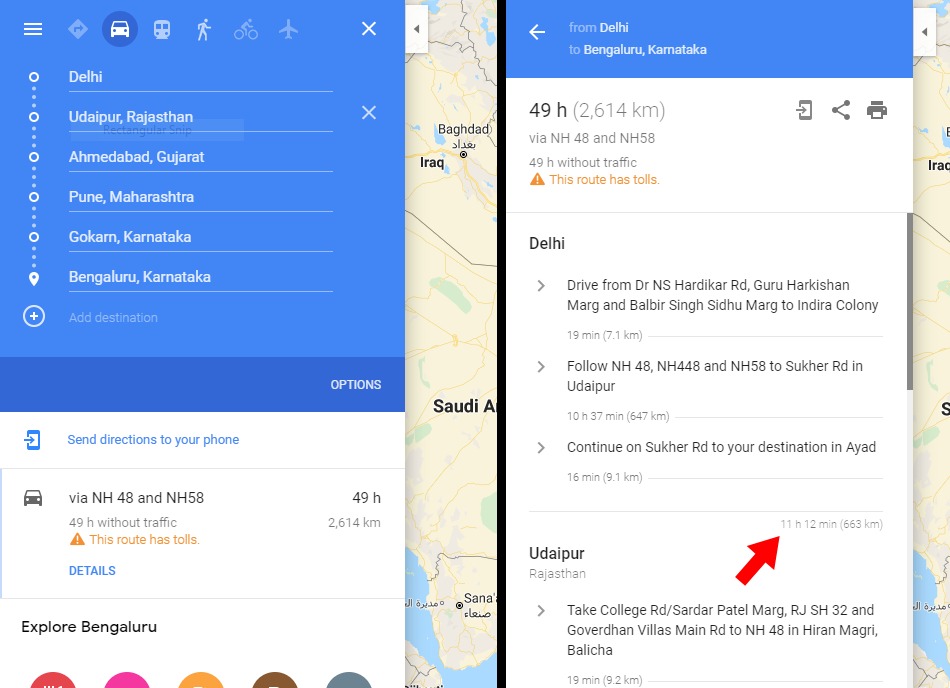 Planning road trips sounds amazing, but it's a hell of a task because you need to figure out the best route after searching through various roads. One of the main tasks is figuring out the stops.
Well, Google Maps can be of great help here with a built-in feature that doubles as a road trip planner. The feature works better in Google Maps' browser version. Start by entering your place of origin. Then keep on adding more stops and put the destination at the last.
After you're done, click on the route created by Maps. Among all sorts of information, an important thing it shows is the distance expected, travel time between your stops. This way, you can plan how much distance you can cover per day on your road trip.
4. Lighting Mode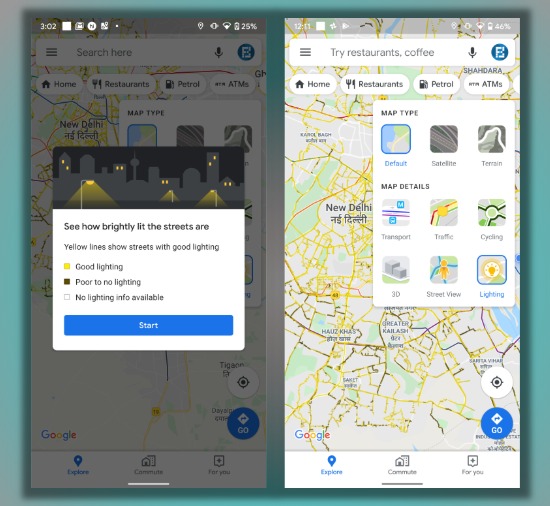 When you want to cross a street during night hours, one concern is whether there is a good street light present or not. Google is working on a new lighting layer for Maps that tells how well lit are the streets of your city.
Tap on the Layers button and then tap on the Lighting option. Now, the streets that are highlighted with yellow color are brightly lit, whereas the ones marked with black color may not have a street light at all.
As the street light mode is currently under testing, it's not available for all the users of Google Maps.
5. Incognito mode for privacy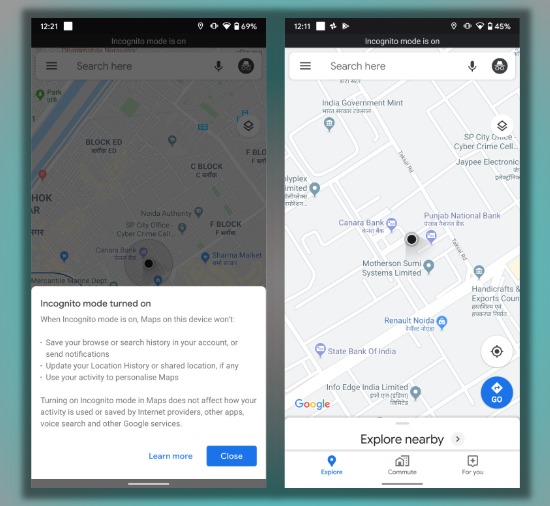 Privacy has become a big question in today's time, and surely, Google Maps is one of those apps that literally tracks your every move. To calm down the users amidst the raising concerns about privacy, Google has added an incognito mode that stops your location and data tracking while using Google Maps.
To enable it on Android and iOS, tap on your profile picture in the top-right corner, and then you'll find the incognito mode option. The blue location dot in Maps will turn black to indicate that your location isn't being tracked. However, you can't use Google Maps features like Timeline or Live Location with incognito mode.
6. Restaurant Compatibility Score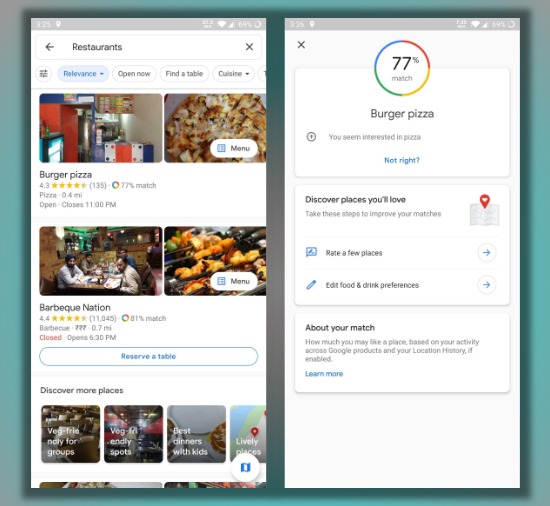 We all want to try out different cuisines, but figuring the perfect place to eat is a big pain. In addition to user ratings, Google has added a feature called 'Your Match' that assigns a restaurant compatibility score according to your liking. This is similar to the match score that you see on Netflix for movies and TV shows.
To see it, you can open a particular restaurant listing in Google Maps. Each restaurant will have a different score, which depends on the places you visit and the kind of reviews you post.
7. Search along route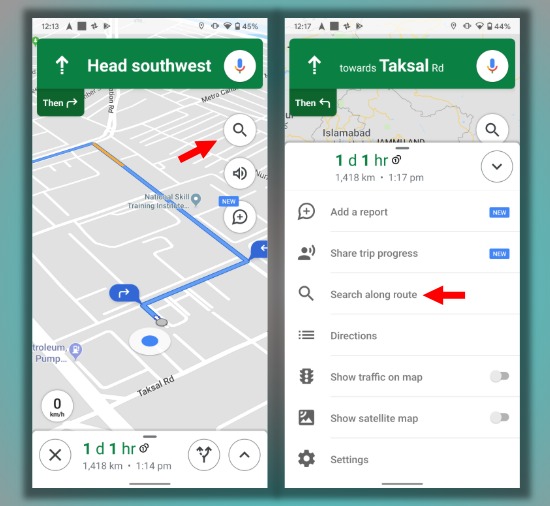 Search along the route is a nifty hidden feature in Google Maps. It might be known to many but can save much of your time. For instance, you can find places to eat or fuel pumps while driving on highways.
After you start the navigation on your phone, tap on the magnifying glass in the top-right corner. Next, you'll find the option to search along the route where you can add extra stops to your main route without exiting the navigation.
8. Calculate distance between points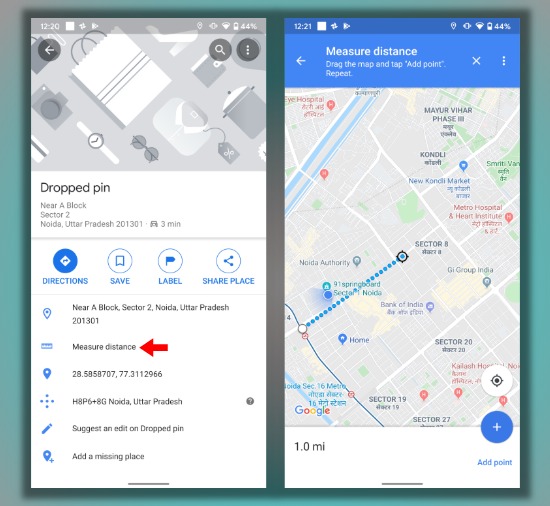 Want to play around with Google Maps in your free time? Try this feature. You can measure the distance (displacement) between any two points on Google Maps. Just long-press on a particular point, tap the card that pops up and select measure distance. Now, you can drag the map to increase or decrease the distance covered.
The same thing can be done in the browser as well. Just right click on any point and select measure distance.
9. Plus Codes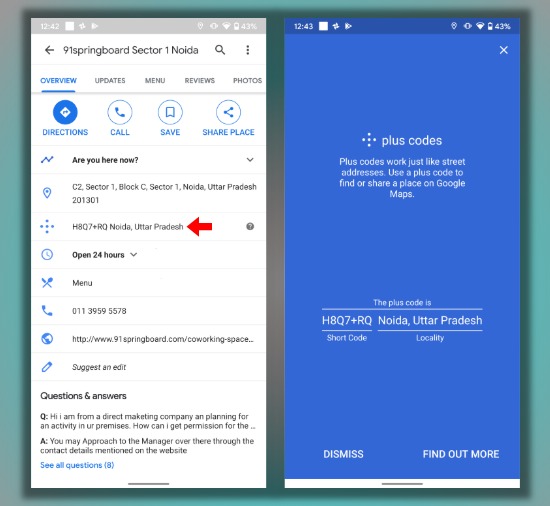 If you're a regular Fossbytes reader, I have already covered Plus Codes in detail. It's based on a universally recognized geocoding method that can be used to identify different places.
So, instead of typing a long address, you can simply share the plus code for a particular location. To find the plus code, open the Google Maps card for that place.
10. Create Travel Lists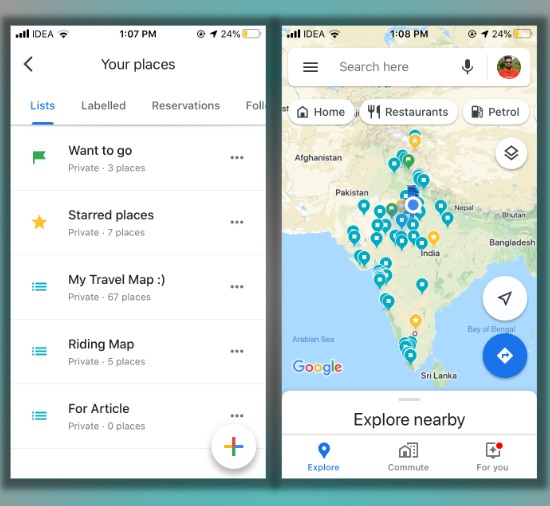 Another interesting feature is that you can create custom lists in Google Maps. For example, one that includes all the places you want to visit in the year 2020 or the ones you have already covered.
To do so, swipe from the left and tap on Your Places option. Now, tap on the plus button in the bottom right corner and create your new list. The places you add here will appear on Maps as pointers of different colors. You can make a list private or keep it public if you want to tell others about your travel plans.
11. Make your personal Google Maps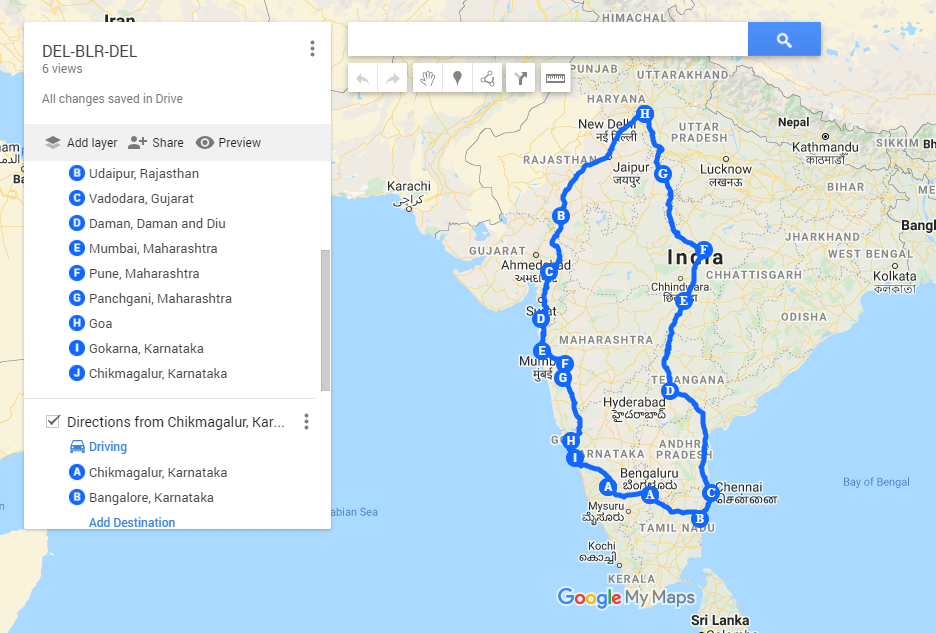 How can I make Google Maps better? If you want to personalize Google Maps even more, then the next thing you can resort to is My Maps. You can add your own details to the map by creating multiple layers. Each layer can be made invisible which means multiple types of data can be included.
You can use My Maps by visiting its website. The personalized maps you create can also be accessed on your Android or iOS device as well. But a separate app is required to create new ones on your phone. If you want, you can share your My Maps creations with others.
11. Chat with a business
So, you're looking for a place to buy something, and that place is located far away from where you live. Now, driving all that distance and finding what you want to buy isn't available would be a big disappointment.
To make sure that doesn't happen, you can chat with the store by opening its Google Maps listing. It can be an alternative to a phone call, as the store can reply to your message as per their convenience. You should note that the feature only works for the businesses that have enabled messaging.
12. Never get lost with offline maps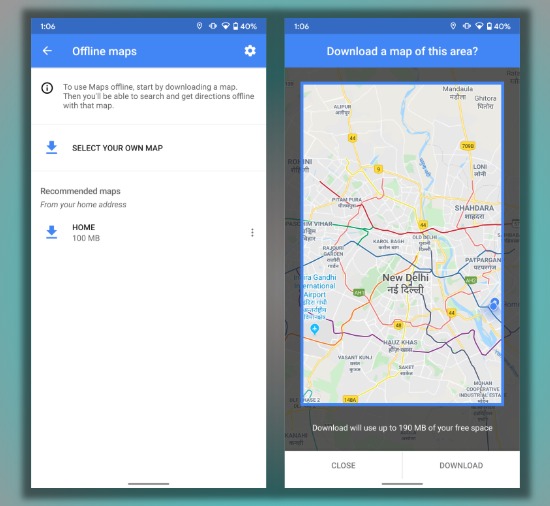 It has been years since Google added the ability to download maps for offline use. But many careless people, including me, often forget to do so before leaving and get stranded in places where the internet doesn't work properly.
To save a particular area on your phone, swipe from the left and tap Offline Maps. Then select the area that you want to download. You can save multiple offline maps depending on the amount of storage you have.
So, guys, these were some useful Google Maps features, tips, and tricks that can help you make the most out of it. I'll continue to expand this list as I find more of them. In case, you have something to add, drop your thoughts in the comments.