Google just launched the Google Home Hub at its MadeByGoogle hardware event today. It is basically a 7-inch Assistant with a smart display. The company had already launched the Google Assistant Smart Display software earlier this year, and Home Hub is the hardware that will support it.
This device will be competing with Amazon Echo Show and Lenovo's Smart Display — that wasn't exactly a hit among in the market. But Google says that the Home Hub will help in creating a "more helpful, thoughtful home."
The screen can be used for checking the weather, timer, calendar event, photos, and all the information that can be obtained through Google Assistant. The Google Home Hub can also do a voice match to recognize who is using it and provide a personalized experience accordingly.
It has a new feature called Ambient EQ that uses a dedicated sensor and imaging to fine-tune the color and brightness of the screen. As a part of its Digital Wellbeing initiative, Hub comes with a "downtime mode" where you can set a curfew time on the device. This will prevent the device from interacting with anyone, except for alarms.
Other features include parental settings to block explicit lyrics in music. Hub also has the Home View dashboard that can be used to control every smart home gadget. Users will be able to control over 200 million devices made by different manufacturers using the Home app.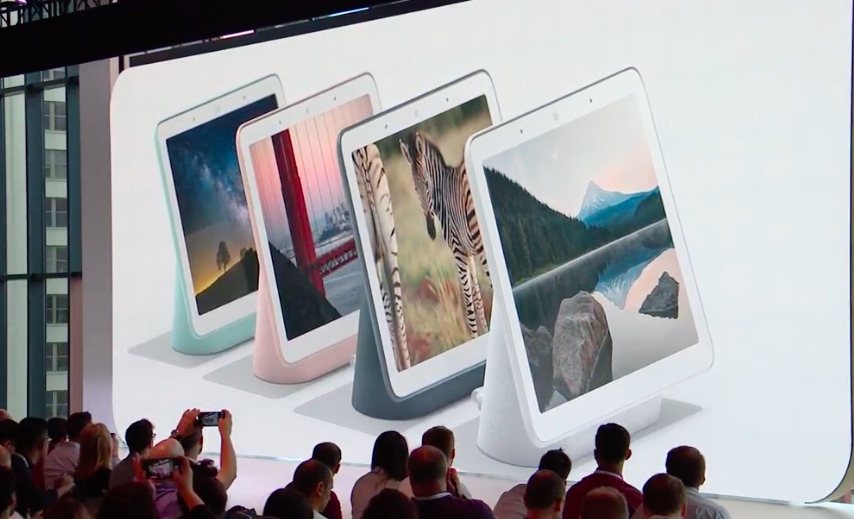 To blend seamlessly, Google Home Hub comes in four colors and custom fabrics — white, charcoal, pink, and mint. Even though the device itself doesn't sport a camera, it can be used to wirelessly connect to cameras and see the visitors at your door.
And whenever the Google Home Hub isn't in use, it can be turned into a photo frame. With a feature called Live Albums, its AI will automatically create albums from Google Photos and display those pictures on the screen.
In case you are concerned whether it would show "not safe for display" pictures on the screen right in your living room, don't worry; the Hub uses machine learning to filter out bad photos, blurry or weird shots of people and objects. Pretty neat I'd say.
Buyers will get six months subscription of YouTube Premium along with the device. So for those who are interested in purchasing one, can pre-order the Google Home Hub starting from today for $149.