The European Commission has slapped an antitrust fine of €1.49 billion on Google over its search ad brokering business, which is the company's major source of revenue.
According to the EU, Google imposed restrictive contracts on customers through its AdSense business and forced them to turn down ads from Google's rivals.
The tech giant used its dominant position to block rival online search advertisers and "stop website's using brokers other than the AdSense platform."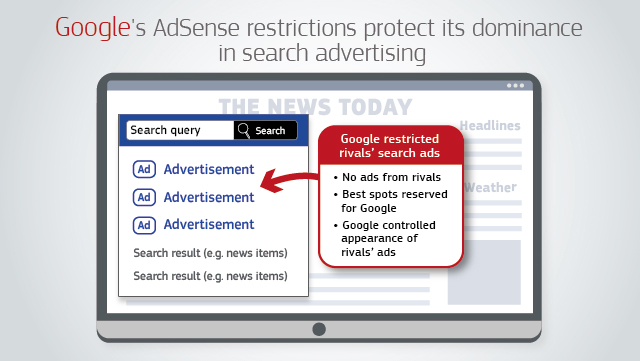 The Commission went through more than 200 agreements and found at least one clause that harmed competition in Europe.
"There was no reason for Google to include these restrictive clauses in its contracts other than to keep rivals out of the market," said Commissioner Margrethe Vestager, in charge of competition policy.
The European Commission's press release further states that this misconduct lasted over 10 years and obstructed other companies to compete on their merits. It also denied consumers the benefits of competition.
This is the third major fine imposed by the EU on Google in recent years. Last year, the company was fined a record €4.3 billion for abusing its market position in the Android ecosystem.
A year before that, Google was hit with another €2.4 billion for manipulating shopping search results. The search giant is currently appealing in both cases.