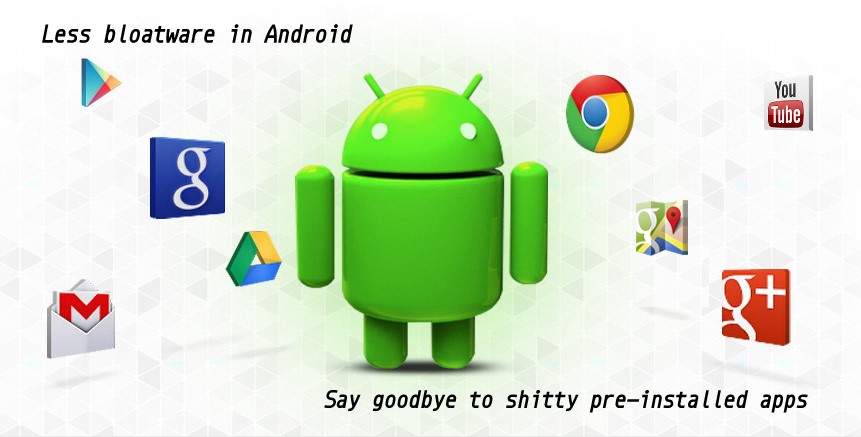 Short Bytes: Google has relaxed its Android bloatware policies for cell phone manufacturers. Now, your next Android phone will have lesser useless Google apps like Google+.
T
ired of all those useless pre-installed apps in your Android phone? Ever felt the need of using the stupid Google+ apps on your Android device? Well, here's a good news for you as the
upcoming Android
smartphones will come with lesser pre-installed Google apps/Android bloatware. Now, Google will allow the phone manufacturers to ship the Android-powered devices with less Google apps installed.
At present, OEMs are bound with Android agreements that allow them to ship Android phones with Play Store or apps like Gmail- only when they install other apps from Google.
This is the reason why your brand-new Android phone comes with Android bloatware like Maps, Gmail, Play Music, Play Books, Google Newsstand, Google+, Hangout and more. While some of these are of great use, others are nothing but useless junk eating the useful device memory.
Also Read: How to Download and Install Android Marshmallow on Your Nexus Device
As a result of the certain changes in Android usage policy, phone manufacturers can use Android with a smaller number of apps. Now, Google's homegrown applications like Google Play, Music, Movies, Newsstand and Google+ could be left out. These apps have joined the likes of Google Earth and Google Keep as these apps aren't a part of Google's Android bloatware package.
This Android bloatware change will soon take effect in the upcoming weeks and the new Android phones will have more space for the apps that you want and love. However, this doesn't end your problems as phone manufacturers and mobile carriers are themselves obsessed with loading Android bloatware on your Android. But yeah, it's a welcome step by Google and an encouraging sign.
Also Read: Tips To Keep Your Android Device Safe and Sound
Did you like this news about lesser Android bloatware in near future? Tell us in the comments below.