A couple of days back, the story of a former Microsoft intern claiming that Google sabotaged Edge browser was making rounds.
While Google hasn't responded to the comments of the Joshua Bakita, a YouTube spokesperson did provide a statement denying all claims of purposefully breaking other web browsers.
The official statement given to The Verge is:
"YouTube does not add code designed to defeat optimizations in other browsers, and works quickly to fix bugs when they're discovered. We regularly engage with other browser vendors through standards bodies, the Web Platform Tests project, the open-source Chromium project and more to improve browser interoperability."
In his comment, Bakita detailed one particular instance where Google allegedly altered site code to make Google websites and apps perform poorly or not render at all on competing browsers.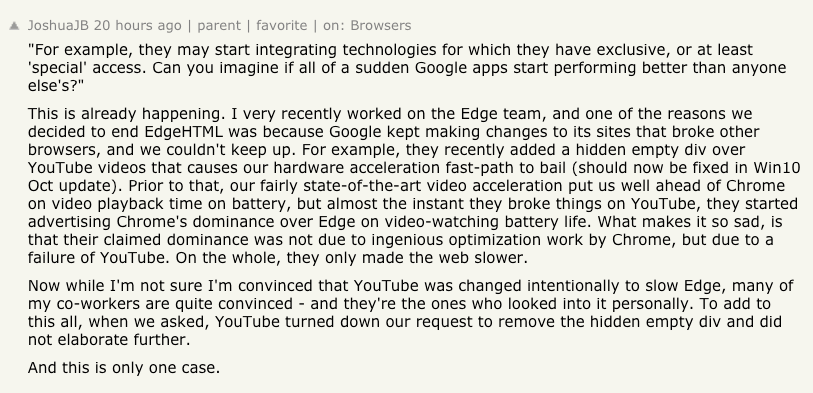 But the representative said that the blank div in YouTube was a bug in its code that was fixed later by Google.
Even though YouTube is trying to make the case that Google doesn't go out of its way to it difficult for other competing browsers, there have been instances when third-party browser developers have come up with proof of the same.
Previously, Mozilla employees have also complained about search giant's policies which made interoperability in the Google ecosystem very frustrating.
On the other hand, Microsoft's Edge team hasn't commented yet on the former intern's claims. But in response to The Verge, the company said, "Google has been a helpful partner and we look forward to the journey as we work on the future of Microsoft Edge."