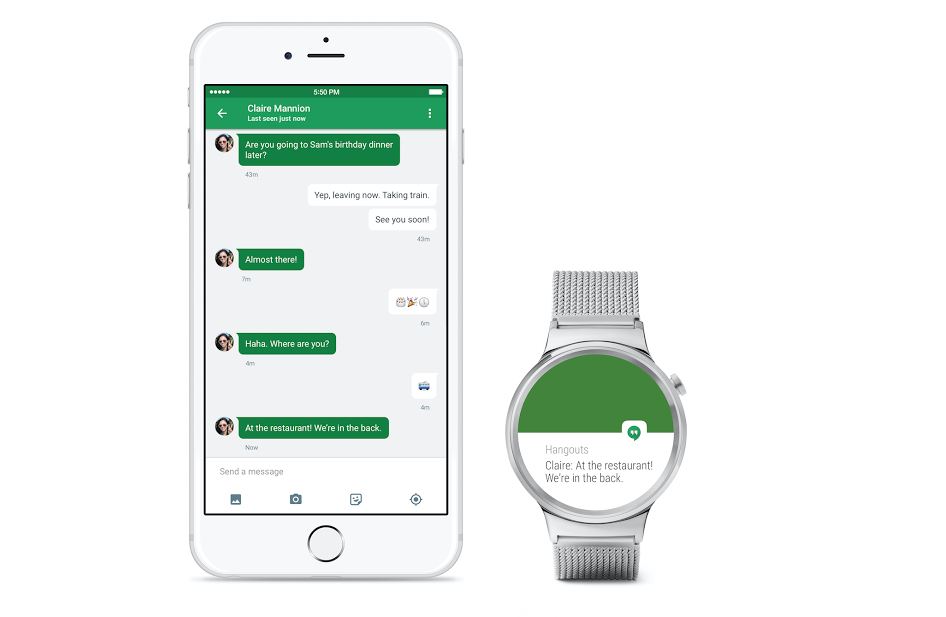 Short Bytes: Google has announced that Android Wear smartwatches will now work with iPhone. The company has released an iOS app for Android Wear that lets you sync your smartphone with iPhone. 
T
he rumors of Android Wear coming to iPhone have finally come true. If you are an iPhone users and you don't like the idea of buying an Apple Watch, Android has come to your rescue and decided to provide you a multiple set of options. Yesterday, Google
introduced
an app for Android Wear that will run on iPhone and thus Android Wear watches now work with iPhones.
Now, Apple Watch directly competes with devices like Moto 360, Samsung Gear 2 and LG's G Watch R. Using the new iOS Android Wear app, the users of iPhone will be able to connect and sync their phones with Android Wear-powered watches. In its blog post, Google battles for the wearable supremacy by writing that Android Wear offers numerous design choices to fit your style.
Android Wear for iOS is out now and you just need to pair up your iPhone with an Android Wear watch to start using it and get calls and texts on your watch. You can pair iPhone 5, 5c, 5s, 6, or 6 Plus running iOS 8.2+.
Also read: 15 Best iOS 9 Features That Will Change Your iPhone and iPad
Google calls this pairing a flawless one, but it has some minute limitations. Early media reports indicate that you won't be catered the complete selection of third party applications on your Android Wear. Also, the interactive notifications will only work with some Google apps. You can also perform voice search on your Android Wear, but this won't have the ability to search within apps, the way it does with Android phones.
Google says: "Today, Android Wear for iOS works with the LG Watch Urbane. All future Android Wear watches, including those from Huawei (pictured above), Asus, and Motorola will also support iOS, so stay tuned for more."
The fact that smartphone makers are unable to convince the users why they need a smartwatch, doesn't stop them from making such important moves
Also read: World's Biggest iOS Malware Hack, 225k Apple Account Passwords Stolen
Do you picture yourself wearing a smartwatch in near future? Tell us in the comments below.